Contributing to a Healthy and Long-Living Society and Better Access to Healthcare and Medical Care

1. Philosophy
One in every three Japanese persons is expected to be over 65 years of age by 2035 (according to the survey conducted by Statistics Bureau, Ministry of Internal Affairs and Communications in September 2014). This super-aging society is already creating issues such as increased medical care expenses and elder-to-elder nursing. Extending healthy life expectancy without daily assistance or care is now an issue that our society faces. Development of personalized medicines which enhance the efficacy of therapies by matching treatment methods more precisely to the condition of the individual patient will increase healthy life expectancy in the future. Healthcare methodologies and techniques will likely change during the coming years. Examples of this shift include the development of diagnostic technologies for early detection of disease as well as advances in highly effective treatments and pharmaceuticals to treat serious diseases at early stages.
JSR Group's Life Sciences Business, which contributes to personalized medical care and other fields, is the Group's third base business, following the Elastomers Business/Plastics Business and Digital Solutions Business.
2. Medical Care Trends and JSR's Life Sciences Business Fields
Speeding up the practical application of advanced therapies for quick delivery to patients—that's JSR's challenge.
As drug development becomes increasingly sophisticated, the cost and time required to develop drugs is growing and becoming a major issue within the pharmaceuticals industry. It has been reported that, between 2006 and 2014, the cost required for major pharmaceuticals companies of the world to commercialize one molecule as a drug was between 3.2 and 32.3 billion dollars (roughly between 300 billion and 3 trillion yen).*1 Moreover, the average length of time needed for a new drug to reach the market was 12 years.*2
Advancements in innovation and analytical technologies as well as new understanding of biology have made drug discovery—and particularly the biologics and precision medicine fields—more complex. In accordance with such medical care trends, JSR Group is developing businesses centered on the bio-pharmaceuticals and advanced diagnosis fields. Moreover, we will continue working to raise treatment development success rates, shorten development periods and improve treatment efficacy in bio-pharmaceuticals-centered fields.
*1 Source: Shuhmacher, Gassman, Hinder, Journal of Translational Medicine
*2 Source: California Biomedical Research Association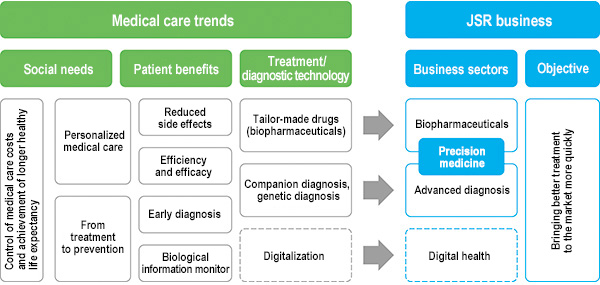 3. Structure of the Life Sciences Business
JSR has built the structure of its Life Sciences Business through mergers and acquisitions to help bring greater efficiency and shorter time frames to the drug development process.
The Structure of JSR Group's Life Sciences Business
(Current as of May 31, 2019)
KBI Biopharma Inc., a company that become a consolidated subsidiary in 2015, possesses powerful technologies in biopharmaceuticals analysis and manufacturing process development. It undertakes contracted analysis and manufacturing process development from pharmaceutical companies as well as contracted manufacturing of commercial drugs.
Selexis S.A., which we acquired in July 2017, is a company that develops cell lines capable of efficiently and stably culturing proteins such as antibodies that become the basis of drugs. It accepts contracts for the development and supply of the optimal cell lines in accordance with proteins to be cultured.
Combining Selexis' high-performance cell lines and KBI's analysis and process development technologies allows us to shorten the time required for drug development.
JSR makes a contribution by using this capability in materials development to provide the various culture mediums and purification materials that are used in the manufacture of biopharmaceuticals. Using Selexis and KBI as platforms for evaluating such advanced materials and utilizing them for development helps us enhance the efficiency of our materials development. JSR markets Amsphere A3, a high-capacity Protein A chromatography resin used in the process of manufacturing antibody drugs, and KBI plays a major role in developing and expanding the sales of this product.
Crown Bioscience Inc., which JSR acquired in 2018, provides services that can improve the efficiency of drug discovery research. Crown possesses the world's largest number of PDx*3 models. The use of diverse PDx models that are built from various patients' cancer tumors permits drug testing in an environment approaching that of the human body prior to clinical trials in humans. This helps improve the probability of success at the clinical trial stage. Additionally, Crown also accumulates data on genes, proteins, and other components of various cancer tumor types. By testing proteins that will become drug candidates with PDx models and analyzing them with a database, Crown can identify candidates for factors (biomarkers) that influence drug effects. Doing this makes it possible to select only those patients who possess factors on which the drug is effective and permits the efficient planning of clinical trials. Furthermore, when a candidate drug substance being developed is actually approved and put to practical use, it becomes possible to evaluate its effects prior to drug administration by diagnosing the presence of biomarkers.
In this way, the contract research services that Crown provides contribute not only to greater efficiency in the drug development process but also to the development of precision medicine.
*3 PDx: Patient Derived Xenograft. The transplantation of human patient-derived cancerous tissue into an immunodeficient mouse. It is more effective than conventional methods in the screening of anticancer drugs because assessments can be conducted in an environment that better approximates that of the human body.
Medical & Biological Laboratories Co., Ltd. (MBL), which became a consolidated subsidiary in 2015, supplies various research reagents that are used in the contract research services provided by Crown. It is also contributing to the growth of precision medicine by turning biomarkers into diagnostic reagents. The JSR-Keio University Medical and Chemical Innovation Center (JKiC), an organization based on industry-academia collaboration that was launched with Keio University in October of 2017, is exploring seeds that will further precision medicine and developing screening models that will contribute to more efficient candidate drug substances screening. The results of these activities are being provided to society through Crown and other members of JSR Group and contributing to more efficient and shorter drug development processes and the growth of precision medicine.
By adding Crown, a contract research organization, to the Group, JSR can now eliminate gaps at contact points with customers who conduct exploratory drug research. Additionally, JSR has completed rebuilding its business operations framework through the series of M&As that was described above. As a result, JSR's Life Sciences Business can now seamlessly provide value in areas ranging from the supply of products and services for drug discovery processes in the pharmaceutical industry to GMP*4 manufacturing. It is expanding strategic basic research, diagnostic reagent development, and contract drug discovery and development services on the upstream side of the drug development process, and also expanding everything from the establishment of cell strains to manufacturing process development and contract GMP manufacturing services in the biopharmaceuticals manufacturing processes on the downstream side. JSR Group will supply innovative services, products, and materials for all processes associated with the development of new treatments to pharmaceutical companies, biotech, and academia.
*4 GMP: Good Manufacturing Practice. An international standard pertaining to drug manufacture and quality assurance.
Regarding use of genetic modification technologies:
As a matter of policy, JSR Group formulates internal safety management standards based on national laws, ordinances, and regulations that correspond to the Cartagena Protocol (Cartagena Protocol on Biosafety to the Convention on Biological Diversity) and continually adheres to them.
4. Contributing to a Healthy and Long-Living Society in Open Innovation
Expanding possibilities in personalized medical care with 3D software and 3D printing technology
In July of 2017, JSR acquired LEXI Co., Ltd., a medical 3D software company. LEXI began marketing 3D surgical simulation software for orthopedics in Japan for the first time in 2009 and is a pioneer in this field. Prior to this acquisition JSR was developing its business through 3D printing and associated materials technology (namely, FABRIAL®, a 3D printer material made from biocompatible elastomer). However, we now aim to fuse these technologies with LEXI's 3D software technologies to supply services and products for personalized medical care that is more precisely, more quickly, and more easily customized to each patient. We will do this by applying 3D technologies in the preparation and analysis of 3D data for the skeleton and internal organs from digital imaging data acquired from CT and MRI diagnoses and in the preparation of optimized resin-based prosthetic devices and surgical assistance tools with 3D printing.
Example of a 3D printer-produced brace made with FABRIAL®
< The FABRIAL® R Series >
A FABRIAL® R Series filament and example of an item shaped with it
The FABRIAL® R Series is comprised of filament materials for 3D printers that were developed using JSR's own polymer technology.
Soft and pliable, the materials expand 3D printers' use applications and design diversity, and make the production of actual products possible. The series' safety is confirmed through biocompatibility tests (skin sensitization and cytotoxicity) conducted in accordance with ISO 10993.