JSR Group is committed to building a quality management system and quality assurance with the aim of providing customers with products of reliable quality that they can use with peace of mind.
1. Philosophy and Advancement Structure
(1) Philosophy
JSR Group' Corporate Mission is "Materials Innovation - We create value through materials to enrich society, people and the environment." Moreover, the Group's Management Policies set forth "emphasis on improving customer satisfaction" and "continuous increase in customer satisfaction" as basic policies concerning quality for the entire company. We believe that an important role of JSR Group is to offer innovative materials and excellent products that meet customer needs and contribute to the making of a better society.
(2) Structure and Persons in Charge
JSR Group has established a "Group-wide Quality Policy Committee" as an organization charged with formulating quality policy and quality assurance promotion plans. The Group proceeds with business based on these plans.
2. Quality Assurance
(1) ISO 9001 Certification
JSR Group supplies customers with chemicals and other diverse products and services. To continuously deliver reliable quality in all of our products and services, we give full attention to quality management each day and also continually strive to further improve quality under a management framework that is based on manufacturing and quality management standards (ISO 9001*1).
We acquire ISO 9001 certification at all of our main plants and business establishments (including relevant divisions and indirectly involved departments). Established at each certified business establishment has a Quality Assurance (QA) Advancement Committee that is led by the plant manager or senior management. Items addressed by this committee include activities to improve quality levels, measures to prevent quality deficiencies, development of CS activities,*2 and reporting of quality abnormalities. The information the committee collects is stratified and put to use in preventing the recurrence of problems having the same root cause. CS activities receive particular attention. Customer complaints as well as quality issues that did not go so far as to generate complaints are stratified and analyzed, and the results are applied to the prevention of complaints and problems. Constantly grasping and analyzing quality risks is useful in eradicating quality-related complaints and problems. We strive to prevent and stop recurrence and emphasize activities to prevent quality problems through an organization-wide approach. In this way, the process extending from problem discovery to recurrence prevention measures operates as a PDCA cycle.
*1 ISO 9001: An international standard for quality management systems that was issued by the International Organization for Standardization (ISO)
*2 Customer Satisfaction (CS) activities: Activities to gain customers' satisfaction by meeting their expectations, to create a better relationship with customers and build trust with them, and to link that relationship to sales.
ISO 9001-certified plants
Japan (11 companies, 18 business establishments)
Certification No.
Date of certification
(date of renewal)
Date of expiry
JSR Corporation
-
-
-
Yokkaichi Plant
JQA-0396
February 9, 1994
(February 9, 2019)
February 8, 2022
Chiba Plant
JQA-QMA14571
May 11, 2012
(September 1, 2017)
August 31, 2020
Kashima Plant
JQA-QMA14580
May 18, 2012
(December 8, 2018)
December 7, 2021
JAPAN COLORING CO., LTD.
NQA-16100028A
March 19, 1996
(February 21, 2017)
March 18, 2020
Techno-UMG Co., Ltd.
-
-
-
Yokkaichi Plant
JCQA-0700
May 15, 2000
(May 15, 2018)
May 14, 2021
Ube Plant
JCQA-1508
July 19, 1994
(July 19, 2018)
July 18, 2021
Otake Plant
JCQA-1508
July 19, 1994
(July 19, 2018)
July 18, 2021
Japan Butyl Co., Ltd.
-
-
-
Kawasaki Plant
0105
November 28, 1995
(January 27, 2018)
January 26, 2021
Kashima Plant
0105
November 28, 1995
(January 27, 2018)
January 26, 2021
JM Energy Corporation
JP15/062714
May 29, 2009
(May 29, 2018)
May 29, 2021
JSR Life Sciences Corporation
JP13/062551
November 23, 2010
(July 27, 2018)
November 23, 2019
ELASTOMIX Co., Ltd.
-
-
-
Yokkaichi Plant
JCQA-1699
February 24, 1997
(February 24, 2018)
February 23, 2021
Tokyo Plant
JCQA-1699
February 24, 1997
(February 24, 2018)
February 23, 2021
Shiga Plant
JCQA-1699
February 24, 1997
(February 24, 2018)
February 23, 2021
JSR Logistics & Customer Center Co., Ltd.
JQA-0396
February 9, 1994
(February 9, 2019)
February 8, 2022
KRATON JSR ELASTOMERS K.K.
JCQA-0897
April 16, 2001
(April 16, 2019)
April 15, 2022
JSR Micro Kyushu Co., Ltd.
JQA-3163
March 12, 1999
(January 13, 2018)
January 12, 2021
Emulsion Technology, Co., Ltd.
NQA-16050168A
November 30, 1998
(January 21, 2019)
November 29, 2019
Overseas (9 companies, 9 business establishments)
Certification No.
Date of certification
(date of renewal)
Date of expiry
ELASTOMIX (THAILAND) CO. LTD. (Thailand)
TH11/5778
June 17, 2011
(June 17, 2017)
June 17, 2020
JSR Micro Korea C., Ltd. (South Korea)
FM 88265
October 11, 2004
(September 18, 2017)
September 27, 2019
JSR Micro, Inc. (U.S.A.)
10305
April 17, 1998
(March 18, 2019)
March 17, 2022
JSR Micro N.V. (Belgium)
BE91/03002
October 1, 2004
(October 1, 2016)
September 30, 2019
Tianjin Kuo Cheng Rubber Industry Co., Ltd.
80117002/1
September 2002
(March 14, 2018)
March 13, 2021
Kumho Polychem Co., Ltd. (South Korea)
42395-2008-AQ-KOR-RvA
December 2, 2008
(November 20, 2017)
November 20, 2020
JSR Micro Taiwan Co., Ltd. (Taiwan)
TW18/00169
March 14, 2007
(February 26, 2018)
February 26, 2021
JSR BST Elastomer Co., Ltd. (Thailand)
10102215
June9, 2014
(June 16, 2018)
June 8, 2020
PT.ELASTOMIX INDONESIA (Indonesia)
2016-1-0181
January 2016
(September 7, 2018)
September 6, 2021
(2) Global Quality Guidelines
As its development, purchasing, production, and sales all become more globalized, JSR Group recognizes that its philosophy vis-a-vis quality in the continual pursuit of "Materials Innovation" must be shared throughout the Group, and that any divergence from that philosophy must be prevented. For this reason, we are formulating guidelines for the sharing of basic thinking and mechanisms concerning quality management that JSR Group can rely on (e.g., elimination of differences and variations in thinking concerning quality management, application of shared language).
With these Global Quality Guidelines, we are promoting the sharing of basic thinking and mechanisms and presenting examples that illustrate quality management methods that are indispensable to "manufacturing," which is the "soul" of our company. They include responses to quality abnormalities in design reviews for planning (e.g., of business models) and product design, contractor management, test management, logistics management, and global emergency response system. Additionally, we are focused on building a quality management system that includes not only JSR Group's overseas production bases but also contractors and business partners. Such a system will permit us to supply products and services of reliable quality continually and globally throughout the entire supply chain, from product planning, design and development to mass production and customer service. To respond to JSR's push into global and widespread fields, and to respond to supply chain diversification and increasingly sophisticated customers' needs that are occurring as a result, we will continue reinforcing our global quality assurance system.
(3) "Building in" Quality
JSR Group builds in quality by conducting verifications and tests using quality control methods matched to product characteristics in each of the steps of development and design, manufacture, and quality assurance.
For example, we use Quality Function Deployment*3 (QFD) as a means of managing product quality. In addition, when starting the production of a new product or making changes or improvements to a manufacturing process, we make it a point to begin actual work only after conducting verifications that predict abnormalities using Failure Mode and Effect Analysis*4 (FMEA) to ascertain risks. In this way, we repeatedly analyze risk while making verifications of prevention—for example, we ask, "Are we providing the quality demanded by the customer?" and "Can quality be maintained in mass-production?"—so that we can be sure that no product defects will occur. Moreover, we strive to achieve quality consistency in manufacturing by using Statistical Process Control (SPC).
*3 Quality Function Deployment (QFD)
A design approach aimed at making quality assurance possible by bring the design quality of a supplied product to the manufacturing process.
*4 Failure Mode and Effect Analysis (FMEA)
A systematic method for analyzing potential accidents and defects in order to prevent accidents and defects.
(4) Quality Improvement
JSR Group adds the "Six Sigma methods."*5 a quality control approach that reduces product defect rates based on statistical data analyses, to its traditional quality control (QC) methods. The Group is steadily producing results by promoting the use of both in quality improvement activities. Moreover, the Six Sigma methods also form the foundation for cultivating a culture of data-driven thinking in preparation for coming digitalization. We are working to build each employee's awareness of this point.
*5 The Six Sigma methods
A quality improvement method that was developed by Motorola of the United States in the 1980s. It seeks to suppress quality deficiencies and improve quality by controlling variability with focus on the processes by which variability occurs.
(5) Quality Audits
As a manufacturer, JSR Group has responsibilities to meet the quality, cost, and supply requirements of its customers. To fulfill these responsibilities, top management-led quality performance audits have been performed annually since FY2012 in place of the previously conducted head office quality audits. These audits include reports on plant QA activity concerns such as trends and corresponding solutions of claims and other issues, and activities to improve plant capability. They also include reports on customer satisfaction levels and presentations on quality improvement activities such as Six Sigma training and small-group improvement activities. The seventh Quality Performance Audits were conducted at JSR's three plants in January and February of 2019 with the specific aims of pinning down the true causes of quality problems and achieving the best possible balance among quality, cost, and stable supply.
In addition, we implement internal quality audits and external quality audits for the purpose of improving our quality management system. We strive to improve quality control activities and frameworks in all quality audits with a view to achieving higher customer satisfaction.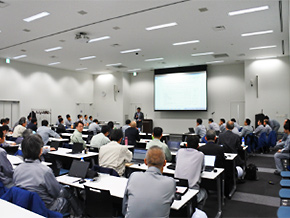 A Quality Performance Audit being conducted by top management (JSR Corporation's Yokkaichi Plant)
Presentation of a Quality Performance Audit's "highest excellence" award (at JSR Corporation's Head Office; March 28, 2019)
FY2018 Quality Performance Audits
| Place | Date |
| --- | --- |
| Yokkaichi Plant | January 31, 2019 |
| Kashima Plant | February 7, 2019 |
| Chiba Plant | February 19, 2019 |
(6) Quality Education
JSR Group is also working to enhance employee education. In FY2007, we established training centers in our three plants as part of this effort. We are expanding our education program and providing education on quality control and PLP, holding QFD seminars, and implementing product safety training for specific employee classes (employees with the company between 1 and 3 years, employees with the company between 6 and 10 years, and employees who will be/have been promoted to the rank of manager). We also see education oriented toward improving quality levels and preventing product accidents as an important activity. JSR Group will continue to promote better awareness of quality among our employees and pour effort into human resources development in order to improve quality control and meet the sophisticated needs of our customers.
3. Looking Ahead
With "emphasis on improving customer satisfaction" and achieving a "continuous increase in customer satisfaction," we will continue optimizing our quality management system and improving the quality of our products and services to stay in step with business transformations taking throughout JSR Group. By doing so, we will stay true to our aims of offering innovative materials and excellent products that meet customer needs and contributing to the making of a better society.