Social Issues that JSR Group Can Help Resolve / Contribution to Quality of Life and Happiness

1. Philosophy
The materials developed through our Digital Solutions Business contribute to the creation of newer and better computers, microchip-equipped electronics and digital communications devices, and these, in turn, add value to society. As the ongoing digital revolution continues to evolve, we expect that such materials will have an important role to play in addressing the societal challenges embodied in the SDGs; thus, in order to contribute to a better quality of life and happiness for society, the JSR Group is expanding its business across the entire range of advanced materials essential to the digital revolution.
2. Society and the Coming Digital Revolution
Today, when life without computers and the Internet is no longer imaginable, an even greater revolution is underway.
For now, computers can only be run by programs; however, they are gradually gaining the ability to learn on their own (in a phenomenon called "cognitive computing"). The devices which we use directly—the personal computers (PCs), tablet computers, and smartphones equipped with semiconductors, displays, cameras and the like—are in fact terminal devices that connect the virtual world (a vast aggregation of various data) with people and things. Cloud computing (the "Cloud") stores and shares data through these terminal devices and the Internet. The world of the Cloud is a growing virtual space composed of artificial intelligence (AI) and other technologies that become dramatically smarter by learning from enormous amounts of collected data.
In the future, it will not be just "people" who are linked to this virtual space through their smartphones; indeed, many "things," such as cars and manufacturing equipment, will also be linked to the virtual space as "edge devices" through various sensors (creating a phenomenon known as the "Internet of Things": IoT). As a result, an unfathomably vast amount of data ("Big Data") will be aggregated there. AI will continue to get smarter, and eventually the day when we "people" use advanced AI unconsciously in daily life will come.
Furthermore, AI will make automation of diverse and complex operations through robotics possible. The application of such technical innovation and data will allow us to address "global social issues = true customer needs," which is something we have been unable to fully address heretofore. This will encourage economic growth gained by utilizing new technologies and data and also help solve various international issues. Our goal is to help bring about a more prosperous society for each and every person of the world.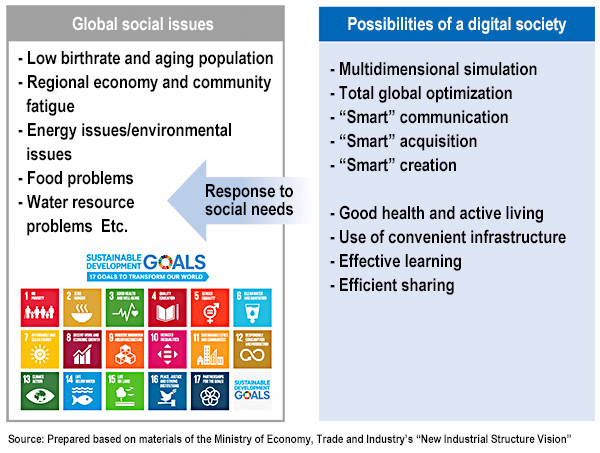 3. Added Value for Society by the Digital Solutions Business
The Digital Solutions Business of the cognitive computing age will need more than a materials-based approach whereby it simply supplies functional chemical products—specifically, differentiated high-value products. It will also require an approach that involves providing solutions that are matched to customers' needs. For this reason, JSR's Digital Solutions Business ascertains information and knowledge on cutting-edge social trends quickly and precisely as an organization, and with focus on the customer, it enables them to link to expeditious solutions. It provides added value for the resolution of social issues through products.
For example, to address the social issue of realizing a healthy and long-lived society, it is developing materials for wearable devices that will make constant health management possible. Also, to tackle the social issue of ensuring equal educational opportunities, it is developing e-book materials that will help to improve educational accessibility.*
JSR's Digital Solutions Business will quickly respond to social change and contribute to the development of society utilizing IoT and Big Data.
* Educational accessibility: The ability to access and use educational environments without physical, informational, institutional, or psychological impediments, regardless of disability or other physical or mental circumstances or living environment.
Examples of added value provided for social growth, using the development of Big Data and IoT as a driving force