1. Philosophy
JSR Group's "E2 Initiative™" is a clear and important concept of "environmental value creation" that we constantly have in mind as we manufacture our products and develop our business. It is also used as a concept that allows us to work toward solving problems in environmental burden, resources, and climate change when we carry out our business activities.
2. Working to Solve Environmental Issues through the Deployment of E2 Initiative™
Because both humans and innumerable other living things share this planet Earth, we must make an earnest effort to deal with environmental issues. JSR Group has adopted its E2 Initiative™ as a concept to simultaneously reduce environmental impact and create new business opportunities using the environmentally-friendly aspects of our products.
The E2 Initiative™ is based on "Eco-Innovation," which is designed to create business opportunities based on the environment, and "Energy Management," which is focused on reducing CO2 emissions. It is a concept that allows us to create value both in active and passive ways. As we shifted our concept of value from the conventional two approaches of "differentiation" and "cost," our new concept of "environmental performance" has become essential.
By using the "Life Cycle Assessment (LCA)" to evaluate the "environmental impact" of our products from the design stage in the product development to the use of the product, we are working to solve environmental problems throughout business operations.
3. LCA & LCI Initiatives
LCA (Life Cycle Assessment) is a method of quantitatively assessing the environmental impact of products throughout the life cycle of each product, from the materials procurement stage to manufacturing, sales, use, and disposal.

Implementation of LCA requires that we calculate the amount of resources used when manufacturing a product and the amount of CO2 emissions during all stages of the life cycle of a product (LCI data).
The entire synthetic rubber industry, including the JSR Group, has engaged in LCI data calculations for representative synthetic rubber products. LCI data is compiled in an LCA database maintained by the Life Cycle Assessment Society of Japan.
4. Contribution with Eco-Friendly Products (Active Application of the E2 Initiative™)
(1) SSBR: A Synthetic Rubber for Low Fuel-Efficient Tires with Great Potential in the Effort to Solve Global environmental Issues
Fuel-efficient tires are environmentally-friendly products and yet maintain their ability to stop safely and securely. JSR Group's polymerization SBR (SSBR) solution has received positive feedback from customers. JSR Group designed SSBR using technology that more readily facilitates rubber molecules and tire reinforcing material molecules to bond tightly, which reduces internal friction and rolling resistance.*1 In addition, this is achieved without changing the characteristics of rubber that enable tires to stop. SSBR allows large reductions in environmental impact through the entire lifecycle of the tire, from the material selection and its usage to disposal.
Automobiles will still require tires even after automotive engines are replaced with electric motors. Thus, demand for SSBR is high both in countries and regions where environmental standards are high, such as Japan and Europe, and in emerging nations where reducing transportation-related environmental impact is an urgent issue.
Amidst the rapid pace of automotive electric motor adoption, SSBR not only adds lower rolling resistance to tires, it also contributes to wear resistance and durability, thereby helping to maintain long-term performance. In addition, SSRB helps in meeting the growing demand for all-season tires that can be used year-round by adding a degree of softness that ensures even tires with safe stopping performance in the summer can also provide reliable stopping performance on cold road surfaces.
Within the JSR Group, we are constantly working on delivering more of this sort of added value through the innovative SSRB products that we develop and bring to market.
The JSR Group currently manufactures SSBR in two countries: At the Yokkaichi Plant in Japan and JSR BST Elastomer in Thailand. Additionally, production is scheduled to start at JSR MOL Synthetic Rubber in Hungary in 2019. We will continue helping to solve global environmental issues by meeting the global demand for fuel-efficient tires.
JSR BST Elastomer Co., Ltd. (Thailand)
JSR MOL Synthetic Rubber Ltd. (Hungary)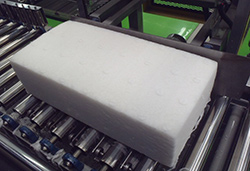 SSBR before packing
*1 Rolling resistance: Resistance in the direction opposite to the direction of tire rotation.
(2) Environmentally-friendly modified asphalt waterproofing material: HAL E-COAT
The HAL E-COAT modified asphalt enamel manufactured and marketed by JSR Group company Emulsion Technology Co., Ltd. is an environmentally-friendly asphalt waterproofing material used in newly constructed buildings, commercial facilities and various other construction projects.
Conventional asphalt waterproofing techniques ("conventional techniques") utilize fire to melt the asphalt, which results in noxious odors and smoke being produced that have a significant, negative impact on the workers and the surrounding environment; however, because HAL E-COAT can be used at normal temperatures, it has less of an impact on the surrounding environment and cuts CO2 emissions by 99% compared to conventional techniques.
Moreover, the number of steps and materials required to install HAL E-COAT are less than those required by conventional techniques; thus, for example, by using HAL E-COAT on a roof, the weight of the waterproofing layer can be reduced by 50% to 70%.
In addition, when assessed by Construction Technology Review and Certification*2 standards, HAL E-COAT achieves the same degree of waterproofing performance and quality as conventional techniques and is garnering attention as a future, environmentally-friendly alternative to conventional waterproofing techniques.
*2 Construction Technology Review and Certification is a review, certification and popularization process aimed at helping new construction technologies developed by private sector entities become registered and widely recognized, and it is carried out by registered examination authorities in Japan.
JSR Center of Materials Innovation
HAL E-COAT is also used on the Center's roof.
(3) Energy utilization-enhancing pre-doping technology for power storage devices
Lithium-ion secondary batteries (LIB) are used in electric automobiles, smartphones and a wide variety of other devices, but as the market for LIB expands, so too does the need for greater power storage capacity per unit size and reusability without degradation or loss.
The pre-doping technology developed by JSR offers a novel approach to meeting these needs, for which it is attracting attention. Generally speaking, the problem of deteriorating charge/discharge capacity is due to the lithium ions inside the LIB being consumed by secondary reactions and other internal factors, but if an electrode is first used on these lithium ions that are going to be consumed (pre-doping), it has the effect of increasing storage capacity and battery life.
The pre-doping technology, which builds on many years of research and development by JSR, has found its way into such applications as the mass production of lithium-ion capacitors (LIC) developed by JSR Group company JM Energy Corporation. The newly developed process is used as the normal roll-to-roll system employed in LIB manufacturing, thereby allowing LIB manufacturers to introduce pre-doping technology without the need to significantly alter their materials or processes.
This pre-doping technology enhances the characteristics of LIB and other power storage devices, making it possible to widen their scope of application and, thereby, contribute to more efficient energy use and the realization of a low-carbon society.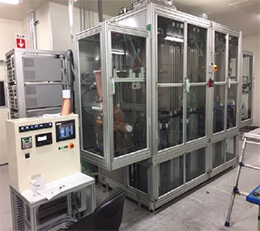 Roll-to-roll pre-doping system
(4) Electrode Binders for Lithium-Ion Secondary Batteries as Part of Our Efforts to Create a Low-Carbon Society

JSR Group offers electrode binders (adhesive) for lithium-ion secondary batteries. These binders have experienced an increase in demand due to efforts for the effective use of energy and the creation of a low-carbon society.
In addition to being used in computers, mobile phones, electric vacuum cleaners and a host of other electronic devices, recent years have seen the rapidly growing adoption of lithium-ion secondary batteries as high-performance power sources for electric and hybrid automobiles.
The binders manufactured by the JSR Group are aqueous emulsion-type binders that rely on high-performance adhesive polymers whose particles disperse in water, thereby imbuing the binders with a number of outstanding characteristics, such making them organic solvent-free (which reduces the environmental burden of the manufacturing process) and giving them an ideal, low-resistance adhesive form (point adhesion by nanoparticles).
Within the JSR Group, the advanced macromolecular design and dispersion stabilization-driven manufacturing technologies that we have cultivated over many years are being used in the development of cutting-edge binders that stand up to rigorous and repeated battery testing.
(5) Lithium-Ion Capacitors that Help Achieve Efficient Energy Use
JM Energy Corporation ULTIMO™ brand of lithium-ion capacitors
Laminated cells

Laminated-cell modules
Square cells

Square-cell modules
Lithium-ion capacitors have the advantage of being able to perform instant charging and discharging with little propensity for self-discharge, all while offering a high degree of safety combined with a long lifespan. They have found use as an energy-efficient energy source for a wide variety of applications, including as the primary power source or regeneration/assistance supplementary power source for overhead wireless trams, subways, hybrid buses, automated conveyor systems and other mobile systems; as a backup power source, such as for instantaneous voltage drop compensators; and as an electrical storage device for short-term fluctuation compensators used in solar and wind power generation. And looking ahead, the scope of market applications for lithium-ion capacitors is expected to continue to grow.
JM Energy Corporation, which brought the world's first lithium-ion capacitor mass production facility online at the end of 2008, is the industry leader in lithium-ion capacitor production. By capitalizing on the materials and precision machining technology of the JSR Group, JM Energy Corporation delivers high-performance, high-quality lithium-ion capacitors for the mass market.
(6) CALGRIP™ Brand of Latent Heat Storage Materials Contributes to Energy Conservation
Unlike conventional cold insulators, the JSR Group's CALGRIP™ latent heat storage material is able to maintain a specific temperature between 5℃ and 40℃ over long periods of time. The energy-saving effects of CALGRIP™ can be put to use not only in fields requiring strict temperature control, such as constant temperature transport and storage of pharmaceuticals, but also more broadly in construction, HVAC and other fields involving energy-saving or temperature control-related applications.
(7) SIFCLEAR™ Brand of Water-Based, Stain-Resistant, and Durable Emulsion Materials Contribute to Energy Conservation and Environmental Impact Reduction
SIFCLEAR™ is used on the right butadiene tank at the Kashima Plant.
JSR Group's water-based, stain-resistant, and durable emulsion material SIFCLEAR™ is used in paints to make them resistant to contamination, helping maintain cleanness in appearance over the long-term. The high durability of the paint film reduces the need for frequent re-painting, contributing to resource conservation. In particular, when used in heat reflection paints, heat reflection effect is maintained over the long-term, achieving significant energy savings. It is also attracting attention as an environmentally-friendly material because of its ability to prevent Volatile Organic Compounds (VOCs) and the generation of odor.
(8) HUSHLLOY™ Reduces Squeak Noise, Grease Application, and Non-Woven Fabric Lamination
HUSHLLOY™*3, a product of JSR Group company Techno-UMB, has revolutionary effects in reducing the squeak noise caused by plastic joints in vehicle interiors.
Ordinarily, squeak prevention is achieved by applying grease or attaching felt fabric to plastic car parts. However, the use of HUSHLLOY™ makes these countermeasures unnecessary, allowing component manufacturers to shorten their production process and save energy. In addition, since the material itself has the effect of minimizing squeak noise, maintenance is not required for a longer period of time.
*3 HUSHLLOY™ is a registered trademark of Techno-UMG Co., Ltd.
(9) FUELOCK: A Hose Material for Cars Running on Bioethanol Gasoline
"JSR FUELOCK" is suitable as a hose material for cars that run on bioethanol gasoline because it demonstrates superior performance with that fuel.
If a car is run on bioethanol produced from the starch of a crop that was produced from a plant's photosynthesis using the sun's energy and carbon dioxide in the air, its carbon dioxide corresponding to the plant's photosynthesis becomes zero (i.e., the car becomes so-called "carbon neutral").
"JSR FUELOCK" is helping make bioethanol gasoline cars more popular and is therefore useful as an indirect means of combatting global warming.