ARTON Resins for Injection Applications
Edge Computing Materials
ARTON Resins for Injection Applications
Brief of Resin Characteristics
ARTON is superior in optical characteristics, dimension stability, and is a transparent resin (cyclic olefin resin) of a high heat resistance. ARTON is one of the high functional resins best suited for optical applications such as optical films, light guiding plates, optical lenses etc.
Although ARTON is a cyclic olefin resin, this resin has a polar group in its molecular chain and is good in adhesion, adherence, and miscibility.
Property Tables classified by Grade
ARTON has a lower specific gravity than PC and acrylic resin, and lower weight products can be designed.
(5) Refractive Index and Abbe Number
Abbe number of ARTON is 57.
ARTON is compatible various additives.
Camera lens for mobile phone, Objective & Sensor lens for mobile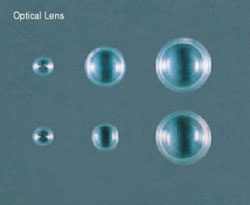 Contact Us