Compliance
Basic Approach
The JSR Group's approach to corporate ethics and legal compliance is propped by the two central principles of upholding the law and ethical action. Our Corporate Ethics Committee is active in encouraging employees to hold high ethical standards and to act with fairness and integrity.
Corporate Ethics Activities
The JSR Group has established the JSR Group Principles of Corporate Ethics as specific guidelines for corporate ethics. In July 2011, we revised the principles to reflect our Essential Elements, and positioned the new principles as a globally common standard for the entire JSR Group. We are now systematically promoting corporate ethics activities at all our Group companies both at home and abroad.
Three Pillars of Corporate Ethics Activities
(1) Education on the JSR Group Principles of Corporate Ethics
The JSR Group has established the JSR Group Principles of Corporate Ethics, which is our globally common corporate code of conduct for all our business establishments, including those in foreign countries. With this establishment, all of our Group companies actively advance our corporate ethics efforts.
The JSR Group has produced English, Simplified and Traditional Chinese, Korean and Thai translated versions of the Principles of Corporate Ethics and distributed them to Group employees. We have thus ensured that employees at all Group companies worldwide can become acquainted with the JSR Group Principles of Corporate Ethics in their native language (or in a language in which they are proficient).
As an education-related measure, we have provided an e-learning program based on the Principles of Corporate Ethics for all employees of JSR Group companies in Japan.
JSR Group Principles of Corporate Ethics
(2) Corporate Ethics Awareness Survey
The JSR Group surveys all of our employees on their awareness of corporate ethics in order to identify problems and make improvements in areas related to corporate ethics. We previously conducted the survey every two years, but since FY2012, it has been held every year.
(3) Hotline (Internal Reporting System)
Hotline for Employees
The JSR Group has introduced an internal reporting system called the Corporate Ethics Hotline. The system consists of an internal hotline for communicating with contacts within group companies and the JSR Corporate Ethics Committee, an external hotline for communicating with an attorney, and a hotline for communicating with an outside organization that provides support in Japanese, English, Chinese, Korean, and Thai to establish a structure that facilitates access by personnel at our overseas business establishments. We are informing our employees about these hotlines via internal newsletters and posters, and also promoting trust in the hotlines by ensuring confidentiality and prohibiting unfair treatment of hotline users.
Number of Reports to the Hotline
| FY | 2010 | 2011 | 2012 | 2013 | 2014 |
| --- | --- | --- | --- | --- | --- |
| JSR | 6 | 13 | 10 | 11 | 4 |
| Group companies | 5 | 5 | 8 | 7 | 8 |
| Total | 11 | 18 | 18 | 18 | 12 |
Hotline for Business Partners
On April 1, 2014, JSR Corporation introduced a Supplier Hotline at its Procurement Departments, an external reporting system for business partners with which the company has periodic business relations. The system provides business partners with contacts to report violations of the law and of corporate ethics in business, or to identify questionable acts suspected of such violations early on and solve them.
Like the hotline for employees, we outsource contact service to a specialized external organization. We are planning to expand the scope of the system to cover other departments of JSR and Group companies in Japan by the end of FY2015.
Legal Compliance Measures
The JSR Group established and put into operation a legal compliance confirmation system to reinforce legal compliance structures. Under the leadership of the Corporate Ethics Committee, the laws and regulations that must be observed in each country are identified and yearly checks on the legal compliance status of JSR and all domestic and overseas Group companies are carried out and any necessary reforms are made.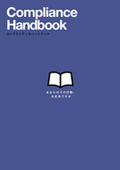 Compliance Handbook
Enhancement of compliance
The Compliance Handbook, which summarizes important points about laws and regulations that we need to observe, was prepared and distributed to all employees in Japan.
A corporate ethics awareness survey was conducted both in Japan and overseas to grasp the current situation regarding employee awareness of corporate ethics and identify issues that remain unaddressed. These issues are being addressed under a follow-up plan.
Provision of compliance education programs
Internal legal work programs: Provided seminars on the Subcontract Act, the Antimonopoly Act and export control regulations.
e-learning: Provided e-learning programs on insider trading
---
Protection of Personal Information
As the society we live in adopts ever more advanced information and communication technologies, the JSR Group recognizes the importance of protecting personal information. Based on the Act on the Protection of Personal Information, we have formulated and implemented a privacy policy that sets out our basic approach to the acquisition, use and management of personal information.
Human Rights
Our Principles of Corporate Ethics set forth the Code of Conduct on Human Rights and covers respect for basic human rights, respect for workers' rights in and outside of Japan, and denial of child labor and forced labor not only by our Group but also by our business partners and subcontractors.
In FY2014, we launched a study on LGBT* rights.
*LGBT: Refers to lesbian, gay, bisexual and transgender; the term refers to sexual minorities.