Building a Future with JSR Group's Materials Innovation
Dialogue with Society Doing Business Involves Consuming the Earth's Resources; We Aspire to Become a Company that Does Business in the Best Way Imaginable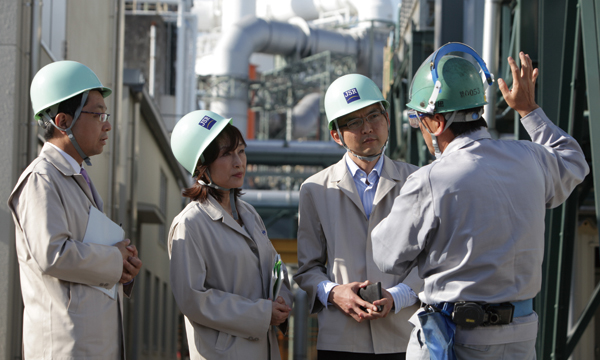 While the JSR Group is expected to consider the global environment, as a leading chemical manufacturer, the Group also has the ability to solve social and environmental issues through its innovative materials. We invited three external experts to inspect the Yokkaichi Plant, our main plant, and attend a dialogue meeting to discuss future issues of the Group.
Site visit date: Wednesday, May 28, 2014; Inspected plant: JSR Yokkaichi Plant
Meeting date: Tuesday, June 10, 2014; Place: JSR Roppongi Club
Participants

Naoki Adachi, PhD
Facilitator
From the standpoint of a biodiversity expert
CEO of Response Ability, Inc. Studied ecology at the Faculty of Science and the Graduate School of Science, the University of Tokyo, and obtained a doctoral degree in science. After working for the National Institute for Environmental Studies (NIES) and the Forest Research Institute Malaysia (FRIM), he started his career as an independent consultant. Public posts he has held include: Executive Director of the Japan Business Initiative for Biodiversity (JBIB); a member of the Committee on Biodiversity Private Sector Activities Guidelines, the Ministry of the Environment; and a member of the Committee for Promoting Conservation and Other Efforts Regarding Biodiversity in Economic Society, the Ministry of the Environment.
---
Keiko Suzue, PhD
From the standpoint of an international NGO on biodiversity
Representative Director of BirdLife International Tokyo. Ms. Suzue became deeply concerned about environmental problems when she was involved in CSR activities in her company, particularly natural protection support activities in Japan. She joined BirdLife International in 2005, an international environmental NGO based in the United Kingdom, and has since been implementing various environmental projects from a global perspective. Her recent focus is to promote work on the conservation of biodiversity to private companies in collaboration with the U.K. headquarters. She is a doctor of environmental symbiotic studies.
---
Mr. Hiro Motoki
From the standpoint of an expert in the area of environmental activities and sustainability of companies
President of E-Square Inc. After graduating from the College of Economics, Rikkyo University, Mr. Motoki engaged in consulting services on information technology (IT) , strategy, and the environment at a Japan-based member firm of Deloitte Touche Tohmatsu. In April 2001, he became the manager of consulting services at E-Square, providing support to leading companies in a wide range of industries mainly in the areas of CSR strategy, communication, education, and business development. In October 2011, he was appointed as President. He has also been a part-time lecturer at the Graduate School of Environmental Studies of Tohoku University since 2005. He frequently gives lectures on CSR and the environment.
---
Takao Shimizu
Officer
Corporate Planning
Koichi Kawasaki
Managing Director
Safety and Environmental Affairs
(as of this writing)

Hayato Hirano
Director and Officer
CSR

Tatsuya Kubo
General Manager
CSR Department
(as of this writing)
---