Activity Highlights of Global Group Companies
While sharing the Essential Elements, CSR, and mid-term business plan across the Group globally, each of the JSR Group companies also engage in their own activities to address issues and needs that differ from one country/region to another.
This section reports the major activities conducted by overseas Group companies in FY2014.
JSR Micro, Inc. (United States)
Quality assurance activities
Since its founding, the company has conducted business in consideration of the environment and society at large. The company's basic policy is to act responsibly as a member of the JSR Group and actively commit itself to CSR activities, not as an obligation, but rather as an efficient and effective way of advancing business and as an opportunity to create new businesses.
Business continuity plan (BCP) training
JSR Micro, Inc. (United States), JSR Yokkaichi Plant, JSR Micro Kyushu Co., Ltd., and JSR Micro N.V. (Belgium) collaborated to conduct business continuity training as part of the Group's global quality assurance (QA) activities. The training was conducted based on an emergency scenario in which production at one of the four fine chemicals plants is halted, necessitating other sites to cover for the lost production, in order to identify steps that require considerable time, bottlenecks, and other problems. The focus was placed on how many days would be required to start the production of grades that the plant usually does not handle, how production and product standards should be shared, and how import/export procedures should be carried out. The training even included actual production of a number of products in addition to desktop exercises. This business continuity training was rated highly among U.S. customers.
*BCM (Business Continuity Management), BCP (Business Continuity Plan):
A BCP defines activities that need be conducted before the occurrence of an emergency situation that may threaten the survival of a company (large-scale natural disaster, explosion/fire, terrorist attack, etc.), judgment criteria and action guidelines that enable business continuity in the event of such emergencies, and other matters necessary for ensuring the continuity of important businesses and early restoration. BCM is a management system that has been developed to operate a BCP and continuously improve it through a PDCA (plan-do-check-act) cycle.
Employees' volunteer activities for environmental recovery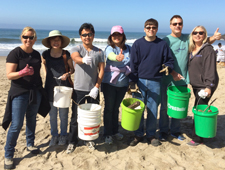 Employees participating in volunteer activities
The company encourages employees to participate in local volunteer activities. In FY2014, activities for environmental recovery and biodiversity conservation were conducted along the San Francisco Bay, including the planting of native plants in marshy wetlands and cleanup of the coast at the bay. The company also supported fundraising for the operation of a local public broadcasting station, which is an important source of useful information for the community.
---
Environment-friendly architectural design
Leadership in Energy and Environmental Design (LEED) is an environmental performance rating program for buildings established in the United States with the aim of promoting green buildings. The company's new building, which was completed in April 2013, was constructed to meet the LEED criteria. The energy-saving design, improved recycling rate of building materials, parking spaces used exclusively for eco-friendly cars, and other environmentally-considerate features of the building led to it being awarded the LEED Silver certification.
---
Energy conservation
JSR Micro, Inc. is working hard to save energy to achieve its set target. At the production site, boilers and cooling systems were replaced by energy-saving models, and foam insulation was sprayed over the walls of the refrigerated warehouse. Other efforts include changing light fixtures to motion-sensor lights, and painting the rooftop of the building white to increase air conditioning efficiency.
Reduction of waste
JSR Micro, Inc. promotes the recycling of waste generated in the course of its business on an on-going basis, and in FY2014 achieved a recycling rate of more than 97%. The next goal is to reduce the total amount of waste through various means including recycling. The company has eliminated the use of bathroom paper towels and introduced dryers, and replaced paper dishes and plastic cutlery used in the lounge with reusable tableware and utensils that can be washed, among engaging in other efforts, thus making steady progress.
Reduction of water consumption
JSR Micro, Inc. has been implementing a project set up specifically to reduce water consumption. One activity conducted under this project in FY2010 is to replace grass lawns with wood chips to reduce lawn areas. This helped the company to achieve a 30 to 40% cut in water consumption, which has been maintained at the same low level ever since. Other activities include the improvement of the product bottle washer, introduction of water-saving toilets, and installment of tap aerators.
CSR Report recognized as an excellent report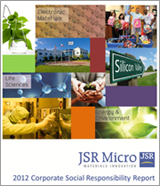 JSR Micro, Inc. published its own CSR Report in March 2013.
A project team called "The Social Network" was formed at the beginning of 2012 and conducted a tremendous amount of research for one year before publishing a report on the impact of their business on the environment and society. The report was ranked 10th in the category of Best 1st Time Report in the CR Reporting Awards presented by CorporateRegister.com*.
JSR Micro, Inc., which pursues environmentally and socially compatible business practices as a responsible corporate citizen, positions the report as the foundation for its sustainability activities and continues to actively promote CSR activities.
*CorporateRegister.com: The world's largest class online directory of corporate responsibility (CR) reports. The site selects and awards excellent CR reports every year.
---
HR Director

Phyllis Moracc

We launched the CSR project in 2012 and published our own CSR report in April 2013. When the project began, we didn't have sufficient knowledge and didn't know what to do. But we studied hard as a team and conducted vigorous educational activities for the employees, and thanks to these efforts, sustainability is beginning to become a part of our corporate culture. Under the strong commitment of the top management, employees embrace the importance of protecting the global environment for future generations and participate in volunteer activities for the environment and the local community.

---
JSR Micro Taiwan Co., Ltd. (Taiwan)
In Taiwan, since more than 99% of energy sources rely on imports, energy conservation and low-carbon economy are particularly important issues. JSR Micro Taiwan is striving to become a powerful manufacturer that combines the strengths of Taiwanese companies, namely swiftness and flexibility, with those of Japanese companies, namely leading-edge material technologies and organizational capability.
Certification of ISO14064-1
The company attained ISO 14064-1:2006 certification in 2013 for its system for the monitoring and quantification of greenhouse gas emissions. The company will check emissions regularly and based on the results, will plan and promote activities to reduce them.
Safety and health management
A plaque presented in recognition of the company's excellent safety and health practices
In October 2013, the company received recognition and an award from the Council of Labor Affairs (current Ministry of Labor), the Executive Yuan, as a FY2012 excellent company in the area of safety and health.
This was the result of the company's ongoing efforts toward safety and health such as introducing and promoting a safety and health system certified under the Taiwan Occupational Safety and Health Management System (TOSHMS) ahead of other companies, conducting a safety assessment prior to starting construction and engineering work, providing beginners' training, and promoting both physical and mental health in each workplace. The company was one of only 19 selected from throughout Taiwan to receive the award.
---
Promotion of collaboration with academia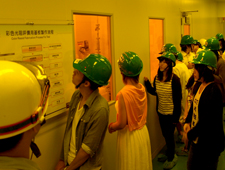 Students touring the plant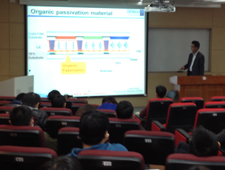 Lecture at the National Cheng Kung University
The company actively cooperates with local universities with their company visit programs and other activities to maintain continuous mutual communication as part of the company's efforts to support the development of next-generation human resources. In FY2014, more than 60 Taiwanese and Japanese students were invited to learn about the company's business and tour the plant. Lectures were also given at the universities, among other educational support activities for young people.
Administration Headquarters

Rika Chen

We have been sharing knowledge on CSR and introducing the JSR Group's sustainability activities through newsletters as well as at employee meetings and on other occasions since 2010, and thanks to these efforts, our employees' CSR awareness is gradually improving. We will continue our activities that focus mainly on reducing environmental impact and promoting safety.

---
JSR BST Elastomer Co., Ltd. (Thailand)
Establishment of the corporate mission and culture
As a way to help to bring joy and pride to employees' work and realize the superb performance of the organization, in FY2014, the second year of its founding, JSR BST Elastomer developed its corporate mission of "Organization of Excellence," its corporate culture "STEP," and its slogan "STEP for Growing Great." Efforts are currently being made to ensure that this mission and culture will penetrate throughout the organization and that communication among employees will be promoted through means such as various internal events, newsletters, and repeated training.
---
Tianjin Kuo Cheng Rubber Industry Co., Ltd. (China)
Awarding of the Excellent Supplier Award and other awards from customers
The company received the Excellent Supplier Award and Advanced Quality Award from Tianjin Star Light Rubber Co., Ltd., one of the company's most important customers, in March 2013, as well as the Distinguished Service Award from Tianjin Toyoda Gosei Co., Ltd. in April 2013. The Excellent Supplier Award and Advanced Quality Award are particularly honorable awards because they were awarded to only three suppliers from among many.
---
J & W Beijing Biotech Co., Ltd. (China)
Promoting communication to become open to diverse values
A technical exchange event organized on June 28, 2013
Since the company employs a team of Chinese and Japanese people with different backgrounds, it is important for them to learn and become open to diverse values. The company is therefore making various efforts to vitalize communication among employees, including sending Chinese employees to JSR and JSR Life Sciences in Japan to receive training, holding technical exchange events within the company, and rotating jobs to give each employee an opportunity to find and develop their potential through experiencing a variety of jobs other than their primary job.
---
JSR Micro N.V. (Belgium)
"ik Kyoto" campaign
Participating employees
The company implemented the "ik Kyoto" campaign for the eighth year in a row, most recently during a five-month period from May 1 to September 30, 2013. This campaign aims to reduce CO2 emissions generated during people's daily commute to work by encouraging the use of environmentally friendly methods of transportation (bicycle, public transportation, carpooling, etc.) in addition to working from home. In FY2014, 40% of employees took part in the campaign, effecting a reduction of CO2 emissions totaling 4,988 kilograms.
---
Introduction of the Health Index
The Health Index program was introduced to ensure continuous improvement of the work environment and maintain and enhance employees' health condition.
Under this program, the company encourages all of its employees to undergo health checkups that cover important health indexes, provide advice on their health, and depending on the results of the examinations, send employees to a hospital, health promotion center, or other external medical institution to receive individual guidance.
The introduction of the Health Index allows each employee to actively maintain and improve their health and take preventive measures against any health risks.