Building a Future with JSR Group's Materials Innovation
The JSR Group's Materials Used in
Various Life Scenarios to
Meet Everyday Challenges
The JSR Group's materials are used in a wide range of products.
We offer a broad spectrum of environment, energy, biomedical, and other materials that help to address social issues and create a brighter, environment-friendly society.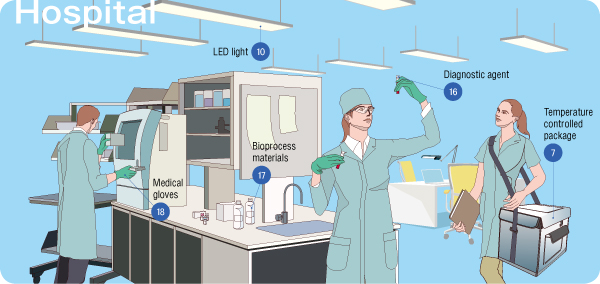 ❶ Solution Polymerization Styrene Butadiene Rubber (S-SBR)
Mostly grades for fuel-efficient tires. The unique molecular structure that makes it easier for rubber molecules to form connections with reinforcement molecules reduces energy loss caused by internal tire friction.
❷ Polybutadiene Rubber (BR)
Rubber with excellent abrasion resistance, lowtemperature performance, and rebound resilience, used mainly in truck /bus tires and golf balls. Polybutadiene rubber based on a neodymium catalyst (Nd-BR) in particular helps to increase fuel efficiency and extend the lifecycle of tires.
❸ Thermoplastic Elastomers (TPEs)
While TPEs demonstrate rubber elastic properties at room temperature, they become liquid when heated and can be easily molded and processed. Their reprocessability makes them easy to recycle.
❹ Emulsions
Liquid form materials developed based on JSR's synthetic rubber manufacturing technologies. They are used in applications such as paper coating to give high gloss and smoothness to paper used for magazines, calendars, and others.
❺ Water-based Binders for Batteries
Binders used in the production of electrodes for lithium-ion batteries and other products. They are useful not only for producing high-performance electrodes but also for reducing environmental impact since they are free of organic solvents.
❻ SIFCLEARTM for Paints
A fluorin-acrylic water-based material for paints, developed with JSR's proprietary emulsion technologies. The product makes paints weather and contaminationresistant, and when used in thermal insulation paints, helps them to retain insulation performance for a long period of time, thus contributing to energy conservation.
❼ CALGRIPTM Latent Heat Material
A material capable of maintaining space at a specific temperature ranging between - 20˚C and + 80˚C for a long period of time. The material is used in, among other applications, long-time transportation containers for pharmaceuticals and food, building materials, and thermal storage tanks for air conditioners.
❽ ABS Plastic
ABS plastic is strong and hard to break, and has excellent luster, color, and moldability. The material is used for automobile parts, industrial goods, home appliances, toys, and many other products used in everyday life.
❾ BIOLLOYTM Bioplastic
A bioplastic produced by combining a thermoplastic resin with eco-friendly, plant-derived polylactic acid. Due to its great shock resistance, the material can be used to produce thin-walled and lightweight articles.
❿ JSR Particles
JSR's unique light scattering particles are used in LED light guide panels. The particles diffuse strong LED light, making it uniform and friendly to the eyes, thus enhancing the efficiency of LED products.
⓫ Lithography Materials (Photoresists, Multilayer Materials, etc.)
Materials used for circuit formation on silicon substrates in the process of producing semiconductor chips. The materials enable the fabrication of very narrow circuits, supporting the production of highperformance and energy-saving devices.
⓬ Display Materials (LCD Materials)
Materials that help enhance the image quality and functionality of various liquid crystal displays (LCDs), regardless of size. Color pigment dispersed resists used to form color filter layers, alignment films that determine the performance of LCD panels, and other materials are used widely.
⓭ ARTONTM Heat Resistant Transparent Resin
JSR's proprietary heat resistant transparent resin, which can be made into wide variety of optical films. The film provides, even when used in a very thin form, necessary functions as a retardation film to improve the clarity of LCD panels, making it an important material for mobile devices.
⓮ Optical Fiber Coating Materials
Materials used for high-speed, high-capacity optical fiber cables that sustain Internet communications. As protective coating materials, they provide added strength to cables and help secure required communication properties.
⓯ ULTIMOTM Lithium-ion Capacitors
A capacitor capable of charging and discharging large amounts of energy almost instantly. The capacitor functions as a key device for energy conservation, enabling us to utilize the fluctuating electricity generated by wind power, photovoltaic power, and other renewable energies as well as regenerative energy.
⓰ Diagnostic Agent Materials
Magnetic beads and other materials developed with JSR's proprietary technologies are used for blood tests, flu tests, and other medical applications as materials of in-vitro diagnostic reagents. We are beginning to meet the needs of personalized diagnostics as well.
⓱ Bioprocess Materials
Materials used by pharmaceutical manufacturers to obtain a target ingredient with high purity efficiently in the process of refining antibody drugs such as anticancer drugs and rheumatism remedies.
⓲ Medical Polymers
JSR's rubber and resin materials are used for infusion tubes, medical stoppers, medical gloves, and other products. These are products developed based on JSR's proprietary polymer designs and production/quality control technologies specifically for life sciences applications.