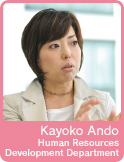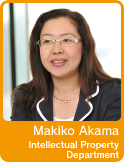 I have been involved in policy planning as part of the Labor Relations Team since 2002. When I took child-care leave, I was anxious about many things, such as being away from work for a whole year. Based on my own personal experience, I put a lot of effort into creating various support systems. There are three pillars to JSR policy planning-flexibility/ease of use, meeting employee needs, and career continuity.
Taking child-care leave has now become a fairly established practice. At any given time, the policy is being utilized by around 30 employees. That having been said, Iwagami is, unfortunately, the only male employee who has used it to date.

My wife is also a JSR employee, and after our second child was born we were told that it was absolutely necessary for her to get complete bed rest. After looking up company regulations and speaking with the Human Resources Department, I discovered that male employees could also take child-care leave for up to eight weeks after their spouse gives birth, so I took advantage of it. My boss was understanding, which was also helpful. It's rare to have that much time to spend at home with my children. It was truly a priceless experience.

I have also taken advantage of child-care leave twice, and now I utilize the working from home policy once a week. Since it's possible to do my work from home as long as I have access to the Internet, I applied to use the policy as soon as it was established in 2006. Because there's no commute time, I feel relaxed both physically and emotionally. It's really helpful.

When the working from home policy was introduced, there were many who worried about it, wondering what to do about issues such as safety management and evaluations, but we went ahead and launched the system with a once-a-week "partial working from home policy." However, at the moment there are only seven employees in the entire company utilizing the policy. There are some jobs where it would be difficult to use, and there is a feeling in some offices that working from home isn't necessary, although shorter work hours would be fine. One problem is that the policy is limited to employees possessing a certain level of vocational qualification who are part of a dual-career family with children or those caring for a family member, and at present there are few employees who qualify. In the future, the number of employees who can take advantage of it will grow as implementation stabilizes and understanding increases.
Yoshizawa has rejoined the company as a regular employee by using the career reentry policy established just last year.

I quit my job at JSR when my husband was transferred for work. Later, I had an opportunity to work at JSR again as a temporary employee. My current boss told me about the reentry policy and asked if I was interested in taking advantage of it. I was surprised because I never thought that I would qualify for the policy since I didn't leave the company in order to have a child or get married. I was very happy. I think JSR is wonderful for creating this kind of new system.
The department where I work now is the same as when I was a temp, but becoming a regular employee means I can use my own judgment at work, and my motivation has improved. At this point, those of us who have utilized this policy are being watched to see how we perform, so I want to work hard for the sake of those who will apply for the system after me.
I'm the father of three, and when I was raising my kids I wondered if a policy couldn't be created to make it easier to take more time off, even without pay, for when my children fall ill or the like. If you have a child, and especially if you have two or more, it can be trying for one parent to take care of them. It was easy for me to use flextime because I work in sales, but that would be difficult for those working in the office.

In response to such needs, starting this year family-care leave was extended from five days a year to eight. There are, however, employees who would like even more flexibility given that, for example, working hours can only be reduced by a maximum of 1.5 hours a day.

As is the case for child-care leave, utilization of the policies is dependent on conditions such as being a dual-career family, or that the family member being cared for must reside in the same household. In my case, there have been instances where my wife—who is a full-time homemaker—has been sick, or I have had to go help my parents who live far away. At times like that, I can only use vacation days.

We considered such situations, and the family-care leave I just mentioned has been changed this year to extend to all family members, not only children under school age. We are often asked by employees seeking assistance whether they are able to make use of a particular policy. When asked, we try to think of a way the employee can take advantage of a policy, and we can incorporate their opinions into the next policy we formulate, so we hope that they won't hesitate to approach us with their inquiries.

I'm happy that from April this year a five-day leave for volunteer activities policy was established. Since being involved in an accident five years ago, I've been using a wheelchair and am active in wheelchair basketball. We take regional and overseas trips, and in the off-season we volunteer to give talks at schools. I barely had enough vacation days to cover this. Until now, I've used whatever means I could, including flextime, but I'd definitely like to use the leave for voluntary activities.

I also volunteer as a nature guide and I am very interested in social contribution activities such as environmental preservation, so I'm grateful that the leave for voluntary activities policy was established. In certain cases like disaster-assistance volunteering, though, a short period of five days can actually be an inconvenience to organizations making use of volunteers. I think that being a little more flexible rather than holding employees to a particular policy would make it easier for such organizations to use us.
It's essential to win the understanding of those around you to create more of those kinds of policies. Do you have any thoughts on that?

Truthfully, even with the working from home policy in place, I don't think that there is 100% understanding from others. However, to increase understanding, I can only show others just how hard I'm working, and I think that by doing so it will become easier for others to utilize the policy, too.

I think that an atmosphere has been created where people feel that if there is a problem, then we'll work together to solve it. But, employees who don't have a need usually don't look into the policies, and in actuality they're unaware that such great policies exist. I think it's important to further promote them to others because, not only would familiarity be beneficial in case the need to use them should ever arise, but it would also be good in the sense that we should communicate with those taking advantage of the policies with more compassion.

When I used the career reentry policy, I talked it over at length with a senior female colleague working in the same department. I think that my own experience will help someone else, and I'd like to talk about it to younger employees who are facing the same issues. I think that it will also lead to increasing the number of choices available to employees.

That kind of communication is crucial. Of course, policies are important, but it's just as important to have a trusting relationship with those around you.

Today we were able to listen to your candid views. Sharing these kinds of opinions and ideas through mediums such as the CSR Report is sure to increase the options available to employees, and achieving an ideal work environment is good for the company. Thank you very much for your participation today.

Return to the top of the page ▲