Basic Approach
The JSR Group's basic stance on corporate ethics and legal compliance is acting in accordance with the law and in good faith. Corporate ethics committees are active in promoting a strong sense of ethics among employees and encouraging employees to act fairly and with integrity.
Corporate Ethics Activities
The JSR Group adopted the JSR Group Principles of Corporate Ethics in April 2005 to serve as concrete guidelines for corporate ethics. The principles were revised in September 2008 in response to increasingly intense demands from society. All domestic and foreign group companies conduct integrated corporate ethics activities.
Three Pillars of Corporate Ethics Activities
(1) Education

Following adoption of the JSR Group Principles of Corporate Ethics, awareness-raising campaigns visit all domestic and overseas business sites, and various types of training are conducted periodically.

(2) Corporate Ethics Awareness Survey

JSR Group conducts a survey on awareness of corporate ethics covering all group employees once every two years to raise awareness. The next survey is scheduled for the autumn of 2009.

(3) Hotline (internal reporting system)

The JSR Group introduced an internal reporting system known as the Hotline. JSR has long had an internal hotline for communicating with the JSR Corporate Ethics Committee as well as an external one for communicating with an attorney. In September 2008, we concluded a contract with Integrex Inc., a specialist in the field, and added the Integrex Hotline with English and Chinese support to establish a structure that facilitates access by personnel at overseas business sites.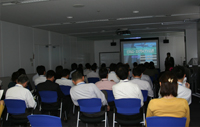 Employees attend a course on corporate ethics
"While I had only a vague notion of what corporate social responsibility was, I realized that measures we were already implementing without any awareness of CSR, such as offensive odor prevention and local cleanup activities, are a part of CSR."
(JSR manufacturing employee)
"Where I work, it is very easy to speak your mind. I believe that it is very important to be able to exchange ideas with others, and I hope to maintain this type of atmosphere in the future. Each individual is aware of the importance of interpersonal relationships for maintaining a workplace where people can express their ideas and listen to the ideas of others."
(Group company, administrative employee)
Legal Compliance Measures
The JSR Group established and put into operation a legal compliance confirmation system in FY2008 (April 1, 2007 to March 31, 2008), to reinforce legal compliance structures. Corporate ethics committees play a central role in identifying the laws and regulations of each country that must be followed, and each year the status of legal compliance is checked at all domestic and overseas group companies and improvements are made as necessary.

Return to the top of the page ▲