Communication with Shareholders and Investors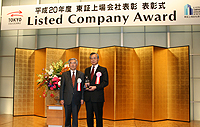 Award for Superior Corporate Disclosure
at the Tokyo Stock Exchange's Listed
Company Awards
JSR actively engages in IR activities, making every effort to inform investors promptly and accurately of business conditions and company policies. As well as conducting briefings on results each quarterly period, we also hold briefings for investment institutions, analysts and individual investors, in addition to participating in investor fairs, thereby achieving extensive bi-lateral communication with shareholders and investors.
In the Investor Relations section of our website we provide accounts materials, annual reports (for which we received a NIKKEI Annual Report Award in 2008), IR News, information on our stocks, materials on shareholders meetings, JSR Fast Info, and other features aimed at providing timely and easy-to-understand IR information.
Such proactive IR-related efforts have been highly evaluated, by third parties winning JSR the Award for Superior Corporate Disclosure at the Tokyo Stock Exchange's Listed Company Awards in 2005 and again in March 2009.
Shareholders Meeting
JSR has implemented a variety of measures to facilitate the exercising of shareholders' voting rights. These include the early notification and holding of regular shareholders meetings to avoid days on which other companies tend to hold their shareholder meetings, the adoption of a system for exercising voting rights via the Internet, participation by shareholders via electronic platforms at investment institutions for exercising voting rights, and the listing of invitations to shareholders meetings on our website in both Japanese and English.
On the day of the regular shareholders meeting, video and audio information relating to business conditions and the financial status of the company are employed to facilitate briefings.
Basic Policies Regarding Profit-sharing
JSR places an emphasis on efforts to strengthen R&D operations from a long-term perspective while increasing our competitiveness to open up new fields and thus increase our business results in the long term. Therefore, when it comes to profit-sharing, we want to maintain long-term stable allocations, and our basic policy is to carry out profit-sharing corresponding to growth in consolidated business results.
In determining dividends, we do so in view of consistency with the internal reserves required for future development of operations. The internal reserves are appropriated for R&D and strategic investments that lead to new growth as we strive to increase our corporate value. We want to use this on a medium- to long-term basis to buy back JSR's shares in an effort to return profits to shareholders.
Based on these policies, the annual per-share divided for FY2009 (April 1, 2008 to March 31, 2009) was set at 32 yen as in the previous fiscal year.
Shareholder Composition
The number of JSR shareholders was 25,491 as of March 31, 2009; the shareholder composition is as follows:

Return to the top of the page ▲