Basic Policies on Human Resource Programs
The JSR Group has adopted the following two policies as models for its organizations and personnel systems and implements a variety of programs in accordance with these policies.
Adequate organizational capabilities to support various business strategies; and
Work environments where each employee can feel they are performing meaningful work, experience job satisfaction, and perform high-quality work with enthusiasm.
Based on these policies, the JSR Group is focusing its efforts on creating work environments where a diverse workforce can work with enthusiasm.
Hiring and Promoting a Diverse Workforce
The JSR Group engages in a wide range of business activities around the world. We believe that capitalizing on a diverse workforce is extremely important in the implementation of multifaceted business strategies.
Basic Data on JSR's Workforce as of March 31, 2009
Men
Women
Total
Number of employees
2,702
385
3,087
Number of new employees hired
Recent graduates
132
21
153
Mid-career employees
28
9
37
Average number of years of continuous employment
17.2
11.6
16.5
Separation rate1
4.4%
3.6%
4.3%
1 Percentage of employees who left JSR within three years of hiring in FY2005 (April 1, 2004 to March 31, 2005), through FY2007.
Women in the Workforce
JSR is encouraging female employees to transfer from clerical positions to career-track positions and is achieving positive results. The number of female employees making this shift was seven in FY2008, eight in FY2009, and 13 in FY2010, bringing the total of female career-track employees to 121 as of June 1, 2009 (there are 253 women employed in clerical positions).
Career Reentry System
In April 2008, JSR instituted a program that allows former employees who left JSR because of marriage, childbirth, nursing care responsibilities, transfer of a spouse, or other reason to register with the company for rehiring when additional personnel are needed.
| | No. of people registered | No. of people actually rehired |
| --- | --- | --- |
| FY2009 | 7 | 2 |
Reemployment Program (reemployment of retirees)
This is a program that allows employees who have reached the mandatory retirement age to continue employment. Prior to retirement, employees complete a survey concerning their desire to continue employment, and those employees who wish to continue working and whose personnel evaluation immediately prior to retirement is at a certain level or higher are rehired.
| FY | 2007 | 2008 | 2009 |
| --- | --- | --- | --- |
| No. of people | 11 | 35 | 58 |
Employment of People with Disabilities
JSR increased its employment of people with disabilities in FY2009, and the statutory employment rate of 1.8% was reached (compared to 1.7% in FY2008). Since JSR is a chemical industry manufacturer, much of the work in research labs and manufacturing sites involves the handling of hazardous materials or rotating equipment and is dangerous, limiting the positions that can be performed by people with disabilities, but we are committed to continuing to increase the numbers of such employees in the future.
Maintaining a Balance between Work and Private Life
JSR supports the maintenance of a proper balance between work and private life not only for employees who have recently given birth or who have child-care or nursing-care responsibilities, but for all employees. We have reduced overtime work, introduced flexible working formats, and offered maternity, child-care, nursing-care and other leave programs to help employees cope with the various events in their lives.
The JSR Group Principles of Corporate Ethics include clear statements of policies that emphasize and support the balance between work and private life.2 Some of JSR's policies for supporting the balance between work and private life are described below.
2 JSR Group Principles of Corporate Ethics, Conduct Rule 4(2)
We will provide a work environment that helps employees realize a flexible "work-life balance" and strive to improve both productivity and employee satisfaction.
Support for Flexible Work Formats
System
Outline
Flex-time
JSR eliminated core (mandatory) work times in 1996. This applies to all employees except those working on shifts.
Flexible working hours
Applies to employees in research divisions. As of April 2009, a total of 311 employees were taking advantage of this program.
Leave for volunteer activities
(formulated in 2009)
Employees can take a total of five paid vacation days per year when necessary for social contribution activities.
Family-care leave
Employees can take a total of eight days of leave per year to care for a family member. In FY2010, the scope of family-care leave was expanded from infants and children to family members in the same residence.
Maternity, Childcare, and Nursingcare Programs
System
Outline
Result
(No. of people)
FY2007
FY2008
FY2009
Maternity leave(before/after delivery)
Employees can take six weeks of leave prior to childbirth and eight weeks of leave following childbirth.
21
21
23
Child-care leave
Employees can take leave until children are 18 months old.
19
19
26
Interviewing employees taking child-care leave
Upon request by employees taking child-care leave, an interview is conducted with the employee's supervisor to eliminate concerns and resolve issues harbored by the employee and JSR as well as to facilitate the return to work.
5
9
10
Shorter working hours
Working time can be shortened by up to 90 minutes per day.
Eligible employees: pregnant employees, employees with children of elementary school age or younger in cases where both parents work, and employees providing nursing care to a family member.
16
23
28
Working from home
Employees can work from home one day per week.
Eligible employees: pregnant employees, employees with children in the third grade of elementary school or younger in cases where both parents work and employees providing nursing care to a family member.
6
6
6
Maternity leave
re-instatement allowance
Employees who return to work following maternity leave or child-care leave of at least one month receive a grant of 200,000 yen per child following the completion of six months' continuous service.
3
11
9
Baby sitting allowance
Employees are reimbursed half the cost of daycare on working days in cases where both parents work.
1
2
3
Nursing-care leave and extended leave
Up to 20 days of nursing-care leave can be obtained for taking care of a family member, and this may be extended to up to 12 months using extended leave.
0
3
4
Borrowing of PCs capable of accessing the JSR internal network
Employees on maternity leave, child-care leave, or nursing-care leave may borrow a mobile PC to access the JSR internal network from home while on leave.
10
10
4
Working Parents Guidebook
JSR distributes a guidebook that describes the various internal and external programs that support working parents.
| | |
| --- | --- |
| | In August 2007, JSR acquired the Next Generation Accreditation Mark (nicknamed "Kurumin") issued by the Minister of Health, Labour and Welfare. This accreditation is granted when an enterprise successfully provides a working environment that helps employees to raise a family, as well as balance work and home needs. The guidelines are in accordance with the "Next Generation Nurturing Support Measures Promotion Law." |
| Next Generation Accreditation Mark "Kurumin" | |
Sound Mind and Body

Physical exercise promoting employee health


JSR provides employees with general physical examinations, special physical examinations and lifestyle-related disease checkups twice a year, respectively, as well as supplying corporate sports facilities and corporate membership to fitness clubs to keep employees healthy.
JSR also introduced mental health initiatives in 1998. These include the JMI mental health checkup (conducted once every two years); the external Human Frontier Counseling Program, in which employees can receive counseling from an expert dispatched to a place of the employee's choosing; and the Mental Toughness Orientation Program (MTOP), which allows employees to choose from a number of different methods to evaluate the condition of their own mental health regularly once a month. In FY2009, JSR commenced obesity checkups and personal health guidance for those requiring special attention in order to help prevent lifestyle-related diseases.
Human Resource Development
The Jump 2010 Medium-Term Business Plan adopts a vision of a technology- and human resource-centered company striding forward into the future. Based on this vision, JSR is implementing a variety of measures including the adoption of a human resource development policy and clarification of what it considers to be the ideal worker so each employee can enhance his or her skills and use them to their full potential.
Human Resource Development Policy
Respect employees' desire for personal growth and provide adequate support for independent efforts by employees to raise their skills and develop their careers.
Based on the idea that the development and support of employee skills is the foundation of a company, make "growth through work" a primary consideration and conduct systematic, regular and continuous training from a long-term perspective in all group companies to support this.
JSR's Ideal Worker
All Employees

1. A professional who is competitive on a global level in all areas of his or her responsibility.
2. An individual who is willing to take on new challenges and who responds flexibly to changes in the environment, supporting innovation and advancement without settling for the status quo.
3. A team player with high ethical standards who emphasizes communication, collaboration and taking on challenges.

Management and Specialists

4. Leaders who take the initiative and set an example for others in performing their work and focus on supporting junior employees.
5. Leaders who effectively oversee the achievement of organizational goals and can lead reforms.
Specific Measures
Creation of a Next Leaders Development Committee and launch of various development programs for the early development of the leaders of tomorrow.
Extensive human resource management education to enhance management capabilities.
Introduction of career development training to raise motivation and the ability to appreciate the positive aspects of work.
Continuation and expansion of training to support the passing on of technological expertise and training on shared manufacturing skills.
Introduction of mandatory specialized skill training for young employees.
Training Programs
JSR conducts a variety of training programs to raise the skills of its employees.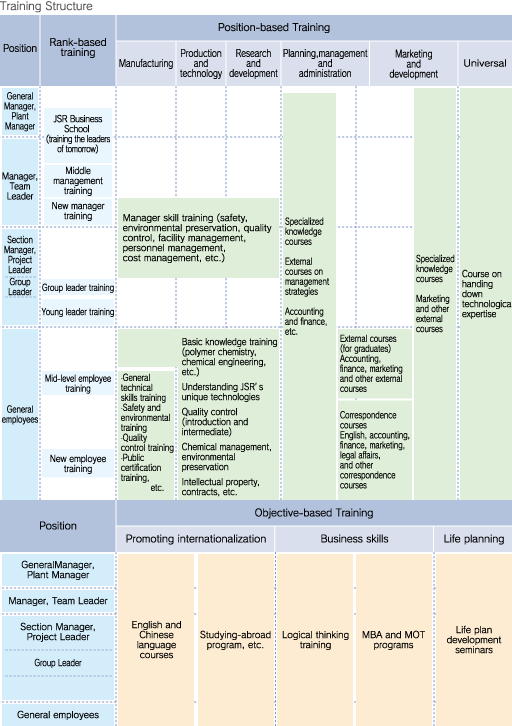 Establishment of Training Centers
A training center was established in Yokkaichi in FY2007 with the aim of improving the infrastructure for supporting the continuing education of employees, and this was followed by two more centers in Chiba and Kashima, respectively, in FY2008. At its training centers, JSR seeks to further refine its strengths in technology and human resources by passing on technical skills at manufacturing sites and expanding employee education programs.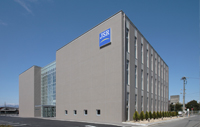 Yokkaichi Training Center

Chiba Training Center

Kashima Training Center

"Miniature Plant" in Yokkaichi Training Center

Return to the top of the page ▲