3. In the FY ended March 2016 Progress of Initiatives
The following section describes some of our main social and community activities for FY2016.
(1) Social Welfare Activities
1. JSR (Shanghai) Co., Ltd. (China) - Donations to liver transplant programs
In June of 2015, JSR (Shanghai) Co., Ltd. donated to the liver transplant program that provides support to the children of poor families. This program is sponsored by Semiconductor Manufacturing International Corp., one of our electronics materials customers.
2. JSR Micro Korea Co., Ltd. participates in blood donation activities (South Korea)
JSR Micro Korea Co., Ltd. (South Korea) participates in blood donation activities
Learning of the lack of blood supply due to the effects of the Middle East Respiratory Syndrome (MERS), JSR Micro Korea Co., Ltd. participated in a blood donation program in effect to support the Ochang Foreign Investment Complex.
The JSR Group continues to participate in blood donation activities as part of volunteer programs conducted at local offices.
3. JSR Micro, Inc. (US) - Donation of goods to the homeless
Clothes, socks, and blankets were donated to homeless shelters near the company.
4. JSR Group - Conducting programs in Tokyo, Yokkaichi, and Tsukuba to donate coins to foreign countries
The JSR Group has been conducting a foreign coin collection campaign since 2009 to assist programs that support children around the world through the Japan Committee for UNICEF.
These coins are effectively utilized to protect the life, health, and rights of children in developing countries.
5. JSR Group - Donations to food banks in Tokyo
On Disaster Drill Day every September, the JSR Group reviews their emergency supplies at offices in Tokyo. Old stored hardtack and water are replaced with new supplies. While some of these supplies are consumed through sample tasting or on other occasions, some are donated by employees and sent to the Second Harvest Japan (2HJ) food bank, a specific non-profit corporation. This helps ensure effective use of the hardtack and water, which has a shelf life of at least one month.
2HJ receives donations of food that would otherwise be disposed of for various reasons from corporations, farmers, and individuals, and sends them to welfare facilities and other organizations in need.
6. JSR Yokkaichi - Participation in aluminum can collection activities
Since October 2010, the Yokkaichi Plant has been participating in aluminum can collection activities for social welfare organizations that help people with disabilities in Yokkaichi City learn to become self-sufficient. These welfare organizations include the "i-project," which targets children, and "Tanpopo," which targets adults. Aluminum cans are useful to multi-functional work environments that incorporate can-crushing activities into their processes. The collection of aluminum cans helps children with disabilities make connections with other people and society, and become more independent. We plan to continue participating in this activity.
7. JSR Group - Plastic Bottle Cap Collection in Tokyo and Yokkaichi
Instead of burning plastic bottle caps as waste, they are collected and sold to recycling companies. The funds earned through this activity are then used to provide vaccinations to children around the world. We have been involved in this program since 2009.
(2) Health, Medicine, and Sports
1. JSR donations to help resolve global health issues
We make donations to medical care support programs such as the Japan branch of the Médecins Sans Frontières NGO to provide treatment for HIV/AIDS and infectious diseases such as cholera and malaria.
2. JSR Group - Table for Two Program in Tokyo and Yokkaichi
Since February 2010, the JSR Group has participated in the Table for Two (TFT) program. The TFT program provides food to children in Africa through the sharing of meals. When a participant purchases TFT-specified food, it will provide both a healthy food alternative and an opportunity to donate 20 yen per meal, which is enough to pay for a single serving in developing countries with school lunch programs. In addition, Cup for Two beverages are also offered through vending machines at the JSR Yokkaichi Plant.
(3) Education and Social Education
The JSR Group provides support for next-generation development and education opportunities through our continued efforts to provide education and internship opportunities to students both in Japan and abroad. We also provide private-sector training to teachers as well as career experience opportunities.
1. JSR Kashima Plant - Classes for local junior high school students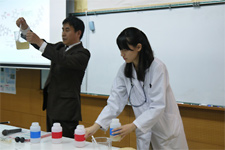 On December 17, we engaged in instructional activities for three different classes of 7th grade students (106) at the Hasakidaisan Junior High School in Kamisu City. Three experiments were performed in these classes, including Synthetic Rubber, Balls that Bounce and Ones that Don't, and Unbreakable Plastic. We have created a mascot known as Mr. Molecule to help explain the relationship between molecules and material characteristics.
2. JSR Yokkaichi Plant - Presentations at local high schools
On July 7, employees gave presentations on understanding foreign cultures when stationed at overseas offices. Two-hundred sophomores from Kaisei Gakuen High School attended the presentations. These presentations provided insight into the experiences of employees stationed at overseas offices. This subject was chosen because the school focuses on educating its students to be successful in a global environment.
3. JSR Chiba Plant - Employee Presentations at Nihon University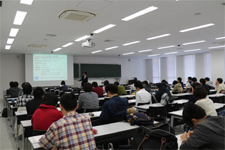 As part of our efforts to promote collaboration between industry and academia*, every year, the Chiba Plant holds presentations at the Nihon University College of Industrial Technology. The course, titled "The Properties and Manufacturing Processes of Rubber and Quality Assurance," was held on November 5, 2015 for nearly 100 students.
* Ichihara City's program to strengthen collaboration between industry and academia
4. JSR Micro Taiwan Co., Ltd. - Participating in food education activities at local elementary school
Children showing different types of beetles that inhabit the area surrounding the organic farm on the school grounds
We participated in the food education activities promoted by local elementary schools by providing related books and other provisions. Through participation in maintaining an organic farm, students learn about environmental conservation and the importance of life by being directly involved in the raising of animals and plants. In 2015, the President participated as a guest in contest in which students act as school farm guides.
5. JSR Group - Book bag donations in Yokkaichi
Since 2014, the Yokkaichi Plant participated in the "Memory Book Bag (Randoseru) for Children in Afghanistan" event held by the Japanese NPO JOICFP. Through the event, we donated unused school bags for use by underprivileged children, particularly girls, in Afghanistan.
6. Supporting young researchers through sponsorship of a mini-series
We support young researchers at universities by sponsoring the TBS TV/CBS TV mini-series "Mirai no Kigen (Origin for the Future)."
(4) Community activities, preservation of historic sites and traditional culture
1. ELASTOMIX CO., LTD. - Donations to the Otsukado Performing Arts Preservation Society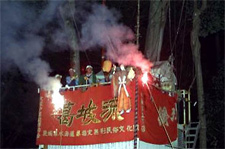 The Otsukado Performing Arts Preservation Society in Joso City, Ibaraki Prefecture is committed to preserving the old tradition of Tsunabi, which dates back to the Edo Period. Tsunabi is a traditional play that combines puppets and fireworks. The play is enacted with wooden dolls wrapped in fireworks that hang from a string. This play is performed for the public every year at the Grand Festival at Hitokotonushi Shrine in Otsukado. Elastimix donates to this preservation society to help keep this tradition alive.
2. JM Energy Corporation - Receives the Yamanashi Business Grand Prix in Manufacturing
Yamanashi Prefecture, where JM Energy is located, established the Yamanashi Business Grand Prix to recognize enterprises that have developed industry in the prefecture. They have contributed to local economies as an initiative to develop and improve motivation at companies in the prefecture. In November of 2015, JM Energy Corporation received the award in manufacturing in recognition of its excellent characteristics as a manufacturer and developer of technologies. Selection criteria include innovation, originality, technical proficiency, marketability, and growth potential.
3. JSR Group - Increasing use of local products and services in Yokkaichi
The Yokkaichi operations of JSR Business Service Co., Ltd. and Uokuni Sohonsham have been working in collaboration to hold a monthly Local Food Fair using local produce while introducing menu items inspired by the season and local culture of Mie Prefecture. These efforts support the local community as well as help mitigate global warming through the reduction of carbon dioxide generated by transportation of food.
4. JSR Group - JSR Harmony Festa in Yokkaichi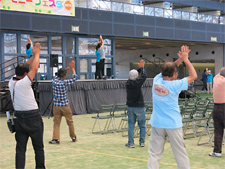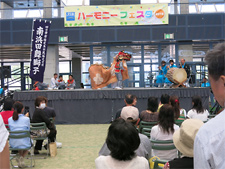 The JSR Harmony Festa is held every year to bring the JSR Group and their families together with residents in the local area. Over 1,800 people attended the event, which has become a local custom, in FY2016. The event offers many fun and interesting activities such as various sports, festival games, workshops to create Hinaga fans, which are unique to Yokkaichi City, a food area, and other outside activities. The stage was home to lion dances performed by the local Lion Dance Association and band performances by student bands from daycare facilities and local junior high schools.
5. JSR Group - Participating in the Anegasaki Industrial Festival
The Chiba Plant participates in the annual Anegasaki Industrial Festival, one of three oceanfront festivals held in Ichihara City. The plant provides the general public with a bus tour, aiming to enhance its communication with local residents.
6. JSR 3 Plants - Participation of 3 JSR plants in regional discussions
The Japan Chemical Industry Association (JCIA) RC committee holds regional dialogue meetings all over Japan as part of its RC initiatives. Participants include local residents, educators, civil servants, and members from various other organizations to deepen mutual understanding about social issues. Various JSR facilities are actively involved in these dialogues.
The next event is scheduled to be held in FY2017.
(5) Disaster relief
JSR Group - Aid for victims of flooding in the Kanto and Tohoku areas
We provided aid to victims of the flooding that occurred in the Kanto and Tohoku areas during September of 2015.
The JSR Group and affiliated trade unions donated 1,050,000 yen to Joso City, were the Tokyo Plant of ELASTOMIX CO., LTD. is located.
We joined with affiliated labor unions in volunteer activities, in which employees helped clear homes and remove sediment and trees.
(6) Environmental activities
The JSR Group continues to help with local clean-up activities of roads, coastlines, and rivers at domestic and overseas offices and plants.
1. JSR BST Elastomer Co., Ltd. in Thailand - Participation in international cleanup activities
For the first time, we participated in the International Coastal Cleanup event organized by the Ocean Conservancy NPO based in the US. Seventy-seven employees and their families helped clean Mae Ram Phueng Beach and Namrin Payung Beach in cooperation with other companies located in the same industrial park, other local businesses, educational institutions, and community volunteers.
This event is held on the third Saturday in September all around the world to clean beaches, lakes, seas, and rivers in various countries. The participation of nearly 500,000 people in 91 different countries makes this one of the largest marine conservation project in the world.
2. JSR Yokkaichi - River cleanup together with other companies in neighboring industrial complexes
The Yokkaichi Plant cooperates with other local companies to clean nearby Utsube River and Suzuka River every year.