FY :

Fiscal Year means the year ending March 31.
For example, FY2016 means April 1, 2015 - March 31, 2016
1. Basic Philosophy
One in every three Japanese persons is expected to be over 65 years of age by 2035 (according to the survey conducted by Statistics Bureau, Ministry of Internal Affairs and Communications in September 2014). This super-aging society is already creating issues such as increased healthcare expenses and elder-to-elder nursing. Extending the number of years people can live healthily without daily assistance or care is now an issue that our society faces. Development of personalized medicines which enhance the effectiveness of therapies by matching treatment methods more precisely to the condition of the individual patient will increase healthy life expectancy in the future. Healthcare methodologies and techniques will likely change during the coming years. Examples of this shift include the development of diagnostic technologies for early detection of disease as well as advances in highly effective treatments and pharmaceuticals to treat serious diseases at early stages.
Life Science Businesses in the JSR Group is working to help advance this area of personalized care. While this business was originally developed as part of our diversification strategy, we have decided to promote the Life Science Businesses as a new base business in the JSR Group along with the Fine Chemicals Business in anticipation of the expanded scale of this industry.
2. Structure of initiatives in Life Science Businesses
We actively work with medical/pharmaceutical world where diagnostic reagents are actually used or biopharmaceutical are manufactured, so that we can receive feedbacks to specify the technologies needed and develop the products. To achieve this, we must cooperate and work with other companies that have experiences, technologies, and expertise in obtaining governmental permission and authorization unique to the pharmaceuticals industry. We have made progress in providing capital support to companies that possess excellent technologies, and we are engaged in initiatives that enable us as a materials manufacturer to reach the end user with our products to quickly and appropriately meet the demand of pharmaceuticals companies and medical facilities that use final products.
#1: JSR-MBL VC Life Sciences Investment Business Limited Liability Union
= JSR/JSR Life Sciences corporation/ JSR Micro, Inc./JSR Micro N.V.
#2: KBI Biopharma, Inc. (KBI)
Through a joint acquisition in which JSR was the primary investor, KBI, a bio-pharmaceuticals development and brokerage company, became a consolidated subsidiary as of FY2016.
#3: Medical & Biological Laboratories Co., Ltd. (MBL)
MBL, previously an equity method affiliated company, became a consolidated subsidiary as of FY2016 through the purchase of a majority of shares.
#4: JSR-Keio University Medical and Chemistry Innovation Center (JKiC) where is the cooperative research facility between JSR and Keio University School of Medicine.
#5: SCIVAX Life Science Co., Ltd. changed a company name of it to ORGANOGENIX Co., Ltd. on June 17, 2016.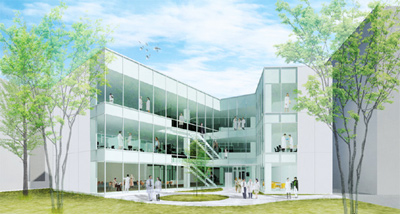 Artist's concept of the JSR-Keio University Medical and Chemistry Innovation Center (JKiC). It is expected to begin operations from October 2017.
3. Areas of Development and FY2015 Activities Results for the Life Science Businesses
The following figure illustrates the areas of development where the JSR Group Life Science Businesses engages.
(1) Companion diagnostics for personalized medical care
- JSR and MBL engaged in collaborative research to develop products for the early detection of disease -
Companion diagnostics refers to the predetermination of the effectiveness of pharmaceuticals and treatment in patients so that future diagnoses can be performed with existing knowledge of potential side effects in individual patients. This diagnostic process is a necessary part of personalized medical care that will be utilized for various purposes. For example response monitoring to optimize treatment schedules, dosages, and the timing of treatment cancellation. A typical method of performing companion diagnostics is to detect antigens (disease-related substances) that have bound themselves to antibodies*1 attached to particles.
By combining our particle manufacturing technologies (magnetic, coloring, grain size control, and high-selectivity via surface characteristics control) with MBL's various antibodies, we can develop diagnostic medicines for specific antigens. We are also conducting research with MBL to enable the early detection of disease through the isolating and detection of exosomes*2 and proteins by combining our internally developed MagnosphereTM magnetic particles for medical diagnosis*3 with MBL's antibodies. The ExoCapTM Streptavidin Kit developed by the JSR/MBL research team was released in FY2016 as a product to help researchers throughout the world in their future activities.
*1 Antibodies: Biomolecules produced by the immune system as a defensive response to eliminate foreign substances in the body. They consist of bio-derived proteins.
*2 Exosome: Vesicle released from cells and reflects the status of the derived cell. Recent research efforts have let to the detection of diseases, including cancer, by examining exosomes.
*3 MagnosphereTM: High-performance magnetic particles used to separate and obtain specific bio-derived substances. The particle surface is coated with a proprietary polymer material. This coating prevents bonding with non-specific proteins and the movement of antibodies that have attached themselves to the particle surface. These characteristics result in a product suitable for use as a carrier in diagnostic medicines.
ExoCap Streptavidin Kit Usage Concept

(2) Bioprocess materials used for biopharmaceuticals
- JSR products used in manufacturing processes of bio-pharmaceuticals used in therapies for cancer and other diseases -
Bio-pharmaceuticals are developed and manufactured using biotechnologies. Bio-pharmaceuticals include antibodies*, vaccines, cells and nucleic acids. Specifically, antibodies for treatment of cancer and other serious diseases are being rapidly developed and utilized as pharmaceuticals because of their high degree of effectiveness and few side effects.
Antibodies are manufactured by first cultured microorganisms or cells in which large amounts of antibodies are biologically synthesized. Antibodies are then collected from the culture and purified. The JSR Group Life Science Businesses provides bioprocess culture fluid used in the purification process.
The purification of antibodies is both a technological and financial challenge. Advancement of purification technologies will reduce the cost of manufacturing, which will lead to widespread use of antibodies. This will enable the manufacturing of antibodies with new functionality.

The JSR Life Sciences AmsphereTM A3 is a chromatography resin used in the initial purifying process to extract necessary antibody components from culture. AmsphereTM A3 can extract and purify a larger amount of antibody efficiently than other conventional products in the marketplace can. It can also be reused with minimal degradation of performance. With a high level of mechanical strength, it can be used in higher-flow rate purification processes, which also increases efficiency. AmsphereTM A3 was announced at the Bioprocess International Conference & Exhibition held in October 2015. It has been commercially available since January of 2016.
The JSR Group will continue its efforts to provide solutions for antibody manufacturing processes through the expansion of our base of strategic partners. We also provide reagents to help advance the research and development of next-generation antibodies and other bio-pharmaceuticals.
* Antibodies: Biomolecules produced by the immune system as a defensive response to eliminate foreign substances in the body.
They consist of bio-derived proteins.
(3) Collaborative research project with Keio University to develop and demonstrate prosthetic limbs produced with 3D printing
JSR and the Keio University SFC Research Institute collaborated to develop the FABRIALTM R Series, which is an elastomer-based biocompatible material for 3D printer. With support from JSR and the Frontier Makers Project, promoted by the Ministry of Economy, Trade and Industry, researchers from the Keio University SFC Research Institute held a demonstration in the Philippines showcasing prosthetic legs created with 3D printing technology.
There are approximately 1,200,000 amputees in the Philippines. Unfortunately, the country is only capable of manufacturing 470 prosthetic legs per year, which results in many amputees being unable to leave their homes. Many amputees are also unable to afford the high cost of prosthetic legs.
However, designs for prosthetic legs created using 3D printers are easily customizable, have replaceable parts, and are relatively inexpensive. The flexibility provided by JSR FABRIALTM 3D printer resin can be used for the sections that make contact with the amputated leg to reduce stress at these sections.
The JSR Group will continue to explore ways in which it can apply FabrialTM to other areas health care.