2. FY2016 Activities
(1) Occupational Safety Activities
Safety affects all stakeholders and is a fundamental challenge for management. With this in mind, the JSR Group has made it a goal to achieve zero facility accidents and zero accidents requiring time off from work.
However, a serious work accident occurred at the Yokkaichi Plant in July 2014. Under the philosophy that safety is the most important factor for everyone working in the manufacturing industry and a major premise of business, the JSR Group has taken feedback seriously and has initiated two projects to regain safe workplace and safety awareness, and reestablish the culture of safety and safety infrastructure. The figure below illustrates the purpose of these two projects. The Safety Infrastructure Reform Project serves as a review and a strengthening of our safety infrastructure. The Workplace Accident Eradication Project serves to ensure the eradication of workplace accidents, and to discover and resolve any remaining safety culture challenges.
These two projects are scheduled to be complete in FY2016. The Safety and Health Promotion Department established in FY2016 and the Disaster Prevention Office within the department are currently engaged in proactive and aggressive implementation of current project activities.
This figure illustrates the FY2016 achievements and challenges. FY2016 was focused on developing the framework of our safety infrastructure.
Safety infrastructure
Progress*1
Infrastructure
Short-term
Facility measurement to help prevent accidents

Development and implementation of safety infrastructure standards

Development and completion of safety infrastructure information

Long-term
Reconstruction of risk assessment and infrastructure budgeting systems

Systematic removal of idle facilities

PHA*2 full-scale implementation

Advanced technologies
Analysis regarding the implementation of operations monitoring support systems
(Alarm management, ICT activities, etc.)

Organization
Manufacturing Department
Review of appropriate organizational sizing and operational systems

Related departments
Establishment of a dedicated safety organization

Analysis regarding the strengthening of system and functionality for plant-related department

Systems
Safety system
Reformation of safety and health management systems
(Based on OHSAS*3)

Review of effective procedures
(Risk assessment, audits, etc.)

Safety culture
Progress*1
People
Review of educational systems and competency evaluations

Development of standards to ensure that current employees perform work safely and reliably

Enhancement of education and training
(Hands-on training, KY activities, accident case studies, etc.)

-

Organizational enhancement
(increase in employees and effective placement of most-experienced employees)

Establishment of safety behavior
(day-to-day and emergency procedures)

-

Enhanced bi-directional communication
(reporting, contacting, and consulting)

Culture
Review of safe and reliable production capability

Improve awareness of the value of safety
(safety definitions and philosophies)

Creating a culture of discipline
(fundamental safety rules, plant protective gear rules, etc.)

Motivation to improve safety
(Safety awards, personnel evaluations, etc.)

Improvement of mutual understanding and cooperation in the workplace and between organizations

-
*1 Progress: On schedule (
), Delayed (

), Not started ( - )
*2 Process Hazard Analysis (PHA): Analysis method used to identify and evaluate risks in processes established to handle hazardous materials
*3 Occupational Health and Safety Assessment (OHSAS): International standards to establish and maintain occupational health and safety management systems.
Development of infrastructure-related high-level initiatives has finished on schedule. Strengthening of plant-related departments and the development of our safety system is scheduled to be complete in FY2017. Implementation of initiatives will start in FY2017 in order to ensure their completion with full-scale implementation scheduled for FY2018. Details of safety culture activities scheduled to be conducted in FY2016 have been verified. Implementation of these activities is scheduled to begin in FY2017.
With the serious workplace accident that occurred in 2014, we have made a promise to strive for zero accidents and not to forget the lesson learned from this tragic event. As a demonstration of our resolution to develop a strong culture of safety to protect human life, we erected safety monuments in front of the administration building at the Yokkaichi Plant. We held the unveiling ceremony and safety ceremony on the anniversary of the accident on July 23 of the following year. From this point forward, we will hold a company-wide ceremony on Pledge to Safety Day. On this day, all employees will reflect on the safety activities conducted during the year.
1. Safety Memorial and Safety Monument
Safety Memorial
On July 23, 2015, the company-wide Pledge to Safety Day memorial was held in conjunction with the unveiling ceremony of the Safety Monument constructed at the entrance of the Yokkaichi Plant Main Building. At the unveiling ceremony, the President, Central Executive Union Committee Chairman, Yokkaichi Plant Manager, and approximately 30 other participants recited prayers together with a priest from Miyamado Shrine. Though held at the Yokkaichi Plant Main Building, the employees at the Kashima Plant, Chiba Plant, and Headquarters participated in the Safety Memorial via TV conferencing. After everyone joined together in making safety pledges, President Koshiba gave a speech on safety and reviewed various safety projects. The Nakazawa Plant Manager also gave a speech on commitment to safety. Each office engaged in silent prayer at 1:15 PM.
Safety Monument Unveiling Ceremony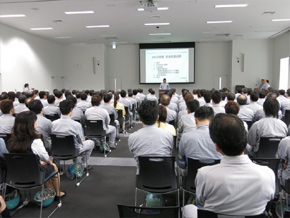 Safety Memorial
Safety Monument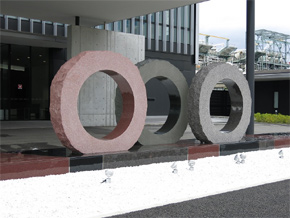 Safety Monument
Featuring rough fieldstones, the outsides of the three monuments represent unpredictable elements; namely, risk factors, natural disasters, and conceit, respectively. Meanwhile, the perfect circles inside of the three monuments respectively represent "will, wisdom and practice of the top management, managers, and employees," thereby symbolizing our determination to place the highest priority on safety to overcome the previously-mentioned unpredictable elements.
The harmony created by the three perfect circles reminds us that human life is precious and must be protected. The supporting platform that extends horizontally represents a wide variety of backgrounds and foundations that underpin "will, wisdom and practice" and, at the same time, our prayers for the tranquil repose of the soul of the precious human life that was lost.
2. Before and After Examples of Workplace Accident Elimination and Safe Facility Efforts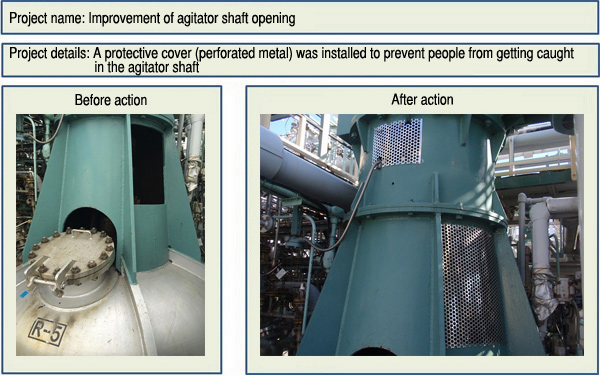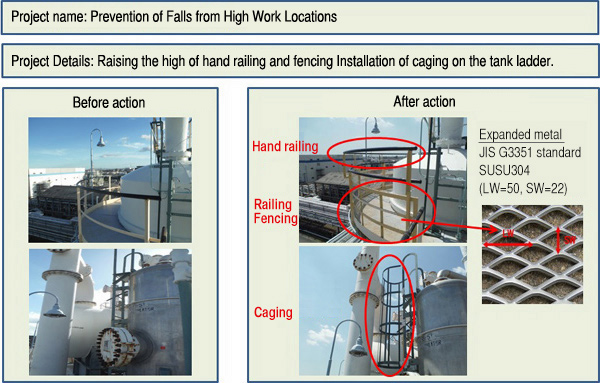 3. Enhanced Hands-on Training
Equipment used to simulate accidents of getting caught in machinery
Simulator for solvent combustion and explosions
Solvent explosions Simulator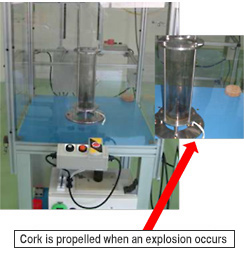 (2) Number of Workplace Accidents
As listed in the following table of the number of workplace accidents that occurred over the last five years, there was one accident at JSR, and there were two accidents at manufacturing partners in FY2016. The situation remains largely unchanged despite minor differences in statistics.
As we still have not yet achieved a satisfactory level of results from project activities conducted in FY2016, we will continue our efforts to improve the situation. More accidents have occurred at manufacturing partners in comparison with other similar companies. We plan to share our systems and experience with manufacturing partners to help prevent accidents there.
Number of Workplace Accidents (JSR)
FY
2012
2013
2014
2015
2016
Number of Cases
1
0
3
1


(Number of Deaths)

1
Number of Workplace Accidents (Manufacturing partners)
| FY | 2012 | 2013 | 2014 | 2015 | 2016 |
| --- | --- | --- | --- | --- | --- |
| Number of Cases | 0 | 0 | 2 | 0 | 2 |
Accidents requiring time off from work (frequency per year)
Frequency = (Death or injury in workplace accidents resulting in absence from work/Total working hours for all employees) x 1 million
Information on workplace and facility accidents that occurred at JSR is quickly and effectively communicated to all employees via the company intranet. This ensures that all group companies and employees share and understand the information, which helps prevent similar accidents from occurring in the future.
(3) Safety and Accident Prevention
In the spirit of our Responsible Care philosophy, we strive to help our plants and operators acquire certification under various security and safety laws. This enables plants and operators to create higher quality health and safety management systems in addition to clarifying their rights and responsibilities. As a result, certification plays an important role in improving safety technologies. All JSR plants have acquired plant and operator certification under the High-Pressure Gas Safety Act, Fire Service Act, and Industrial Safety and Health Act. We will continue to maintain certifications with the aim of improving maintaining safety and preventing accidents.
Certification
JSR Office
Date
Remarks
High-pressure Gas Safety Act
Yokkaichi Plant
Sep. 2015
Recertified
Kashima Plant
Mar. 2016
Recertified
Chiba Plant
Mar. 2017
Scheduled for recertification
Dangerous Goods Inspection
Yokkaichi Plant
Mar. 2016
Recertified
Kashima Plant
Mar. 2016
Recertified
Chiba Plant
Mar. 2017
Scheduled for recertification
Continuous Operation of
Type One Pressure Vessels,
Industrial Safety and Health Act
Yokkaichi Plant
From Nov. 2017
Scheduled for recertification
Kashima Plant
Feb. 2019
Scheduled for recertification
Chiba Plant
Feb. 2017
Scheduled for recertification
1. Data on JSR Facility Accidents
As listed in the following table, the number of facility accidents at JSR in FY2016 was one. This information is reported to the government in compliance with the Petrochemical Accident Prevention Act.
| FY | 2012 | 2013 | 2014 | 2015 | 2016 |
| --- | --- | --- | --- | --- | --- |
| Number of Cases | 0 | 2 | 2 | 2 | 1 |
Accident Summary for FY2016
A small amount of cleaning solvent leaked while cleaning tanks during periodic maintenance. This incident resulted in an outbreak of fire, but the fire was immediately extinguished with a fire extinguisher. There were no injuries. The cause of the fire was due to the decomposition of sediment that was mixed with the cleaning solvent when this sediment made contact with the moisture in the air.