Basic Policies on Human Resources Programs
The JSR Group has determined how its organization and personnel affairs should be as follows and is taking measures accordingly:
(1) "Freedom" and "discipline" shall be well balanced, and the JSR Group is developing mechanisms and a corporate culture under the Course of Action's 4Cs to enable managers and junior staff to grow together, all employees to accurately perceive and solve issues, and organizational capacity to be maintained and enhanced
(2) Promote globalization of JSR Corporation's employees, develop a globalized workforce in the Group, and train and manage Group human resources on a global level
(3) Human resources are becoming increasingly diverse (in terms of national origin, culture, gender, values, etc.) generating synergies throughout the JSR Group as a result of making the most of this diversity
Course of Action: 4C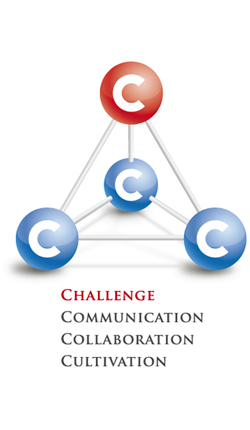 CHALLENGE
All employees of the JSR Group should share a common, global focus and desire to succeed. Employees should feel confident to autonomously take on new challenges, learning from successes while viewing setbacks as opportunities to learn, grow and improve.
COMMUNICATION
All employees should feel comfortable and confident maintaining open lines of bi-directional communication at all levels within the JSR Group. Employees should strive for organizational transparency through direct conversations as the best means of sharing value and achieving common goals, especially in the face of growth and diversification.
COLLABORATION
Employees will work together in the spirit of cooperation, valuing common, corporate goals over internal or departmental barriers. Employees will also be encouraged to actively collaborate with external resources and not be bound to conventional ideas.
CULTIVATION
All employees will cultivate an environment that supports bi-directional communication between managers and subordinates, and provides opportunities for them to develop together as individuals and as members of productive, supportive teams.
Recruitment and Promotion of Diverse Human Resources
The JSR Group engages in a variety of business activities around the world. We believe that making the most of diverse human resources is extremely important to the implementation of our wide-ranging business strategies.
We see the diversity promotion as a key management strategy and work to promote management focused on the diversity of human resources and respect for and application of the variety of values arising from that diversity.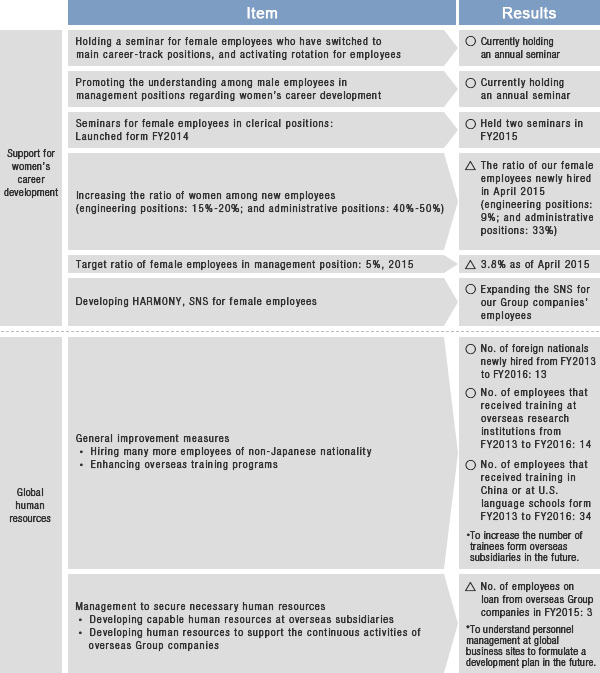 Basic Data on JSR's Employees
As of March 31, 2015
Male
Female
Total
Employees
2,782
464
3,246
New employees hired
Recent graduates*1
82
15
97
Mid-career employees
32
7
39
Average No. of years of continuous employment
13.4
13.6
13.4
*1 Employees who joined the company on April 1, 2014
| FY | 2011 | 2012 | 2013 | 2014 | 2015 |
| --- | --- | --- | --- | --- | --- |
| Separation rate*2 | 1.9 | 2.2 | 6.7 | 6.3 | 4.2 |
*2 Percentage of employees who have left JSR within three years
Promoting Diversity in the Workplace
By employing a diverse workforce not only in terms of race and gender but also experience and values, we aim to break away from entrenched, homogeneous values and ways of thinking to create an organization that facilitates contrasting values, bold ideas, and creative synergies to lead to innovation boosting our competitiveness as a company.
Since an organizational atmosphere open to diverse values and ways of working is instrumental to our goal of creating diverse workplaces, we will promote such an atmosphere alongside work-life management.
In FY2016, we will establish Diversity Development Office, focusing on promoting diversity and accelerating these efforts.
Active Support for Female Employees
As part of our mid-term business plan, we have established qualitative and quantitative goals regarding active support for female employees. As a demonstration of management's commitment to achieve understanding and cooperation throughout the organization regarding this challenge, we have raised the target ratio for regular recruitment of female employees with degrees and female managers.
As part of our efforts to actively support female employees, we have actively encouraged transfers for employees at clerical positions with a desire for career advancement to career-track positions. There are now 242 female employees in career-track positions representing over 50% of all female employees (as of April 1, 2015).
Though the number of women in managerial positions has doubled in comparison with five years ago, they still represent a minority. To this end, we established the "Women's Leadership Development Task Force" in FY2015. We will continue to actively develop and recruit female managers.
Numerical Goals and Achievements Regarding Active Support for Female Employees
Target
As of April 1, 2014
As of April 1, 2015
Percentages of female employees hired
College graduate engineering positions 15-20%
18%
9%
College graduate administrative positions 40-50%
20%
33%
Percentage of women in managerial positions
Beginning of FY2016 5%
4.0%
3.8%
Dr. Miwako Doi, Auditor at the National Institute of Information and Communications Technology, gave a lecture.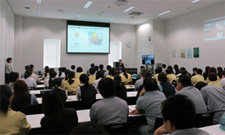 Lecture at the Yokkaichi Plant
On March 18, 2015, Dr. Miwako Doi, previous ex-Chief Fellow at the Corporate Research and Development Center, Toshiba Corporation, gave a lecture on "Women's Leadership Development Task Force." Approximately 150 people attended this lecture.
Drawing from her own experience, Dr. Doi talked about breaking down three barriers: no precedence, no resources, and inability to break away from one's preconceived notions. After the lecture, Dr. Doi engaged in dialogue with and provided advice to female employees regarding their problems or concerns.
Human Resource Programs
Career Re-entry System
JSR instituted a program that allows former employees who left JSR due to marriage, childbirth, nursing care responsibilities, transfer of a spouse, or other reason to register with the company for rehiring when additional personnel are needed.
| FY | 2011 | 2012 | 2013 | 2014 | 2015 |
| --- | --- | --- | --- | --- | --- |
| Registered | 8 | 5 | 5 | 7 | 8 |
| Rehired | 1 | 3 | 0 | 0 | 0 |
Re-employment Program (re-employment of retirees)
This is a program that allows employees in the retirement age to continue working. Prior to retirement, employees complete a survey concerning their desire to continue employment, and those who wish to continue working are rehired.
Employment of People with Disabilities
JSR's employment rate for people with disabilities was 2.31% (the statutory employment rate: 2.0%) as of March 31, FY2015. As JSR is a chemical manufacturer, much of the work in research laboratories and manufacturing sites is dangerous, requiring the handling of hazardous materials and working with rotating equipment, which limits the involvement of people with disabilities. However, we are continuing our efforts to employ people with disabilities.
As of March 31, each FY

| FY | 2011 | 2012 | 2013 | 2014 | 2015 |
| --- | --- | --- | --- | --- | --- |
| Employment rate | 1.59 | 1.84 | 1.96 | 2.19 | 2.31 |
Employing Foreign Nationals
The number of foreign nationals employed by the JSR Group on a consolidated basis in FY2015 was 1,442 (24.3% of all employees).
As part of our push to globalize employees at JSR Corporation we are making efforts to hire more foreign nationals and make better use of their skills by participating in company information sessions for foreign exchange students and accepting employees seconded from overseas subsidiaries.