Through the Life Sciences Business, the JSR Group aims to contribute to the realization of a society where people can enjoy health and longevity.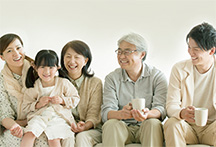 One in every three Japanese persons is expected to be over 65 years old by 2035 (according to survey conducted by Statistics Bureau, Ministry of Internal Affairs and Communications in September 2014). The extension of healthy lifespans and the reduction of healthcare expenditure are priorities in a super-aging society. JSR Group has positioned the Life Science business as a global strategic business to resolve those items.
The JSR Group Life Sciences Business seeks opportunities to contribute to the new pharmaceutical world.
A super-aging society is already creating issues such as increased healthcare expense and elder-to-elder nursing. Extending the number of years people can live healthily without daily assistance or care is now a social priority.
To resolve this issue, development of personalized medicine which enhances the effectiveness of therapies by matching treatment methods more precisely to the condition of each individual patient is expected. It is also of utmost importance to change our perspective of healthcare from treatment to prevention. Part of this includes the development of diagnostic technologies for early detection of disease and early advances in highly effective treatments and pharmaceuticals to treat disease early before it becomes serious or untreatable.
The JSR Group has already provided research reagents and IVD Intermediate such as latex particles and magnetic particles to diagnostic pharmaceutical manufacturers. We will continue to look for opportunities in which our technologies and materials can make an impact on personalized medicine and prevention over treatment. The Life Sciences Business is positioned as a key strategic business with expectations of significantly boosting our business portfolio.
Establishing structure and assigning initiatives in the Life Sciences Business
ExoCap TM Diagnostic Pharmaceutical Materials
ExoCapTM are used to obtain exosomes in blood and cell culture supernatants quickly without compromising the composition and function.
Research of undiscovered nucleic acids and proteins within exosomes are expected to be beneficial in diagnosis and treatment of disease.
The Life Sciences Business envisioned by the JSR Group will focus on the field of advanced diagnostics, which is expected to have an impact on the development of technology to advance personalized medicine, and the development and manufacturing of bio-pharmaceuticals. We have realized that focusing only on the needs of our customers from a materials standpoint regarding these areas requires a significant amount of time, lacks scalability, and ultimately does not meet expectations of the end users.
We need to develop products through a process of becoming proactively involved in actual areas where diagnostic pharmaceuticals are used and where bio-pharmaceuticals are manufactured, and then selecting technologies in response to feedback received. To achieve this, we must cooperate and work with other companies that have experience, technologies, and expertise in obtaining governmental permission and authorization unique to the pharmaceuticals industry. We have made progress in providing capital support to a company that possesses excellent technologies. In FY2015, we made significant progress toward establishing a system which we, as a materials manufacturer, can reach the end user with our products.
In the area of advanced diagnostics, we have strengthened our relationship with Medical & Biological Laboratories Co., Ltd. (MBL), which owns capability of obtaining authorities approval, manufacturing products in compliance with statutory regulations, and sales channels for diagnostics made with JSR developed products. In the area of developing and manufacturing bio-pharmaceuticals, we have established CMIC JSR Biologics Co., Ltd. to develop technologies to develop next-generation antibodies needed for new bio-pharmaceuticals while utilizing our existing antibody purification technologies. We have also reached an agreement with CMIC Holdings Co., Ltd. and Innovation Network Corporation of Japan to acquire US-based Biopharma Inc., a leader in contract development and manufacturing of bio-pharmaceutical products capable of advanced analysis of bio-pharmaceuticals and the development of manufacturing processes. As a result, this establishes a value chain involved in the entire process from the extraction of seeds to the end user.
As we look toward the future and the desire to develop a business that responds to the needs of clinical and medical research, we have reached agreement with Keio University to establish "The JSR-Keio University Medical and Chemistry Innovation Center" to function as a research base with collaboration between manufactures, academia, and medical researchers.
We have also established J&W Biotech Co., Ltd. in China to provide diagnostics reagent intermediates. This company is a joint venture with Beijing Wantai Biological Pharmacy Enterprise Co., Ltd., established to develop the pharmaceutical reagent market experiencing rapid growth in China as another channel for our existing diagnostics reagent technologies and materials.
The Life Sciences Business will become a major contributor in the JSR Group as well as significantly contribute to address social issues such as improving the quality of life in aging societies and developing a society in which people can live longer and healthier.
JSR Group Life Sciences Business Development
Establishment of the JSR-Keio University Medical and Chemistry Innovation Center
The chemical materials researchers at the JSR Group promoting the development of advanced materials and products can now work closely together with the Keio University School of Medicine engaged in medical research from foundational to clinical research. This medical engineering collaboration enables and facilitates projects that meet varied requirements of the medical field as well as the incorporation of new ideas into medical and clinical research. This will also lead to research and business creation of new diagnostic and treatment technologies and therapeutic techniques. This center will be constructed on the Shinanomachi Campus of Keio University in Shinjuku, Tokyo, where the Keio University Hospital resides. The center is expected to begin operations from April 2017.