Serving society while remaining aware of the global environment.
Our aim is to keep these two goals in mind as we develop our business.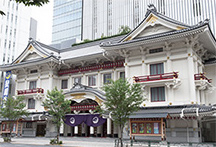 Painted with highly durable stain resistance paint that contains SIFCLEARTM (Photo courtesy of SHOCHIKU, Co., Ltd. and Kabuki-za Co., Ltd.)
The JSR Group's "E2 InitiativeTM" is a clear and important concept of "environmental value creation" that we constantly have in mind as we manufacture our products and develop our business. It is also used as a concept that allows us to work toward solving problems in energy, resources, and climate change when we carry out our business activities.
Working to Solve Environmental Issues through the Deployment of E2 InitiativeTM
Because both humans and a large number of other living things share this planet earth and its limited resources, we must make an earnest effort to deal with environmental issues. the JSR Group has adopted its E2 InitiativeTM as a concept to simultaneously reduce environmental impact and create new business opportunities using the environmentally-friendly aspects of our products.
The E2 InitiativeTM is based on "Eco-innovation," which is designed to create business opportunities based on the environment, and "Energy Management," which is focused on reducing CO2 emissions. It is a concept that allows us to create value both in active and passive ways. As we shifted our concept of value from the conventional two approaches of "differentiation" and "cost," our new concept of "environmental performance" has become essential. By using the Life Cycle Assessment (LCA) to evaluate the environmental impact of our products from the design stage in the product development to the use of the product, we are working to solve environmental problems throughout business operations.
E2 InitiativeTM Concept
S-SBR - Practical Application of Eco-innovation Brings Great Possibilities for Business and Global Environmental Issue Solutions.
Fuel-efficient tires are environmentally-friendly products and yet maintain their ability to stop safely and securely. The JSR Group's solution polymerization SBR (S-SBR), has received positive feedback from the customers. JSR Group designed S-SBR using technology that makes it easier for rubber molecules and tire reinforcing material molecules to bond tightly in order to reduce internal friction and reduce rolling resistance*1, without changing the characteristics of rubber that enable the tires to stop. S-SBR allows large reductions in environmental impact through the entire life cycle of the tire, from the material selection and its usage to disposal.
Automobiles still require tires even after automotive engines are replaced with electric motors,. Thus, demand for S-SBR is high both in countries and regions where environmental standards are high such as Japan and Europe and in emerging nations where reducing environmental impact is an urgent issue. These tires are currently manufactured at the Yokkaichi Plant in Japan and at JSR BST Elastomer Co., Ltd. in Thailand. We are also considering production operation in Hungary. These global deployments undergo in anticipation of market expansion in 2020. They are conducted based on our supply chain management concepts designed to ensure that production takes place in locations close to markets, ensuring stable material procurement so that the impact due to logistics can be reduced and a stable supply of product can be ensured. By meeting the global demand for the fuel-efficient tires using the E2 InitiativeTM concept, we will contribute to solving global environment issues.
*1 Rolling resistance: Resistance in the direction opposite to the direction the tire is rolling. Caused by tire deformation, ground contact friction, and air resistance.
Materials contributing to high-performance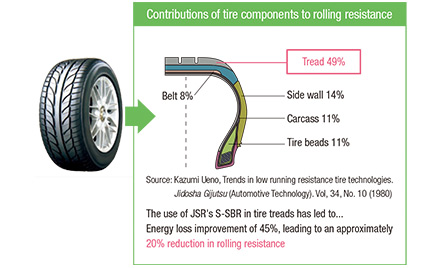 The JSR Group's Inspirations and Technologies Create New Value for Materials
Verification test on a non-electric cooling box using CALGRIPTM (JSR Yokkaichi Plant Cafeteria)
Example of use of antifouling, thermal insulating paint containing SIFCLEARTM Cylindrical tank (JSR Kashima Plant)
By implementing Eco-innovation into practice, some products were empowered by new added value by the technologies we have developed over the years and conventional materials.
HUSHLLOYTM*2 is an innovative material designed to reduce squeak noise caused by plastic joints in vehicles interior. Conventionally, squeak noise prevention is achieved by applying grease or attaching felt fabric to the components, but the use of HUSHLLOYTM has made these countermeasures unnecessary, allowing the component manufacturers to shorten their production process. In addition, since the material itself has the effect to minimize squeak noise, maintenance is not required for a longer period of time.
Latent heat storage material CALGRIPTM is a material that is able to maintain a specific temperature between -20 and +80 ℃ over long periods of time. CALGRIPTM is utilized in fields that require energy saving or accurate temperature control such as the transportation and storage of pharmaceuticals and foods, building materials, and air conditioning.
Water-based durable stain resistance emulsion SIFCLEARTM is used in paints to make them resistant to contamination, helping maintain cleanness in appearance over the long-term. The high durability of the paint film reduce the need for frequent re-painting, contributing to resource conservation. In particular, when used in heat reflection paints, heat reflection effect is maintained over the long-term, achieving significant energy saving. It is also attracting attention as an environmentally-friendly material because of its ability to prevent Volatile Organic Compounds (VOCs) or odor generation.
Completely new ideas and technological developments are indeed important to the future of any company, but the JSR Group uses a more flexible approach to consider how we can utilize our existing materials and technologies in totally new fields to create new value and how our efforts to make these products serve society as a whole allow us to create new value through our business activities. This is what we mean by "active CSR."
*2: HUSHLLOYTM is a registered trademark of TechnoPolymer Co., Ltd.
Creation of Environmentally-Friendly Product Standards and Assessment System
In order to achieve the goals of our commitment to "promote the development of biodiversity-friendly products" mentioned in our Biodiversity Conservation Policy, the JSR Group has, with the cooperation of specialists, established "environmentally-friendly product standards, assessment system, and assessment of the major products." These new environmentally-friendly product standards were developed not only from a biodiversity conservation standpoint but also with a keen awareness that we need to contribute to a sustainable global environment through our business activities.
The JSR Group maintains its commitment to contributing to a sustainable global environment through the development and provision of environmentally-friendly products.
LCA & LCI Initiatives
LCA (Life Cycle Assessment) is a method of quantitative assessing the environmental impact of products throughout the life cycle of each product, from the materials procurement stage to manufacturing, sales, use, and disposal.
Implementation of LCA requires that we calculate the amount of resources used when manufacturing a product and the amount of CO2 mission during all stages of the life cycle of a product (LCI data).
The entire synthetic rubber industry, including the JSR Group, has engaged in LCI data calculations for representative synthetic rubber products.
The results of these calculations are stored in Japan Environmental Management Association for Industry's LCA Forum database*. For LCI data of our fine chemical products, we keep track of the amount of CO2 produced during the production.
Applying LCA from the R&D stage, we have started operation of a system of developing product designs that consider CO2 emissions and have made trial LCA calculations for approx. 79 product groups (115 representative grade types; as of March 31, 2015).
We continue to make LCA calculations for newly developed product groups and grades.
E2 InitiativeTM (Energy-Management) implemented for environmental measures at the Yokkaichi Plant Clean Room Building C.
The Clean Room Building C, completed in July 2014, is our core center for the development of advanced semiconductor materials. Since nanometer-level processing is done in this facility, we must guarantee an extremely high level of cleanliness (air purity) while at the same time ensure the facility is seismic isolated and wind resistant in order to prevent any potential effect from tiniest vibrations.
From the design stage of the facility, a variety of environmental measures were included so that it is equipped with a variety of energy-saving and resource-saving functions. The foaming material used in the exterior wall panels has the type of thermal insulation required for energy conservation that is far superior to conventional thermal insulation material. In addition, the foaming material was produced without using greenhouse-effect alternative fluorocarbon gas.
The cold outside temperatures in winter are used to cool the clean room equipment. Highly efficient motors for ventilation and other purposes has contributed to reduce electric power usage and reduced CO2 emissions as well.