Under the corporate mission of "Materials Innovation - We create value through materials to enrich society, people and the environment" we commit to helping resolve social issues as part of our responsibility to our stakeholders as defined by the management policies. There are many CSR initiatives we have promoted under this fundamental philosophy. Among these, we have identified some urgent priority issues the JSR Group must prioritize and tackle.
1

Identifying social issues concerning the JSR Group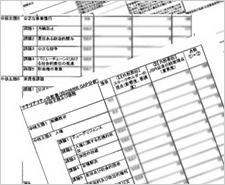 In identifying the CSR priority issues for the JSR Group, we first reviewed the organization of our essential elements, the UN Global Compact's 10 principles, and the seven core subjects of social responsibility defined by ISO 26000 with regard to our previous CSR challenges and initiatives. We then identified 13 possible priority issues that would enable the JSR Group to have an impact on society and the environment or social needs that require action.
2

Meetings with stakeholders
We then filtered JSR Group CSR priority issues discovered through previous meetings and communication with stakeholders as part of the annual Responsible Care (RC) initiative.
Primary topics of discussion during previous meetings
Employees:

Suitable working environment and work-life balance (2009)

Experts:

Diversity (2010)

Local:

Next-generation education and communication with local areas (2011)

Experts:

Conservation of biodiversity (2012)

Experts:

JSR Group CSR (2013)

Experts:

JSR Group environmental protection efforts (2014)
Information disclosure and interviews with residents, municipalities, and companies in Yokkaichi, Chiba, and Kashima areas where JSR plants are located.(at any time)
3

Analysis and discussion of JSR Group CSR priority issues

We then organized the remaining possible priority issues into a matrix of key JSR Group challenges (internal factors) and key stakeholder challenges (external factors).
4

Priority issues undertaken by the JSR Group

The JSR Group CSR Priority Issues and the stakeholder priority issues with the highest severity were selected as the priority issues to be undertaken by the JSR Group. We will periodically review these priority issues as stakeholder opinion and needs change based on the circumstances.

Safety affects the lives of all stakeholders and is the most important priority issues that forms the basis of our management policies. Accident prevention is also equally as important.
Longer healthy life expectancy leads to the need to resolve increased health care costs and elder-to-elder nursing issues. Longer healthy life expectancy is a key issue for the JSR Group, and we will all work together to help resolve these issues.
Chemical manufacturers use a significant amount of energy during actual production. Because of this, we have an even greater responsibility to employ efforts to reduce energy and resource consumption and reduce CO2 emissions than other industries. Therefore, this is certainly one of our priority issues.
We consider it a priority issue to understand the needs of customers, business partners, employees, society (communities), shareholders, and all stakeholders as this will lead to the resolution of social issues and creating value.