Community Relations
Our Policy on Community Relations
The JSR Group has been involved in various social contribution programs with a focus on community activities. In January 2009, we established our "Basic Approach to Social Contribution" as a policy aimed at further strengthening our activities, and are promoting the initiatives outlined in this policy.
Basic Approach to Social Contribution

1. Our Corporate Mission dictates that we make a contribution to society through our business activities. Further, we are actively engaged in providing solutions to social requirements and issues as a responsible member of society.
2. We are continuously engaged in positive social contribution activities, capitalizing on the chemical and technical knowledge and skills that form the core of the JSR business.
3. Every employee is a point of contact between the company and society. We actively support our employees in their voluntary participation in social contribution activities.
FY2012 Initiatives
The main social and community activities we carried out in FY2012 are described below.
Support for the Reconstruction of an Area Affected by the Great East Japan Earthquake
In addition to promoting fundraising activities immediately after the Great East Japan Earthquake to support relief efforts for people affected by the disaster, and the reconstruction of areas affected by the disaster, the JSR Group organized volunteer activities for our Group's volunteer staff and dispatched them to an affected area.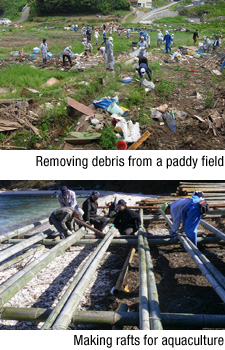 ■ Volunteer Activities Conducted by JSR Group Staff to Support an Affected Area
Using the Leave for Volunteer Activities System and other measures, we organized volunteer activities for our Group's volunteer staff and dispatched them to an area affected by the Great East Japan Earthquake. An overview of the activities is presented below. When planning and implementing our support plans, we cooperated with local administration and non-governmental organizations (NGOs), placing our first priority placed on accommodating the needs of the affected area.
Overview of Our Activities

Activity site: Oshima, Kesennuma City, Miyagi Prefecture (island in Kesennuma Bay)
Activity details: removing debris from the seashore, paddy fields, and damaged houses; supporting the reconstruction of the local fishing industry; and promoting many other efforts

Dispatch Period and No. of Volunteers

Dispatch period: July 2011 (activities promoted within the JSR Group alone); and September to November 2011 and February to March 2012 (activities promoted with the cooperation of other United Nations Global Compact participant companies, with emphasis on the continuity of the activities)
No. of dispatches: 12
Total No. of volunteers: 203 (within our Group)
Comments from Participants
Yoshimi Kobayashi
JSR Engineering Co., Ltd.

I was truly impressed to see that despite tragically losing their families, homes and jobs, young people, who will lead the next generation for the island, were working on the task of removing huge amount of debris without making complaints in a bid to return their island to what it had been. While engaged in the reconstruction support effort, I was able to listen about the terrible situation at the time of the occurrence of the disaster making the once peaceful island utterly different, problems after the disaster, anxiety for the future, and hopes and dreams for the future. I believe that this experience will prove invaluable for main my future life.

---

Satoe Masaki
Techno Polymer Co., Ltd.

Although it is certainly necessary for society to make fundraising as a form of support, I think that more obvious forms of volunteer activities, such as those promoted actually in an affected area and visually recognized by people in the area, are able to provide mental support for the people. I was surprised by the JSR Group's excellent practicality, unity, and leadership. The experience of working with various members of the Group made me honored once again that I am a member of the Group. I thought that support provided by companies had some special power different from that by individuals.

---

Kentaro Tanaka
JSR Micro Kyushu Co., Ltd.

I think that many people thought "I want to do something to help, but I'm not sure what to do" or "I feel uneasy about going to an affected area alone." Although many JSR staff might have hesitated to take their first step toward their volunteer action, the company encouraged them to try. I believe that their first step was followed by the second step and the third step, eventually leading to today's large scale of support.
■ Application of Thermal Barrier Coating Agent using SIFCLEAR™ to Temporary Housing in Oshima, Kessennuma City
As a form of support through our business capabilities, we applied the roofs of temporary housing on Oshima, Kesennuma City, thermal barrier coating agent using JSR-developed SIFCLEAR™. This has reduced the increase of room temperature due to the direct sunlight and mitigated the heat of summer, contributing to improving living environment for those affected by the disaster.
---
■ Published Let's Go to Tohoku, a Pamphlet to Encourage Staff of the JSR Group to Visit the Region
The major industries of Oshima, Kesennuma City, are sightseeing and fishing. Hoping to contribute to the reconstruction of the island, the JSR Group published and distributed Let's Go to Tohoku, a pamphlet to introduce Oshima and the areas surrounding the island, to encourage our staff to go to the Tohoku region. Now that we have established close ties with Oshima, due to the visits by many of our staff members as volunteers, the first issue of the pamphlet featured Oshima as the main topic, from among all the areas of the Tohoku region.
---
JSR Staff Donates Two Fishing Vessels to Oshima, Kesennuma City

A staff member of Techno Polymer Co., Ltd. donated two fishing vessels that he had been keeping at home to Oshima, Kesennuma City.


Hakaru Yamanaka
Techno Polymer Co., Ltd.

I donated two fishing vessels, which I had inherited from my father when he died. Hoping to be engaged in the fishing industry someday in the future, I had kept them on my own. Shocked by the Great East Japan Earthquake and its damage, however, I began to think that if the vessels were of some use, they should be donated to support the reconstruction. Through my senior at work who participated in a volunteer activity in July 2011, I made a proposal to the local headquarters for disaster control for me to donate the two fishing vessels, and thus donated them. I hope that my father's vessels will contribute to the reconstruction of the Tohoku region.
---
Fostering the Next Generation and Initiatives in Education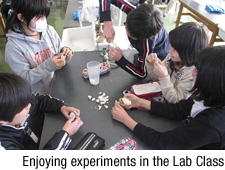 ■ Support for Science Education
One of the serious issues facing Japanese society today is our children's waning interest in science. By way of example, the results of an international survey show that Japan ranks last out of 29 countries in the proportion of eighth graders who think that "studying science is useful for everyday life."*1
In response to this issue, with the cooperation of the boards of education in areas where the JSR Group's plants are located, the Group periodically holds visiting lectures of science at local elementary schools and junior high schools in order to stimulate the curiosity of children, who will lead the next generation, and arouse their interest in science. Schools where we held visiting lectures of science and Fun lab classes in FY2011 are listed below. We will continue programs like these in the coming years.
*1 Results of the TIMSS2007 (2007 Trends in International Mathematics and Science Study)
---
Fun Lab Classes
Yokkaichi Municipal Mihama Elementary School
Apr. 22, 2011
Yokkaichi Municipal Utsube-Higashi Elementary School
Jun. 3, 2011
Yokkaichi Municipal Hinaga Elementary School
Jan. 17, 2012
Visiting Lectures of Science
Kamisu Municipal Hasaki Daini Junior High School
Dec. 6, 2011
■ High-Tech University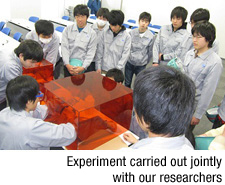 Organized by SEMI, the High-Tech University was held at our Yokkaichi Plant in March 2012. SEMI, an industrial organization for semiconductors, is renowned for holding SEMICON® Japan. The purpose of the High-Tech University is to provide an opportunity for high school students, who will lead the next generation, to enjoy practical training and other forms of education to learn about the basics of semiconductors and micro electronics. The High-Tech University held at our Yokkaichi Plant drew approximately 40 students from five high schools in Mie Prefecture during their spring vacation. The students tried an experiment jointly carried out with researchers at the Yokkaichi Plant, the operation of a miniature plant at our Yokkaichi Training Center, and many other experiences. They also participated in a panel discussion with our young employees.
---
■ Special Industrial Engineering Course at Nihon University
As part of our program to promote collaboration between industry and academia2, every year the Chiba Plant holds a special industrial engineering course at the Nihon University College of Industrial Technology. The course, titled "The Properties and Manufacturing Processes of Rubber and Quality Assurance," features actual case studies to pique students' interest in the subject.
*2 Cooperation between industry and universities with the aim of promoting research- and technology-related education
---
■ Career Experience Program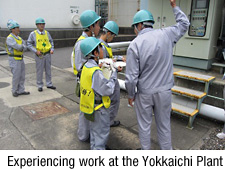 The JSR Group actively welcomes students to its facilities to give them the experience to become tomorrow's leaders. Two eighth grade students from Utsube Junior High School in Yokkaichi City gained experience as temporary plant managers while conducting safety patrols, gathering information for an in-house newsletter, sorting waste materials at the recycling center, and observing a solution polymerization test.
Meanwhile, at the head office, we received participants in an externship (student trainee) program for Chuo Law School. We have accepted such student trainees for four consecutive years, with FY2012's acceptance being our sixth overall. In FY2012, we entered into cooperative arrangements for the following work experience programs and externship program, and accepted the respective participants.
---
Career Experience Programs
Municipal Minami Junior High School
Sep. 27-29, 2011
Municipal Utsube Junior High School
Nov. 16-18, 2011
Externship Program
Chuo Law School
Feb. 13-Mar. 2, 2012
■ Teacher Training at a Private Company
In FY2011, JSR began to participate in a teacher training program at a private company organized by the Japan Institute for Social and Economic Affairs. In FY2012, we held a two-day seminar on August 4 and 5 at our head office and at the Chiba Plant for six school teachers, to help them learn more about the mindset of a company when it promotes its business activities and company efforts to tackle environmental problems. In the hope that this seminar experience will be utilized to improve children's education and school administration, we will continue to cooperate in this program.
---
Environmental Initiatives
■ Yokkaichi Kid's CO2 Reduction Challenge
In order to support environmental education for elementary school children, we launched Yokkaichi Kid's CO2 Reduction Challenge in FY2008 as one of the Yokkaichi Plant's environmental activities, and as a way to enhance the plant's communication with the local community. With the cooperation of our Environmental & Safety Department, our General Affairs Department, and Yokkaichi City, this environmental program is carried out for fourth-and fifth-grade students at local elementary schools to devise and implement efforts to save energy at their homes, and to verify the efforts' results.
We were so pleased to have received letters of appreciation from the fourth-grade students of Hinaga Elementary School. According to the letters, the students are carrying out their energy-saving efforts based on what they have learned though Yokkaichi Kid's CO2 Reduction Challenge. The letters also say that the students are surprised to find that JSR's products are used in various items around them. We will continue to provide cooperation for Yokkaichi Kid's CO2 Reduction Challenge.
---
■ Ecocap Movement
Since 2009, the JSR Group has been promoting the Ecocap Movement at its head office and other business sites. Plastic PET bottle caps*3, which are normally burned as trash, are collected and given to Ecocap Movement, a non-profit organization. Ecocap Movement turns the caps that are collected into cash, which it then donates to help immunize children around the world.
The JSR Group has collected a total of 420,500 plastic PET bottle caps so far (as of the end of March 2012). The value of these caps is equivalent to the cost of immunizing 526 children. We will continue to promote this activity.
*3 PET bottle caps are made from polypropylene. They cannot be recycled when they are recycled together with PET bottles. The Ecocap Movement is an effective way to encourage people to recycle bottles and caps separately.
---
■ Clean-up Activities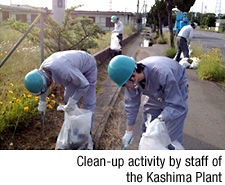 Different business establishments of the JSR Group periodically carry out clean-up activities in their local neighborhoods to help preserve the local environment.
---
Local Community Initiatives
■ Communicating with Local Residents

As a member of the regional community, each of the JSR Group's business establishments promotes a wide variety of activities to promote interaction with local residents.
The Yokkaichi Plant periodically hosts plant tours and a social event called the "JSR Harmony Festa."
The Harmony Festa held in FY2013, which marked its 13th anniversary, drew a total of 1,540 participants, including members of the local residents' association, as well as families of employees of JSR and other JSR Group companies. A total of 182 employees of JSR and other JSR Group companies helped out on the day to make the event even more exciting.
The Plant also held tours for local residents and government officials, who learned about safety and environmental measures and saw the plant's environmental facilities, thus deepening their understanding of plant activities.
The Chiba Plant participates in the yearly Anegasaki Industrial Festival to improve its communication with local residents.
JM Energy Corporation participates in the local Hokuto-Oizumi Hometown Festival, at which the company sets up a booth to explain its activities in order to promote communication with local residents.
---
Social Welfare Activities
■ TABLE FOR TWO (TFT) Program
Since February 2010, the JSR Group has participated in the TABLE FOR TWO (TFT) program. Under the program, the JSR Group has so far provided 40,693 school lunches for children in Africa. This is equivalent to school lunches for 184 children for one year.
An event to celebrate the second anniversary of our participation in the program was held at our Yokkaichi Plant for two days from February 16, 2012. At the event, various dishes from Africa, to which TFT support is directed, were served, making it possible to secure enough funds to provide 642 school lunches for children in Africa.
Highly valued for the continuous contribution we have made so far, we were selected as a Gold Supporter*4 by TABLE FOR TWO International, a specific non-profit corporation, and were granted a certificate of appreciation. This followed our selection as a Silver Supporter in 2011.
*4 20 companies and other organizations that have contributed considerably to the program are selected as Gold Supporters from among approximately 500 program participant companies and other organizations.
---
Comment from Ms. Michiko Ando, TFT Program Director

I would like to express my sincere appreciation for your generous support. Last year, the JSR Group was kind enough to provide as many as 27,171 school lunches for children in Africa. This is equivalent to school lunches for 123 children for one year. I would be pleased if your daily lunch reminds you of the smiles of 123 children living beyond the sea. I hope that you will continue to participate in the TABLE FOR TWO program.



---
■ Foreign Coin Collection Campaign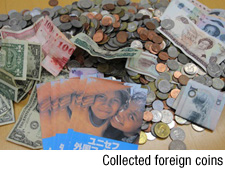 The JSR Group has been conducting a foreign coin collection campaign since 2009 to assist programs that support children around the world through the Japan Committee for UNICEF.
These coins are effectively utilized to protect the life, health, and rights of children in developing countries.
---
■ i-project Aluminum Can Collecting Program
Since October 2010, the Yokkaichi Plant has been participating in aluminum can collection activities for i-project, a social welfare organization that helps children with disabilities in Yokkaichi City learn to become self-supporting. Aluminum cans help provide work for children who crush the cans at work facilities for the disabled, and can collecting creates opportunities for children with disabilities to interact with other people in society, and also helps them support themselves. The JSR Group will continue to support this program.
---
■ Donating Hardtack and Water to a Food Bank
On Disaster Drill Day every September, a review of emergency supplies and emergency food is carried out at the JSR head office building. Old hardtack and water stored at the head office building is replaced with new supplies. While some of these supplies are consumed through sample tasting or on other occasions, others are donated by some of our employees and sent to the Second Harvest Japan (2HJ) food bank, a specific non-profit corporation, in order to make effective use of the hardtack and water which has a shelf life of at least one month. This donation effort was launched last year.
2HJ receives food donations from corporations, farmers, and individuals, and sends them to welfare facilities and other organizations that can utilize them effectively.
■ Contribution to Blood Donation Drives
JSR participates in blood donation drives organized by the Japanese Red Cross Society at each of our business establishments.
At the Chiba area, an event for appreciating our cooperation with the blood donation drive was held. Our Chiba Plant was given a certificate of appreciation by the Japanese Red Cross Society.
■ Promoting Local Food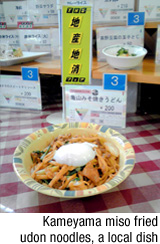 Since October 2010, Yokkaichi operations of JSR Business Service Co. Ltd. has been supporting the local community and helping to mitigate global warming at the employee cafeteria of JSR's main plant, Yokkaichi Plant. Uokuni Sohonsha, the company that operates the cafeteria, has been increasing its use of local produce by introducing menu items inspired by the seasons and local culture of Mie Prefecture.
The company supports JSR Group's social contributions activities by holding a "Local Food Fair" twice a month.
---
■ Social Welfare Activities Promoted by the Labor Union
As part of its volunteer activities for children of welfare facilities, the Mie Branch of the Japanese Federation of Chemical Workers' Unions, to which the JSR Labor Union belongs, invited children to a plant tour of the Tokai plant of Ajinomoto Co., Inc. as well as to a bowling competition, in July 2011. The invited children truly enjoyed the tour and bowling competition.
Initiatives at Overseas Offices
■ The "ik kyoto Project"
JSR Micro N.V. in Belgium is a participant in the "ik kyoto Project"*5 and is encouraging employees to commute to work without relying on cars. The project provides free breakfast and other incentives to employees who carpool or commute by bicycle. It helps promote employee health and contributes to the mitigation of global warming.
*5 The "ik kyoto Project": This initiative was begun by local governments in Belgium and was named after the Kyoto Protocol. (http://www.ikkyoto.be) (Dutch)
■ Charity Programs
---
JSR Micro, Inc. in the United States gives matching gifts, donates food to charity organizations, donates clothes to the homeless, and makes various other contributions.
In October 2011, we introduced the Leave for Volunteer Activities System.

Phyllis Moracco,
HR Director of JSR Micro
Phyllis Moracco, HR Director at JSR Micro, on contributing: "We are well aware of the importance of contributing to the community. We feel we are blessed to be working at a successful company like JSR Micro, so helping people who aren't blessed just comes natural. For a long time we've focused on making donations for charitable and educational causes and providing food, toys, clothes, and other things for disadvantaged families. I've never had a hard time persuading employees to participate. They act and contribute on their own initiative."