CSR Management
In April 2011, the JSR Group reviewed our Essential Elements, which consist of the Corporate Mission (the significance of our existence), Management Policies (our standards for making decisions), and Course of Action (what must be done when individual employees do their work).
The JSR Group's mission is to create value through materials to enrich society, people and the environment. In this process, it is important for us to act in good faith as a good corporate citizen and live up to the trust that our stakeholders place in us. Our CSR represents the initiatives we employ to successfully achieve our mission, and as such we view CSR as a key management issue.
CSR Structure
The JSR Group reorganized its system to promote CSR in June 2008. The Group works to improve initiatives as a whole, operating a CSR Department to support CSR advancement as well as the following four committees: the Corporate Ethics Committee, which works to establish ethical corporate behavior and prevent misconduct; the Responsible Care Committee, which promotes sustainability by advancing "responsible care;" the Risk Management Committee, which seeks to further improve risk management systems; and the Social Contribution Committee, which decides and promotes social contribution activities to be undertaken by the Group.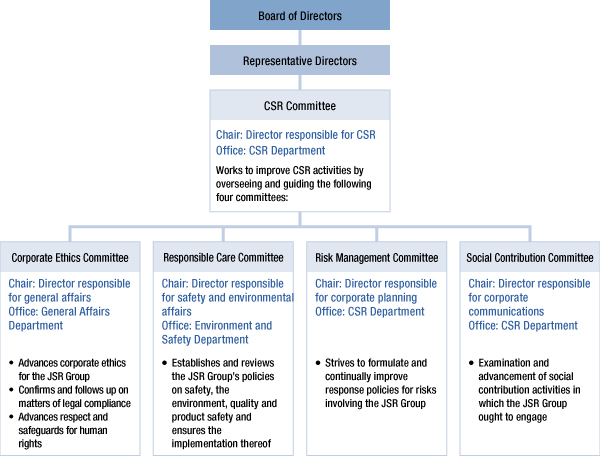 Figure: Organizational chart of the four committees
The JSR Group Principles of Corporate Ethics
The JSR Group Principles of Corporate Ethics stipulate our corporate code of conduct necessary for fulfilling all responsibilities to our stakeholders that are clarified as part of our management policies, specifically "Responsibility to our Customers/Business Partners," "Responsibility to our Employees," "Responsibility to Society," and "Responsibility to Shareholders."
Basic Approach Workplace Safety, the Environment, Quality, and Product Safety
Workplace Safety:

Continue our record of accident- and disaster-free operations, ensuring the safety of our employees and the local community, as we coexist with society.

Environment:

Reduce environmental impact throughout our entire business cycle, from product development to product disposal, doing our part to preserve the environment.

Quality:

Offer quality products and services that both meet customer requirements and ensure user safety.

Product Safety:

Verify safety at all stages, from raw materials to finished product, protecting the health and property of all individuals involved.
Basic Approach to Risk Management
Our Group believes that preventing a major crisis from occurring and minimizing its effect on business activities is an important role of management. The Group has established a Risk Management Committee, and actively pursues risk management activities.
Basic Approach to Social Contribution
Our Corporate Mission dictates that we make a contribution to society through our business activities. Further, as a responsible member of society, we are actively engaged in providing solutions to society's needs and issues.
We are continuously engaged in positive social contribution activities, capitalizing on our "chemical/technological" knowledge and skills that form the core of the JSR business.
Every employee is a point of contact between the Company and society. We actively support our employees in their voluntary participation in social contribution activities.
Participating in the United Nations Global Compact

On April 14, 2009, the JSR Group became a participant in the United Nations Global Compact. Amidst increasing pressure for corporate social responsibility, businesses operating on a global level need to make a greater commitment to human rights, labor, the environment and anti-corruption, as expressed in the ten principles of the Global Compact. The JSR Group considers its participation in the Global Compact to be a proclamation of its dedication to acting responsibly in the international community and to work even harder to fulfill our corporate social responsibility.
Meanwhile, JSR served as auditor of the Global Compact Japan Network (GC-JN) from FY2011 to November 2011.
Key Stakeholders Involved with the JSR Group
Based on the understanding that everything begins from society's expectations, JSR emphasizes dialogue with stakeholders to avoid making self-serving decisions.
Measures to Raise Group Companies' CSR Awareness
We hold the CSR Report Presentation at each workplace of all our domestic divisions, including those of Group companies, and conduct an annual questionnaire survey regarding our CSR report, using the intranet. In FY2012, we held CSR workshops to ensure that awareness of our CSR permeated across the entire Group.
CSR Report Presentation Attended by the President

We hold the CSR Report Presentation every year at all our domestic divisions, including those of Group companies. This year, one such meeting was attended by the President and employees at the head office. While the employees presented their impressions about topics in the CSR report, such as those related to incorporation of environmental perspectives into management decision-making, and others related to biodiversity, the President detailed these topics with concrete examples of these activities and spoke about his strong determination. The meeting thus served as a good opportunity for an active exchange of opinions.
Evaluation by Outside Organizations


In April 2012, JSR was included again in the "FTSE4Good Index Series," an index that measures Socially Responsible Investment (SRI). We have been included in the index for nine consecutive years.
The purpose of the FTSE4Good Index Series, an index of the FTSE Group based in the United Kingdom, is to evaluate activities of companies fulfilling their cooperate social responsibilities in terms of the environment, human rights, and other aspects, and to promote investments in such companies. As of April 2012, the number of companies included in the index is 729 in 24 countries around the world, of which 181 are Japanese companies.
JSR's CSR efforts are highly valued both inside and outside Japan. As of April 1, 2012, JSR is listed also on Ethibel Pioneer & Excellence Label, an international SRI index, and the Morningstar Socially Responsible Investment Index, a well-known index in Japan. For Ethibel Pioneer & Excellence Label, JSR is the only Japanese company selected from among the Japanese chemical sector.
---