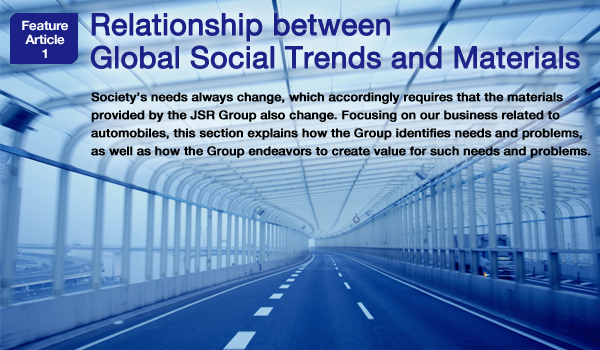 Automobiles and Materials
Changes in the Environment Surrounding the Automobile Industry
Increase demand around the World in for Automobiles, Especially Ecologically Friendly Cars
Due to the development of motorization in newly emerging countries, world automobile demand is continuing to grow. Moreover, partly because there is a global concern about global warming and the depletion of petroleum resources, and also because environmental awareness is increasing in many parts of the world, ecologically friendly cars are now gaining much more attention. Since it is expected that regulations on fuel efficiency will be established in many countries, the demand for ecologically friendly cars is expected to grow.
Actual and projected numbers of passenger vehicles sold in the world's four major markets, as well as percentages of ecologically friendly cars*1 for each figure
---
1:Actual and projected numbers of passenger vehicles sold in the world's four major markets (Japan, the United States, Europe, and China). The ecologically friendly cars above include three types: hybrid electric vehicles (HEV), plug-in hybrid vehicles (PHEV), and electric vehicles (EV).
Resource: News Release, Nomura Research Institute, November 30, 2011
Car Body Weight Reduction and Tire Performance Improvement to Enhance Fuel Efficiency
The fuel efficiency of an automobile is directly linked not only to cost but also to environmental impact. It is said that, to enhance fuel efficiency, effective measures include increasing the engine efficiency, reducing the air resistance of the car body, and improving the powertrain, as well as decreasing the body weight by employing aluminum, resin, and other lightweight materials, and using tires with low rolling resistance. Many automobile manufacturers are reviewing their products from the aspect of materials and accumulating their technologies.
Change in raw materials for passenger vehicles
Regulations and Labeling Systems in Various Parts of the World
| | | |
| --- | --- | --- |
| EUROPE | Tighter Regulations on Automobiles CO2 Emissions in Europe | In Europe, regulations have been established to reduce CO2 emissions step-by-step from 2012 to 2015, when the target of a maximum emission level of 130 g/km must be achieved. |
| USA | Requirements for Sales of Environmentally Friendly Vehicles in the United States | The California Air Resources Board requires car manufacturers to ensure that 15% of their new cars sold in the state are environmentally friendly vehicles, such as electric vehicles, by 2025. This new regulation will become applicable to models released in 2017 or after. |
| JAPAN | Labeling System for Fuel-Efficient Tires | This is a labeling system administered by the Japan Automobile Tyre Manufacturers Association. In this system, both the rolling resistance performance and the wet grip performance are evaluated based on a grading system, and the evaluation is provided in a label. A "fuel-efficient tire" is defined as a tire achieving a certain level or higher in each of these parameters. |
Supporting Improvement of Automobile Performance from the Materials Aspect
When totally new functions are required for automobile bodies, fuels, tires, and other items, it is often necessary to review the materials themselves. The JSR Group has long been providing materials used for various parts of automobiles, such as tires. By improving the functions of such materials, the JSR Group will continue to contribute to enhancing the entire function of automobiles. This section presents some examples of the parts of an automobile that our Group's products are used for.
Rubber Molecules Controlling Tire Rolling Resistance Affecting Automobile Fuel Efficiency
Fuel-efficient tires, the demand for which has been growing recently, enhance fuel efficiency by reducing tire rolling resistance. The rolling resistance of a tire has an impact of approximately 15% on fuel efficiency. While a car is driving, its tires suffer rolling resistance, which consists of the following three elements: the deformation of the rubber used in the tires, the friction of the part in contact with the road surface, and the air resistance from the front. The deformation of the rubber is the major factor, accounting for 90% of these three elements. The energy loss generated by the deformation causes the resistance.
Of particular importance regarding tire parts is the tire tread, which is the only part of the tire that comes into contact with the road surface. The tread has an impact of approximately 50% on the rolling resistance. For the vehicle as a whole, the tread component has an impact of approximately 7.5% on fuel efficiency.
The decrease in the rolling resistance of the tread generally results in the reduction of the frictional force of the tires, leading to lower gripping power and affecting the tires' safety. For practical use, it is necessary to achieve the two contradictory characteristics of "low rolling resistance" and "high gripping power."
JSR's solution polymerization styrene-butadiene rubber (S-SBR) for fuel-efficient tires has been designed to reduce rolling resistance, suppressing the energy loss generated by the deformation of the rubber during driving by 45% compared to conventional SBR. This has been made possible by making changes to the ends of the rubber molecules to make it easier for them to form connections with the molecules of reinforcements, without changing the properties of the rubber itself. The material properties of the rubber influence the gripping power.
 Enhancing Rubber Manufacturing Capacity in Various Countries to Accommodate Increasing Demand

Due to the increase in demand for fuel efficient tires, it is expected that the demand for S-SBR will further develop on a global basis. In December 2011, JSR increased the S-SBR manufacturing capacity of our Yokkaichi Plant to 60,000 tons per year. In Europe, JSR has an S-SBR manufacturing capacity of 30,000 tons per year based on a capacity right agreement with Styron Europe, GmbH. As a result, our global manufacturing capacity has now reached 90,000 tons in total. Furthermore, we have commenced the construction of a new plant in Thailand, further enhancing our manufacturing capacity (first phase: 50,000 tons in 2013; second phase: 50,000 tons in 2015; and total: 100,000 tons per year). Boasting an extensive foundation for the automobile industry, Thailand is home to the plants of major tire manufacturers, and has a huge domestic market. Additionally, the country is convenient as an export hub to the rest of Asia. In this regard, we will place much more focus on the country as one of our global supplying bases.
Comments from a Sales Staff Member
Yasumasa Takenouchi
Elastomer Dept., Petrochemical Products Div.

Due to the launch of a tire labeling system in various countries to reduce CO2 emissions and the increase in the demand for tires in newly emerging countries, the demand for S-SBR has been growing in recent years. Accommodating customers' needs for the enhancement of our manufacturing capacity, we will begin to operate a new plant in Thailand in 2013. Meanwhile, in terms of quality, we are developing products with consideration to customers' needs for the further increase in fuel-efficiency of our S-SBR, while maintaining our safety performance. By fulfilling these needs of customers, we would like to increase the number of tires achieving still greater fuel-efficiency, thereby contributing to reducing CO2 emissions.
Our Materials Contribute to Vehicle Performance Improvement in Unexpected Places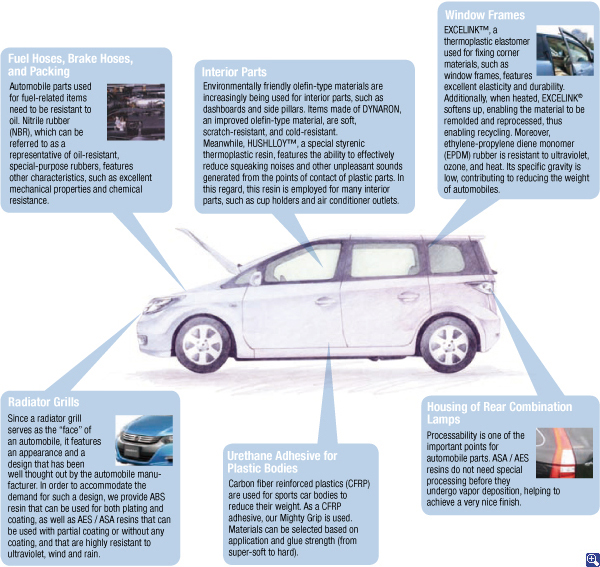 Comments from a Development Staff Member
Kentaro Kanae
Performance Polymer Research Laboratories,Yokkaichi Research Center

When developing thermoplastic elastomers, I try to carry out material design with due consideration not only to what is required for the end products, such as recyclability and weight reduction, but also to what should be done to reduce environmental impact during the processes of manufacturing elastomeric products, such as process simplification or shortening the production time. The next-generation ecologically friendly cars, such as future electric vehicles, will need materials that are not just an extension of existing technologies but that are created based on totally new ideas. Utilizing JSR's core technologies, I would like to develop innovative technologies and thereby contribute to society.
Comments from a Foreign Sales Staff Member
Shinya Katade
Techno Polymer America, Inc.

We feel that in the U.S. automobile market, there is a further increase in demand for not only quality but also cost reduction. By maintaining and improving our quality and also offering products that will accommodate users' demand for "total cost reduction," rather than simply providing products made of cheap materials, we would like to differentiate ourselves and contribute to the development of the automobile industry.