Our Policy Regarding Relations with Communities and Society
The JSR Group has been involved in various social contribution programs with a focus on community activities. In January 2009, we established our "Basic Approach to Social Contribution" as a policy aimed at further strengthening our activities, and we are promoting the initiatives outlined in this policy.
Basic Approach to Social Contribution

Our Corporate Philosophy dictates that we make a contribution to society through our business activities. Further, we are actively engaged in providing solutions to societal demands and issues as a responsible member of society.
We are continuously engaged in positive social contribution activities, capitalizing on our "chemical/technological" knowledge and skills that form the core of the JSR business.
Every employee is a point of contact between the Company and society. We actively support our employees in their voluntary participation in social contribution activities.
FY2010 Initiatives
Various new programs were introduced in FY2010, which was designated as the inaugural year of the JSR Group's social contribution activities. The main social and community activities carried out during FY2010 are described below.
Fostering the Next Generation and Initiatives in Education

Science classes at the Yokkaichi Plant


■ Taking Science Lectures on the Road

One of the serious issues facing Japanese society today is our children's waning interest in science. By way of example, the results of an international survey show that Japan ranks last out of 29 countries in the proportion of second-year junior high school students who consider that "Studying science is useful for everyday life1." In response to this situation, the JSR Group is working with the Yokkaichi Board of Education to periodically conduct science classes at junior high schools in Yokkaichi.
In FY2010, similar science classes were also provided at junior high schools in Kamisu City, Ibaraki Prefecture, where the Kashima Plant is located. In the classes, models are used to explain that all substances are made of molecules, different connections between molecules produce entirely different properties, and the materials created from the various combinations of these molecules are utilized in the world around us. Through the use of materials and experiments that cannot otherwise be provided at schools, the children's curiosity is stimulated and their interest in science encouraged.


1. Results of the TIMSS2007 (2007 Trends in International Mathematics and Science Study)

The course at Nihon University


■ Special Industrial Engineering Course at Nihon University

As part of our efforts to promote collaboration between industry and academia2, every year the Chiba Plant holds a special industrial engineering course at the Nihon University College of Industrial Technology. The subject of the course is "The Properties and Manufacturing Processes of Rubber and Quality Assurance," and students listen with interest to lectures which include actual case studies.

2. Cooperation between industry and universities with the aim of promoting education related to research and technological aspects

A solution polymerization test
■Work Experience Program

Three second-year junior high school students from the Utsube Junior High School in Yokkaichi City participated in a three-day program at the Yokkaichi Plant starting on November 18, 2009. During the program, the students gained experience as temporary plant managers while conducting safety patrols, gathering information for an in-house newsletter, sorting waste materials at the recycling center, and observing a solution polymerization test.
Initiatives in the Environmental Domain

Ecocaps
■ Ecocap Movement

The Ecocap Movement, which began in April 2009 at the JSR Group Head Office, is being extended to the Yokkaichi Plant and other locations. Plastic PET bottle caps3 that are normally burned as trash are collected and sold to recycling businesses and the money received is used for the provision of vaccinations to children worldwide. The Ecocap Movement, an NPO, turns the caps that are collected into funds, which are then donated to help immunize children around the world. We will continue to promote this activity.


3. PET bottle caps are made from polypropylene. They cannot be recycled when they are thrown away with the PET bottles. The Ecocap Campaign is an effective way to encourage throwing bottles and caps away separately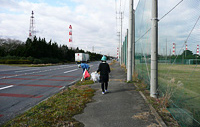 Kashima Plant's end of year cleanup
■ Clean-up Activities

The Yokkaichi Plant, Chiba Plant, and Kashima Plant periodically carry out activities to clean up local communities in an effort to preserve the local environment.
Initiatives in Local Communities

Anegasaki Industrial Festival Opening Ceremony


Rice-cake making at the Anegasaki Industrial Festival


■ Communicating with Local Residents

Each year the Yokkaichi Plant conducts plant tours and hosts a social event called the "JSR Harmony Festa," and these activities provide valuable interaction with local residents. The FY2010 Harmony Festa was cancelled due to the H1N1 influenza outbreak. However, in the plant tours, local residents' understanding of plant activities has been increased by explanations of our safety and environmental measures, as well as opportunities to actually observe the plant and our environmental protection facilities. The Chiba Plant also seeks to communicate with local residents through its participation in the annual Anegasaki Industrial Festival, and it played a coordinating role as administrative office for the whole of the Industrial Festival in FY2010.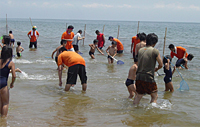 Tateboshi net-fishing


■ Volunteer Activities

The JSR Labor Union participates in volunteer activities sponsored by the Mie Branch of the Japanese Federation of Chemical Workers' Unions, of which it is a member. In FY2010, these activities have provided enjoyable outings for children including, in summer, catching fish in nets at the beach (tateboshi4) and, in winter, bowling and a tour of the Kawagoe Electricity Museum "Terra 46."


4. A traditional fishing method in which nets are strung on poles placed in shallow water to catch fish carried in by the tide
Social Welfare Activities

Foreign coin collection campaign


■ Foreign Coin Collection Campaign

A foreign coin collection campaign was launched in September 2009 at the JSR Group Head Office to provide assistance to programs that support children around the world through the Japan Committee for UNICEF. The program was extended to the Yokkaichi Plant and the Tsukuba Research Laboratories, whose employees often travel overseas for business.


Photographic exhibition
(Photos courtesy of the TFT administrative office)
(Panels made by Nikon Corporation)


■ TABLE FOR TWO (TFT) Exhibition

In February 2010, the JSR Group and the Yokkaichi Plant began participating in the TABLE FOR TWO (TFT) program (see page 16 of the printed version). In April 2010, a photographic exhibition showing school lunches provided through TFT funds in developing countries in Africa was held at the Head Office and the Yokkaichi Plant to show employees the significance of this program.
The TFT program accords with the Millennium Development Goals (MDGs5) adopted by the United Nations, and we will continue to promote the program in the future.


5. Eight goals set by the United Nations to be achieved by 2015 including the eradication of extreme poverty and hunger and achieving universal primary education
Initiatives at Overseas Offices

JSR Micro N.V. (Leuven, Belgium)
■ The "ik kyoto Project6"

JSR Micro N.V. in Belgium is encouraging employees to commute to work without relying on cars. The project provides free breakfast and other incentives to employees who carpool or commute by bicycle. It helps promote employee health and contributes to the prevention of global warming.


6. This initiative was begun by the Belgian local government and was named after the Kyoto Protocol(http://www.ikkyoto.be) (Dutch)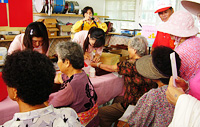 Free health checkups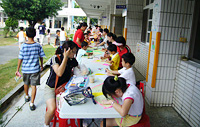 Attractions
■ Flea Market

JSR Micro Taiwan Co., Ltd. held a flea market, free health checkups and other attractions at a nearby elementary school in conjunction with another company in the Central Taiwan Science Park with the aim of promoting good relations with local residents. On the day of the event, JSR Micro Taiwan personnel handled traffic control, reception, checking of visitors' temperatures on entry, and supervising the flea market vendors. Through this event, JSR Micro Taiwan interacted with around 300 local residents.

Return to the top of the page ▲