As a chemical manufacturer, the JSR Group undertakes Responsible Care (RC) activities to protect the environment and to ensure the health and safety of employees, local residents, customers, and other concerned parties. The main activities are described below.
Initiatives to Prevent Global Warming
Reducing CO2 Emissions Cogeneration System Installed at the Yokkaichi Plant

Cogeneration system
As a member of the Japan Chemical Industry Association (JCIA), the JSR Group is taking measures to reduce its CO2 emissions by conserving energy in accordance with the policies of the Kyoto Protocol. The JSR Group is participating in the trial CO2 emissions trading that began in 2008 and set goals to reduce the absolute volume of CO2 emissions, as shown on the right. The Group is working to accumulate expertise and information concerning emissions trading.
Furthermore, the Yokkaichi Plant installed a large-scale, natural gas-fired turbine cogeneration system in April 2010. By using natural gas as fuel, this system greatly reduces the amount of heavy oil consumed compared to the earlier coal and heavy oil-fired steam boilers, and as a result, it is expected to reduce CO2 emissions. The reduction effects will be confirmed at the end of this fiscal year.

Household Energy-saving Activities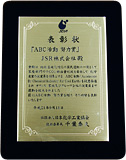 ABC Activities Effort Award
JSR Group employees began energy-saving activities at their homes in April 2008. Approximately 2,500 employees participated in the program in FY2010, and as a result of making continuous energy-savings achievable at each home, an annual CO2 reduction effect of approximately 1,000 tons1 was achieved. In recognition of these activities, the JCIA presented the JSR Group with its ABC Activities2 Effort Award. Starting in FY2011, JSR has been participating in the Eco-cho (Environmental Household Account Book), which is part of Wagaya-no-Kankyodaijin (The Environmental Minister in My Home) program promoted by the Ministry of the Environment.
1. Calculated using the JCIA "My Challenge Sheet"
2. ABC Activities: "Accelerate By Chemical Industry for Cool Earth" Activities
Reducing Emissions of VOCs3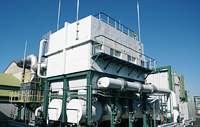 Dried-synthetic rubber waste incinerators at the Chiba Plant
The JSR Group has long worked to reduce atmospheric emissions of chemical substances, and with the FY2005 amendments to the Air Pollution Control Act, the scope of these efforts was expanded to include VOCs as a whole.
Measures to reduce VOC emissions include the installation of five dried-synthetic rubber waste incinerators at three plants between FY2007 to FY2010, resulting in FY2010 emissions falling by approximately 75% compared to FY2001. We have already achieved the FY2011 goal of 70%.
3. Volatile organic compounds: a general designation for organic compounds that become gaseous in the atmosphere. There are concerns about the health effects of VOCs, and it is believed that they are a cause of suspended particulate matter and photochemical oxidants
Safety Initiatives

The president participates in audit activities at the Kashima Plant



An awards ceremony for the Kawasaki Commemorative Safety Award held at the head office
Since its establishment, JSR has conducted safety activities based on the principle that safety takes priority over production. ISO-based safety management systems were established at business sites in FY1997. Having also added health-related items, safety and health management systems are currently operated and various activities are conducted.
Prior safety assessment activities and hazard prediction activities are conducted with respect to facilities and regular and non-regular work to identify hazards and implement both physical (facility) and nonphysical (standards and education) countermeasures. JSR also conducts training and education that incorporates various innovations in terms of increasing people's awareness of the issues and passing on technological expertise. In FY2010, there were no work accidents resulting in absence from work. Employees from various cooperative companies work at our plants, and safety and hygiene work activities are always jointly promoted with these cooperative companies. To ensure thorough safety in each operation, each plant has a Comprehensive Disaster Prevention Council. In addition to considering the causes and measures to be taken to prevent accidents or disasters that occur at cooperative companies, the Disaster Prevention Council also conducts various activities to improve health and safety levels, including instruction, supervision and education on daily health and safety as well as joint inspections of workplaces when construction is underway.
Audit teams under the leadership of the company president conduct annual environmental and safety audits of JSR plants and research facilities. In FY2010, audits were conducted concerning the status of improvement activities designed to achieve environmental and safety goals. In addition, a safety commendation system (the Kawasaki Commemorative Safety Award) for the entire JSR Group has been established to raise awareness of safety by all JSR employees.
Group Company Safety Measures: Elastomix Fine Chemical Manufacturing Department
The Fine Chemical Manufacturing Department at Elastomix Co., Ltd. produces polishing materials (CMP pads) for electronic materials on commission from JSR. Since the products are used for electronic materials, it is necessary to be particularly careful of foreign substances while using rotating and driver machinery that operates at high temperatures, such as extruders and molding machines, and as a result, production is extremely dangerous.
Various activities are undertaken based on the JSR safety management system under the principle of "dutiful and reliable conduct in respect to the basics." In FY2010, safety activities were conducted with a focus on "narrowly-avoided accident" activities, identification of potential hazards, and basic operational training to identify and reduce hazards in the workplace. Furthermore, in respect to new employees, individuals serve as instructors using a "risk identification photo collection" for safety training conducted through group discussions of dangerous work areas and the reasons why they are dangerous. JSR will continue to conduct innovative safety activities involving all employees.
Implementation of the three "rights" and 5S activities

In the Fine Chemical Manufacturing Department, we refer to JSR activities and implement the three "rights"-teihin (right component), teii (right place), and teiryo (right volume)-together with 5S activities: sorting, straightening, systematic cleaning, standardizing and sustaining.
As the foundation of these activities is the idea that when maintaining an orderly and well-organized workplace becomes habitual, quality and safety levels increase. We are working first to establish this principle within the division and will then conduct various safety activities based on this idea.

Return to the top of the page ▲