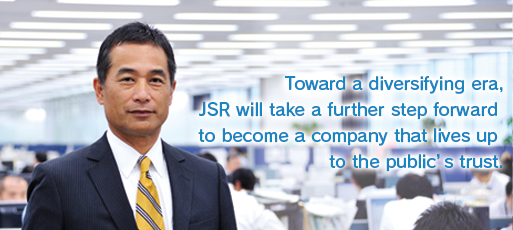 Economic conditions in FY2010 (April 1, 2009 to March 31, 2010), remained uncertain and unstable following on from the previous year, and the JSR Group's annual sales declined by more than 20% compared to FY2008, the fiscal year prior to the collapse of Lehman Brothers, making FY2010 an extremely difficult period for the group.

However, despite these circumstances, JSR took on measures to enable the generation of a reasonable level of profit, such as by focusing on the reduction of fixed costs. As a result of such efforts, this has led to a stronger corporate organization at JSR. Although there were differences among the various business segments, our business performance is recovering faster than anticipated, and our consolidated financial results for FY2010 exceeded initial plans.

As a result of these changes, I believe that it is necessary to shift towards a more proactive business management approach in FY2011 and thereafter as we look ahead to future growth. "The successful launch of the strategic businesses" was one of the key management issues when I was appointed president one year ago, and I have set it as a priority issue for FY2011. The policy for FY2011 is to strengthen and accelerate existing initiatives even further and link them to financial performance.
FY2011 is the final year of the JUMP2010 mid-term business plan that we have been implementing since FY2008, and consequently, we have started formulating the next mid-term business plan. Based on further anticipation of environmental awareness through to 2030, we are working with a long-term vision of the type of business we want to be in 2020.

Until now, "affluence"—one of the JSR Group's management principles, was a keyword used to describe the strong trend towards pursuing added value, which was seen during the first decade of the 2000s. Our Group has achieved growth by creating added value through the diversification of the fine chemicals business, and we must continue these efforts in the future.

I believe that another keyword for the 2010s will be "diversification." We are seeing changes in people's values as the world becomes increasingly globalized and diversified. In the past, customers placed importance on high functionality and high added value, but it is expected that in the future, the trend towards high quality products at reasonable prices will strengthen.

JSR has established technologies and assets in the petrochemical industry that can meet this trend. We need to adapt to the current paradigm shift by using those technologies and assets with a high degree of responsiveness to changes in market structures.
Prior to the adoption of the next mid-term business plan, we launched two projects in April 2009 as activities that look ahead to 2030.

One is the Information and Electronics Project. This project seeks to forecast changes in industrial structures and identify new business areas in the information and electronics industry, an area that is expected to undergo rapid growth in the future.

The second is the E2 Project. This project, the name of which is derived from the initial letters of offensive and defensive environmental measures undertaken in the form of Energy Management (such as reducing carbon dioxide emissions) and Eco-innovation (identifying business opportunities), analyzes the overall circumstances concerning future environmental issues.

In addition, the E2 Initiative™, which seeks to implement full-scale environmental management, was developed from these efforts. The E2 Initiative™, which incorporates the perspective of the environment into all business activities as an unchanging focus of management, is a concept that will also serve as one of the foundations of the next mid-term business plan.

FY2011 will serve as a preparatory period for full-scale environmental management starting in FY2012, and we will carry out various specific measures including the reduction of carbon dioxide emissions as well as investment decisions that take into account environmental costs and product development incorporating lifecycle assessment (LCA) concepts. We will also begin investigations concerning biodiversity.

As part of these undertakings, acting with integrity as a good corporate citizen and living up to the trust placed in us by society is the JSR Group's corporate social responsibility (CSR). I consider the Global Compact that I signed when I was appointed president as a declaration to the international community of our commitment to act in good faith as a global corporation.

With respect to the question of what should be done, however, I do not believe that there is a single ideal form shared by all businesses. The requirements vary depending on the specific business formats and current conditions. It is from this perspective that our Group activities are undertaken based on four core concepts: corporate ethics, responsible care, risk management, and contribution to society. Our social contribution activities currently focus on environmental issues as well as the education of children, who will take on the responsibility for the world after us, through programs such as visiting lectures at local schools, but we also actively intend to conduct these programs with an aim to broaden our employees' perspectives as well.

Furthermore, we are aware that spreading CSR principles to overseas sites will be a major issue for the future. As has been the case with employees at our Japanese sites, I want to convey these ideas clearly in my own words.

Diversity is a key management issue that I wish to address with even greater attention in the near future.

Ensuring the diversity of the workforce will be essential for responding to diversification in the 2010s. Doing this will of course require the increased employment and better deployment of women. We plan to effectively operate programs that support working women who also have child care and nursing care responsibilities, and we will set quantitative targets for women in respect to raising their employment rate and their percentage in management positions. To this end, we will further promote the concept of work-life management, which seeks to optimize the balance between home life and work.

The concept of diversity, however, does not end there. It is important that we foster a corporate culture that accepts all differences, not just gender differences, but also nationality and place of origin, work experience before joining the JSR Group, and ideas concerning work. I am aware that one of my important roles is conveying a clear message concerning this to employees at every opportunity. Based on such ideas, this CSR Report presents information on some of our Group activities. We hope that you will take the time to read it and invite you to give us your frank opinions regarding its content.

Return to the top of the page ▲