Biodiversity Conservation
JSR Group's Biodiversity Policies
The JSR Group has formed FY2013 biodiversity policies based on issues identified through conservation activities conducted in the past. We are currently promoting various activities in accordance with these policies.
To contribute to the establishment of a sustainable society, the JSR Group strives to identify how our business activities depend on and impact biodiversity, and to promote efforts with consideration to biodiversity.

1. We prioritize biodiversity conservation in procuring naturally derived raw and processed materials.
2. We work to make the green spaces of our business establishments biodiversity-friendly.
3. We strive to develop biodiversity-friendly products.
4. We emphasize engagement of our staff and cooperation with local communities.
* 3 and 4 will be taken up at full speed after FY2015.
1. Ensuring that Biodiversity Is Given Due Consideration by Raw Material Suppliers
Exchange of opinions with a supplier
We conducted a survey on our raw material suppliers mainly in the petrochemical business to ascertain whether they are giving due consideration to and taking specific actions towards the conservation of biodiversity. The survey results revealed that more than 80% of the suppliers surveyed were aware of the importance of biodiversity and that more than 50% are carrying out some type of activity towards preservation. Our procurement staff also visited major suppliers and exchanged various opinions. We will continue to promote biodiversity in close cooperation with suppliers and by sharing information with them.
Survey results
1. More than 80% are aware of the importance of biodiversity.
2. More than 50% carry out some type of activity supporting biodiversity.
3. Only 26% request that their business partners support biodiversity.
2. Assessment of Land Use at Business Establishments
Guidelines
Land Use Score Report
Monitoring Sheet
Yokkaichi Plant: prior to thinning and weeding
After thinning and weeding were carried out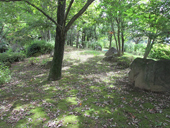 Biodiversity priority area currently in the improvement process at Tsukuba Research Laboratories
Biodiversity investigation by employees and experts at the Yokkaichi Plant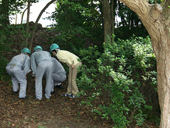 Biodiversity investigation by employees at the Chiba Plant
Biodiversity investigation by employees at the Kashima Plant
Utilizing JBIB Guidelines for Sustainable Business Sites, developed by the Japan Business Initiative for Biodiversity™ (JBIB), we are assessing biodiversity and improving green spaces at our business sites.
In FY2012, we assessed green spaces present at the Yokkaichi Plant, Chiba Plant, Kashima Plant, Tsukuba Research Laboratories, and JSR Micro Kyushu Co., Ltd. using the JBIB Land Use Score Card, another tool developed by JBIB. Based on the results of this assessment, in FY2013, we designated a green space at Tsukuba Research Laboratories as a biodiversity promotion priority area where we conducted various activities to make the space more biodiversity-friendly, such as reduced use of herbicides and enriching the soil with fallen leaves. We also implemented a full-fledged investigation of green space at the Yokkaichi Plant, formulated a green space improvement plan for biodiversity, and conducted a number of first-step activities, such as thinning and weeding to let sunlight and wind through the area. The Yokkaichi Plant also took part in a Tohoku University Ecosystem Adaptability Global COE project, and a "Living Things Monitoring" investigation was conducted by a team of employees and experts.
Similar investigations of biodiversity using a Living Things Monitoring Sheet are being conducted at other business locations on an on-going basis and as part of our active commitment to biodiversity conservation.
In addition to these existing business locations, we will ensure that sufficient attention is paid to biodiversity when a new business site is built or when a new facility is added onto a plant.
* The largest green space at the Yokkaichi Plant had long been neglected, with thick growing weeds present throughout the area, until we initiated improvement work by thinning trees and cutting brush to let sunlight and wind through the area. We are planning to remove non-native plants and change the type of trees present gradually over an extended period of five to 15 years to make the area a better habitat for biodiversity.
Lecture Provided by JSR outside the Company
■ Symposium "Story of biology told by a corporation Part 6"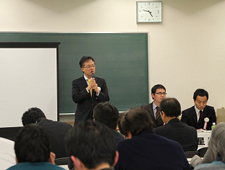 In February 2013, the General Manager of JSR's CSR Department appeared in a sectional meeting of the Story of biology told by a corporation Part 6, a symposium on biodiversity for companies, as a panelist in a panel discussion, and explained JSR's activities for biodiversity conducted on the basis of the Guidelines for Promoting Business Establishments in Harmony with Living Things. The panel discussion was followed by a lively Q&A session.
---