2. FY2016 Activities
(1) Health and Safety Activities
Fully acknowledging the gravity of a serious workplace accident that occurred in July of 2014, JSR Group has launched a project designed to rebuild its safety infrastructure and safety culture based on a philosophy that "safety is the most important factor for everyone working in the manufacturing industry and a major premise of business." At the present time, this project is being proactively and aggressively implemented by a new headquarters safety organization (namely, Safety and Health Promotion Department and Workplace Safety Technology Division within the department) that was created in FY2015.
Additionally, we are "moving toward becoming a 'mutually enlightened organization' in terms of (1) extremely safe behavior, (2) securing human resources, and (3) optimal risk management" with a vision of where we want to be in FY2020. This will start with a transition from a project-led "reactive" stage to a manager-led "dependent" stage.
Our safety and health activities in FY2016 also included efforts to improve safety technology. Here, we focused not only on verifying safety infrastructure developed thus far but also on building of accident investigation methods and reinforcing our PHA.* Moreover, we also turned our attention to fostering a safety culture. We launched a number of concrete activities, among them spreading safety-related values throughout the organization, enhancing education and training systems in production departments, bringing in the production manager education programs of external organizations, reviewing our personnel evaluation and award schemes, and building a safety culture-level self-diagnosis system. Beginning in FY2017, we will verify the effects of these activities as we put them to full-scale use.
*PHA: Process Hazard Analysis
(1) Building accident investigation methods
It is said that almost all recent accidents are recurrences of past accidents, and that none can be attributed to new causes. Despite the fact that the purpose of accident investigation is to prevent the recurrence of similar accidents, JSR did not adequately utilize accident or near-miss information for this purpose. Because of this, Workplace Safety Technology Division took the lead in building a system that can investigate the true causes of accidents and implement reliable preventive measures with the guidance of Dr. Masamitsu Tamura, Professor Emeritus of the University of Tokyo. This initiative resulted in the preparation of a collection of accident case studies and other useful tools. We believe we can pass on lessons learned from past accidents by utilizing them in training for young employees who have yet to experience accidents. We know that we must continue applying what we have learned from past accidents. We will therefore put them to use in handing down safety skills by making sure they are known and shared within our organization.
(2) Review and expansion of JSR's award scheme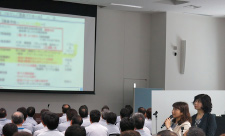 A presentation at the Safety and Health Activity Forum
Twenty-eight years ago, we launched the "Kawasaki Commemorative Safety Award" scheme as a safety award program. Over the years since, we have used it to mainly recognize production departments—including those of Group companies—that possess outstanding safety records. However, we changed the scheme in FY2016 with an eye to stimulating safety and health activities by departments that are indirectly involved in manufacturing and overseas Group companies. The new scheme contributes to across-the-board activity development in other departments by selecting departments that engage in outstanding work from all JSR Group business locations and presenting them through a revamped "Safety and Health Activity Forum." The first forum was held on July 20, which we established as "Safety Day" in the interest of keeping the serious workplace accident of 2014 fresh in everyone's minds. Departments throughout the Group used the opportunity to present reports on outstanding safety and health activities.
Presenting Group
Item
Description
JSR Group
R & D
Development of a chemicals management system using existing infrastructure
The originating section has an environment in which human errors in chemicals management (i.e., registration of new chemicals, quantity management, etc.) tend to occur because it handles many small-quantity chemicals for which it has little experience and because changes in personnel and themes are large. Consequently, it strengthened its chemicals management by developing a chemicals management system package that utilizes existing infrastructure (barcode management, automatic expiration date notification, etc.).
Yokkaichi Plant
Petrochemical Production
(employees entering JSR in FY2014)
Activities to promote a new workplace climate
An analysis of near-misses that occur in the originating section revealed that many are attributable to errors by young employees, and that in some cases, changing awareness slightly can help prevent recurrence. Given this, the section began an effort to change awareness of young employees, beginning with those in their second year with the company. Although the activities were straightforward in nature, involving simply talking to employees and posting notices, for example, it resulted in a gradual change in young employees' awareness and is having a good influence on the workplace as a whole.
Chiba Plant
Petrochemical Production
Strengthening safety management by reviewing education and training methods
As older section employees leave and are replaced by younger employees, improving ability to respond to abnormalities and raising younger employees' sensitivity to safety are becoming urgent tasks. The section is therefore providing scenario-less training to develop its employees' ability to act quickly and precisely when emergencies occur. Just prior to the start of training, emergency information (5W1H) is randomly selected. Veteran employees are taking charge of improving young employees' safety sensitivity by directly and honestly telling them about their own experiences with near-misses and industrial accidents and giving them a sense of the tragic nature of accidents.
Yokkaichi Plant
Utility Section
Clarification of grounds for setting DCS warnings (rules and principles) and technology transfer
The DCS in the originating section have approximately 1,400 warning settings that extend from serious warnings to messages. Although operators know what actions to take for each warning, as older operators become replaced by younger operators, there are instances when the grounds (rules and principles) upon which warning values are set are not adequately understood. Because of this, the section conducted a survey of those grounds by distributing tasks among all section members. It then compiled the results into material for passing on technical knowledge that it incorporated into educational activities.
Kashima Plant
Combined business sites;
Female employees
Building a safety culture by women

(1) Group safety education for new employees: At the Kashima Plant, the assignment of new employees and regular maintenance period occur at the same time. Having new employees enter the plant during this extremely busy period when numerous irregular activities are taking place increases the workload of accepting departments. In fact, there have been cases in the past when a new employee received minor injuries during this time. Kashima Plant successfully tackled this problem by preparing a female employee-centered plan and structure for simultaneously achieving lower workload and safety and technical education for new employees.

(2) "Nadeshiko Safety Patrols": Kashima Plant improved workplace safety by executing a 4S-oriented patrols program from the viewpoint that "workplace organization is the mother of safety." The program changes the idea that safety patrols must be conducted by men and considers safety from a female perspective.

Yokkaichi Plant
Production Management Section
Observing people's safety actions
Using an "observation sheet" it prepared independently from its own perspective, the Production Management Section identified unsafe behaviors in its production sites from specific points of view. This activity prevents potential industrial accidents by stressing the process of examining whether or not a particular operational procedure or method is desirable. When the section identifies an unsafe behavior, it explains the content and reason for this identification to the production side and then establishes and executes mutually acceptable preventative measures.
(3) Building of a safety culture-level self-diagnosis system
Because "safety culture" differs greatly depending on the company, business location, or workplace, it is important for organizations to accurately grasp our own safety culture level when building it. Although we carried out external consultants-led safety diagnoses for certain departments after the serious workplace accident, we did not have our own diagnosis system. Given this, in FY2016, we created JSR's own diagnostic system based on questionnaire results to monitor regularly the safety culture level of each workplace and began using it on a trial basis primarily at production sites. We plan to use this system to ascertain strengths and weaknesses at the company, business location, and workplace level and what we learn to connect to the building of a culture of safety.
Organizational safety culture "8 axes"
Example of safety culture questionnaire results
Awareness levels were scored for a total of 103 questions (total of 165 questions allocated to the eight axes). By-Hierarchial analysis also reveals awareness gaps.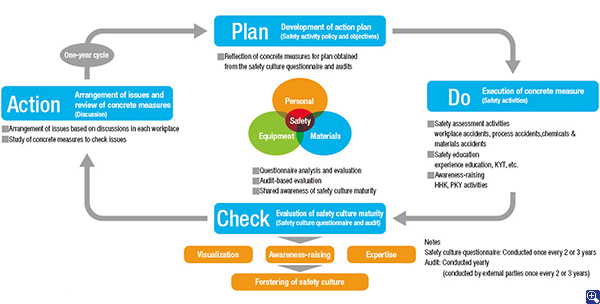 (2) Number of Workplace Accidents
As listed in the following table of the number of workplace accidents that occurred over the last five years, there were no accidents at JSR and there was one accident at manufacturing partners in FY2016. Although the number of accidents in JSR is decreasing across company-wide project activities, we have not made sufficient improvements in terms of minor workplace accidents such as those that do not result in lost time. A factor analysis of the causes of accidents that more than 90% are caused by unsafe behavior, and JSR is no exception. For this reason, we will execute company-wide activities to prevent unsafe behavior in FY2017. On the other hand, many minor accidents related to construction occurred at our manufacturing partners in the first half of FY2016. Because of this, we worked to prevent workplace accidents by launching project activities led by related JSR departments and manufacturing partners. We will continue those activities that have been proven effective.
* Accident numbers for Group companies are provided on the Group Companies RC Activities page.
Number of Workplace Accidents (JSR)
FY
2012*
2013*
2014*
2015
2016
Number of Cases
0
3
1


(Fatal accident)

1
0
* Figures for 2012 to 2014 are fiscal year figures.
Number of Workplace Accidents (Manufacturing partners)
| FY | 2012* | 2013* | 2014* | 2015 | 2016 |
| --- | --- | --- | --- | --- | --- |
| Number of Cases | 0 | 2 | 0 | 2 | 1 |
* Figures for 2012 to 2014 are fiscal year figures.
Lost-time accidents (rate)
Lost time accidents rate = (Number of victim in fatal or lost-time accidents/extended working hours) X 1 million
* Figures for 2010 to 2014 are fiscal year frequencies.
Information on workplace and facility accidents that occurred at JSR is quickly and effectively communicated to all employees via the company intranet. This ensures that all group companies and employees share and understand the information, which helps prevent occurrence of similar accidents in the future.
(3) Safety and Accident Prevention
In the spirit of our Responsible Care philosophy, we strive to acquire the certifications of approved organizations under various security and safety laws. This enables us create higher quality health and safety management systems in addition to clarifying rights and responsibilities. As a result, certification plays an important role in improving safety technologies. All JSR plants are striving to acquire certifications of under the High-Pressure Gas Safety Act, Fire Service Act, and Industrial Safety and Health Act. We will continue to maintain and upgrade certifications with the aim of improving safety and preventing accidents.
Certification
JSR Office
Date
Remarks
High-pressure Gas Safety Act
Yokkaichi Plant
Sep. 2015
Recertified
Kashima Plant
Mar. 2016
Recertified
Chiba Plant
Mar. 2017
Recertified
Dangerous Goods Inspection
Yokkaichi Plant
Mar. 2016
Recertified
Kashima Plant
Mar. 2016
Recertified
Chiba Plant
Jun. 2017
Recertified
Continuous Operation of Type One Pressure Vessels, Industrial Safety and Health Act
Yokkaichi Plant
From Nov. 2017
Scheduled for recertification
Kashima Plant
Jan. 2017
Recertified
Chiba Plant
Mar. 2018
Scheduled for recertification
1. Data on JSR Facility Accidents
As listed in the following table, the number of facility accidents at JSR in FY2016 was one. This information is reported to the government in compliance with the Act on the Prevention of Disaster in Petroleum Industrial Complexes and Other Petroleum Facilities.
* Accident numbers for Group companies are provided on the Group Companies RC Activities page.
| FY | 2012* | 2013* | 2014* | 2015 | 2016 |
| --- | --- | --- | --- | --- | --- |
| Number of Cases | 2 | 2 | 2 | 1 | 1 |
* Figures for 2012 to 2014 are fiscal year figures.
Accident Summary for FY2016
On October 3, a minor fire occurred during a heat storage ignition test conducted with a gear oven in JSR Yokkaichi Plant's testing wing. The main cause of the fire was insufficient education concerning ignition tests. We implemented recurrence prevention measures together with equipment improvements.