Our Policy on Community Relations
The JSR Group has been involved in various social contribution programs with a focus on community activities. In January 2009, we established our "Basic Approach to Social Contribution" as a policy aimed at further strengthening our activities, and are promoting the initiatives outlined in this policy.
Basic Approach to Social Contribution

Our Corporate Mission dictates that we make a contribution to society through our business activities. Further, we are actively engaged in providing solutions to social requirements and issues as a responsible member of society.
We are continuously engaged in positive social contribution activities, capitalizing on the chemical and technical knowledge and skills that form the core of the JSR business.
Every employee is a point of contact between the company and society. We actively support our employees in their voluntary participation in social contribution activities.
FY2011 Initiatives
Various new programs were introduced in FY2010 (April 1, 2009 to March 31, 2010), a year designated as the inaugural year of the JSR Group's social contribution activities. In FY2011, we added a few new programs to ramp up our social contributions. The main social and community activities we carried out in FY2011 are described below.
Fostering the Next Generation and Initiatives in Education

Fun Lab Class at an elementary school


Visiting lecture at a junior high school
■ Taking Science Lectures on the Road Program

One of the serious issues facing Japanese society today is our children's waning interest in science. By way of example, the results of an international survey show that Japan ranks last out of 29 countries in the proportion of eighth graders who think that "studying science is useful for everyday life."1
In response to this issue, the JSR Group is working with the boards of education in Yokkaichi, Mie Prefecture, and Kamisu, Ibaraki Prefecture, to periodically conduct science classes at local junior high schools. In FY2011, we also began a new "Fun Lab Class" program for elementary schools. In one Fun Lab Class, children observed the emulsion polymerization process for producing synthetic rubber. These classes stir children's curiosity and draw out their latent interest in science through experiments and teaching materials that schools cannot conduct or use themselves. Schools where we held visiting lectures and lab classes in FY2011 are listed below. We will continue programs like these in the coming years.
Visiting
Lectures
Sasagawa Junior High School, Yokkaichi
Oct. 22, 2010
Kamisu Daisan Junior High School, Kamisu
Dec. 7, 2011
Fun Lab
Classes
Hinaga Elementary School Yokkaichi
Nov. 29, 2010
Utsube-Higashi Elementary School, Yokkaichi
Dec. 16, 2010
1. Results of the TIMSS2007 (2007 Trends in International Mathematics and Science Study)
A course lecture at Nihon University
■ Special Industrial Engineering Course at Nihon University

As part of our program to promote collaboration between industry and academia,2 every year the Chiba Plant holds a special industrial engineering course at the Nihon University College of Industrial Technology. The course, titled "The Properties and Manufacturing Processes of Rubber and Quality Assurance," features actual case studies to pique students' interest in the subject.


2. Cooperation between industry and universities with the aim of promoting research- and technology-related education

Experiencing work at the Yokkaichi Plant


Experiencing work at the JSR head office
■ Work Experience Program

The JSR Group actively welcomes students to its facilities to give them the experience to become tomorrow's leaders. Two eighth grade students from Utsube Junior High School in Yokkaichi City gained experience as temporary plant managers while conducting safety patrols, gathering information for an in-house newsletter, sorting waste materials at the recycling center, and observing a solution polymerization test. Five eighth grade students from Kamisu Daini Junior High School visited the JSR head office, where they listened to a brief description of JSR, toured offices and other work areas, and learned how JSR operates and its role in society.
Work experience events held in FY2011, including those mentioned above, are shown below.
| | | |
| --- | --- | --- |
| Chiba Plant | Akita National College of Technology | Oct. 21, 2010 |
| Yokkaichi Plant | Utsube Junior High School | Nov. 16-18, 2010 |
| Head office | Chuo University Graduate School of Law | Feb. 8-Mar. 3, 2011 |
| Head office | Kamisu Daini Junior High School | Feb. 10, 2011 |
| Chiba Plant | Tohoku University | Mar. 2, 2011 |
Lecture at the JSR head office
Touring the Chiba Plant
■ Teacher Training at a Private Company

For two days from July 29, 2010, four teachers from elementary, junior-high, and high schools underwent training at JSR to deepen their understanding of our business approach and efforts to address environmental issues. Training started with an explanation of the JSR Group and our environmental, safety, and human resource development activities at the head office, followed by a hands-on lesson on the importance of pinch- and crush-point safety and a tour at the Chiba Plant. Teachers learned about various activities and innovations taking place within the JSR Group. We plan to continue this program so teachers can share the experience with their students and utilize the things they learn in the classroom.
Children learning a chemist's job
■

Children's Development Project in Mie
Participating in "Waku-waku Challenge"

On Saturday, August 28, 2010, we participated in "Waku-waku Challenge," an event in the Children's Development Project in Mie hosted by the Child Welfare Division of Mie Prefectural Government's Department of Health and Welfare at Messe Wing Mie in Tsu, Mie Prefecture, to provide children with community-oriented opportunities to develop and express their talents. This was the first event to be held in the project that encouraged children and adults to do things together that centered on a "work" theme. JSR entered the event as a "chemist," and had children learn chemistry work by conducting rubber polymerization experiments and taking various measurements. We will continue to participate in events like this one in the coming years.
Environmental Initiatives
In the classroom
■ Yokkaichi Kid's CO2 Reduction Challenge

Since FY2010, the Yokkaichi Plant has been participating in the Yokkaichi Kid's CO2 Reduction Challenge. This program is a collaboration between local government and companies to teach elementary school children about the environment. In FY2011, we held classes for fourth graders at two elementary schools. We also presented awards to children who did something to improve the environment. We will continue this program to motivate children to try to protect the Earth on their own.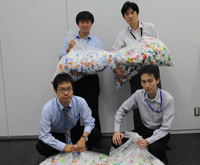 Ecocaps
■ Ecocap Movement

Since 2009, the JSR Group has been promoting the Ecocap Movement at its head office and other business sites. Plastic PET bottle caps,3 which are normally burned as trash, are collected and given to Ecocap Movement, a non-profit organization. Ecocap Movement turns the caps that are collected into cash, which it then donates to help immunize children around the world. We will continue to promote this activity.


3. PET bottle caps are made from polypropylene. They cannot be recycled when they are recycled together with PET bottles. The Ecocap Movement is an effective way to encourage people to recycle bottles and caps separately.
A group clean-up around the Yokkaichi Plant
■ Clean-up Activities

The Yokkaichi Plant, Chiba Plant, and Kashima Plant periodically conduct clean-up activities in local neighborhoods to help preserve local environments.
Local Community Initiatives
Yokkaichi Plant Harmony Festa
Chiba Plant participating in the Anegasaki Industrial Festival
Touring the Yokkaichi Plant
■ Communicating with Local Residents

The Yokkaichi Plant periodically hosts plant tours and a social event called the "JSR Harmony Festa," providing plant employees with valuable interaction with local residents. Harmony Festa in FY2011 featured various sources of entertainment to facilitate an enjoyable time with JSR Group employee families and neighborhood associations.
The Chiba Plant participates in the yearly Anegasaki Industrial Festival to improve its communication with local residents. In FY2011, the Chiba Plant served as deputy chair of the festival's steering committee. The Chiba Plant also held tours for local residents and government officials, who learned about safety and environmental measures and saw the plant's environmental facilities, thus deepening their understanding of plant activities.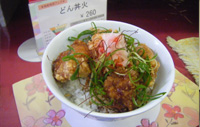 Rice bowl with toppings imitating the dondo bonfires lit on New Year's Eve at Ise Shrine.
■ Promoting Local Food

Since October 2010, Yokkaichi operations of JSR Business Service Co. Ltd. has been supporting the local community and helping to mitigate global warming at the employee cafeteria of JSR's main plant, Yokkaichi Plant. Uokuni Sohonsha, the company that operates the cafeteria, has been increasing its use of local produce by introducing menu items inspired by the seasons and local culture of Mie Prefecture.
The company supports JSR Group's social contributions activities by holding a "Local Food Fair" twice a month.
Touring a factory at Ajinomoto General Foods
■ Volunteer Activities

The JSR Workers Union participates in volunteer activities for children in welfare facilities sponsored by the Mie Branch of the Japanese Federation of Chemical Workers' Unions, of which it is a member. In FY2011, these activities provided children with enjoyable outings, for instance catching fish in nets at the beach (tateboshi4) in summer, and bowling and touring Ajinomoto General Foods' Suzuka Factory.


4. A traditional fishing method in which nets are strung on poles placed in shallow water to catch fish as the tide goes out.
Social Welfare Activities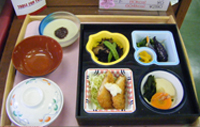 Special TFT menu at Yokkaichi Plant
Certificate of appreciation from TFT
■ TABLE FOR TWO (TFT) Program

Since February 2010, the JSR Group head office and business sites in the Yokkaichi area began participating in the TFT program. For three days from February 23, 2011, a combined 825 people bought special TFT meals during a one-year anniversary event held at the Yokkaichi Plant. We are also participating in CUP FOR TWO, a similar program involving vending machines beverages.
In recognition of our activities, we received a certificate of appreciation in May 2011 from TABLE FOR TWO International. The TFT program is also in accordance with the Millennium Development Goals (MDGs5) adopted by the United Nations, and we will continue to promote the program in the future.


5. Eight goals set by the United Nations to be achieved by 2015 including the eradication of extreme poverty and hunger and the achievement of universal primary education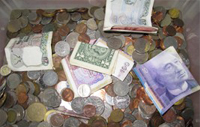 Foreign coin collection campaign
■ Foreign Coin Collection Campaign

The JSR Group has been conducting a foreign coin collection campaign since 2009 to assist programs that support children around the world through the Japan Committee for UNICEF.
Collecting aluminum cans


■ i-project Aluminum Can Collecting Program

Since October 2010, the Yokkaichi Plant has been participating in aluminum can collection activities for i-project, a social welfare organization that helps children with disabilities in Yokkaichi City learn to become self-supporting. Aluminum cans help provide work for children who crush the cans at work facilities for the disabled, and can collecting creates opportunities for children with disabilities to interact with other people in society, and also helps them support themselves. The JSR Group will continue to support this program.
Initiatives at Overseas Offices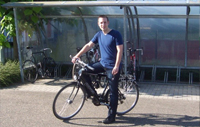 David Wallenus, setting off for work

Hilde Van De Plas (left) and Suzy Bijnens (right), ready to carpool to work.
■ The "ik kyoto Project"

JSR Micro N.V. in Belgium is a participant in the "ik kyoto Project"6 and is encouraging employees to commute to work without relying on cars. The project provides free breakfast and other incentives to employees who carpool or commute by bicycle. It helps promote employee health and contributes to the mitigation of global warming.
David Wallenus, winner of the 1st prize at JSR Micro N.V., commutes to and from work by bicycle everyday—an "ik kyoto-er" to the core. "I consider commuting by bicycle to be a luxury. It's 15 minutes from home to work, but I think I would do it even if work were farther away. Belgium lately has had serious traffic problems, so getting stuck on the road to work would ruin my entire day, mentally speaking. That's why I think commuting by bike is ideal. After all, it's also good for my health and good for the environment."
The winner of the 2nd prize, Hilde Van De Plas, carpools to work on a regular basis. "Considering that I work in the environment, health, and safety (EHS) division, I wanted to do my part for environmental conservation. My carpool partner, Suzy Bijnens, and I have fun chatting on the way to work. There is no need for Suzy to go out of her way, because she picks me up on her way to work. Carpooling is good for the environment and, most of all, saves us gas money!"
The winner of the 3rd prize, Jurgen Bornain is an avid public transportation user "I've already been using public transportation for 12 years. It helps me avoid traffic and I also use it because I want to stay committed to the one thing all humans benefit from—Mother Nature."


6. The "ik kyoto Project": This initiative was begun by local governments in Belgium and was named after the Kyoto Protocol (http://www.ikkyoto.be) (Dutch) In the FY2011 campaign period (June to September), employees at JSR Micro N.V. reduced 11,622 kilometers worth of car commuting distance, a 1,106-kilogram cut in CO2 emissions.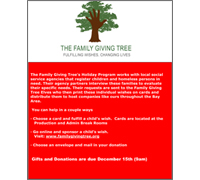 The Family Giving Tree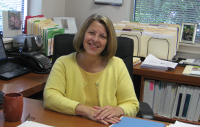 Phyllis Moracco, HR Director of JSR Micro
■ Charity Programs

JSR Micro, Inc. in the United States gives matching gifts, donates food to charity organizations, donates clothes to the homeless, and makes various other contributions.
Phyllis Moracco, HR Director at JSR Micro, on contributing: "We are well aware of the importance of contributing to the community. We feel we are blessed to be working at a successful company like JSR Micro, so helping people who aren't blessed just comes natural. For a long time we've focused on making donations for charitable and educational causes and providing food, toys, clothes, and other things for disadvantaged families. I've never had a hard time persuading employees to participate. They act and contribute on their own initiative."

Return to the top of the page ▲