Measures for the Safety of Employees and Local Communities
Eliminating Accidents and Disasters

An award ceremony for the Kawasaki Commemorative Safety Award held at the head office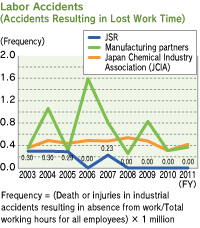 Since its foundation, JSR has conducted safety activities based on the principle that safety takes priority over production. In our annual safety audits, the president visits each business site to engage in discussions with employees concerning safety. In FY1997 (April 1, 1996 to March 31, 1997), business sites finished developing their safety management systems based on the principles outlined in the ISO standard. Since then, health-related issues have been added, and the systems are operated as combined health and safety management systems, through which various activities are being impelented.
We conduct preliminary safety assessment activities and hazard prediction activities with respect to facilities and regular and non-regular work to identify hazards and implement tangible (facility) and intangible (standards and education) countermeasures. We also strive to implement innovative training and education programs that increase employees' awareness of issues and pass on technological expertise to younger generations. In FY2011, there were no work accidents resulting in absence from work.
Employees from various manufacturing partners work at our plants. Each plant has a Comprehensive Disaster Prevention Council (Disaster Prevention Council) to jointly promote occupational safety and health activities with our manufacturing partners. These organizations conduct various activities to increase safety and health levels, including investigating the causes of accidents that occur at manufacturing partners and devising preventive measures, providing instruction and education on day-to-day safety and health, and implementing joint inspections of workplaces when construction is underway.
We also have established a safety award system (the Kawasaki Commemorative Safety Award) that includes group companies to raise workers' awareness of safety.
Data on Disasters at Facilities
The table below shows the number of facility accidents that took place in the last five years. There were zero accidents in FY2011.

Acquisition of Certification by Plants and Operators
In the spirit of our Responsible Care philosophy, we strive to help our plants and operators acquire certification under various security and safety laws. This enables plants and operators to create higher quality health and safety management systems in addition to clarifying their responsibilities and rights. As a result, certification plays an important role in improving safety technologies. At JSR, all plants have acquired plant and operator certification under the High-Pressure Gas Safety Law, the Fire Service Law, and Occupational Safety and Health Law. In FY2011, we renewed certification under the High-Pressure Gas Safety Law and Fire Service Law at the Yokkaichi and Kashima plants. We will continue to acquire certifications with the aim to improve environmental and safety standards.
Risk Communication2 Initiatives
As part of our Responsible Care activities, we have issued a Responsible Care Report every year since 1998, showing leadership on the disclosure of information related to environmental impact, environmental complaints, number of facility accidents, discharge and transfer volumes of harmful chemical substances, and other data. For the 2006 edition, the name of this report was changed to "CSR Report" to reflect increasing activity in the JSR Group to fulfill our corporate social responsibility. Since 2000, all three of our plants have been issuing their own Responsible Care reports. The report from our head office and all business site reports can be viewed on our website.
JSR strives to improve communication with local communities by conducting a variety of initiatives, including tours of factory facilities for local government representatives and participation in government-hosted town meetings on the environment.
2. Here, risk communication refers to achieving a mutual understanding of the risks associated with certain chemical substances by sharing information with stakeholders and discussing measures to properly manage such substances

Return to the top of the page ▲