JSR Conducts Biodiversity Lecture and Survey at Kashima Plant

  11/01/2013
JSR conducted a biodiversity lecture at its Kashima Plant on October 24 to raise further awareness of biodiversity.
A total of 22 employees from across the plant participated in the lecture to learn about the connection between businesses and biodiversity, lost species and the current situation, impact of raw materials being used by JSR on biodiversity, challenges in biodiversity conservation, and other issues.
Prior to this event, JSR facilitated a biodiversity survey of its employees on September 13 on the plant's green spaces by using the Living Things Monitoring Sheet, which has been developed by the Japan Business Initiative for Biodiversity (JBIB).
JSR will continue to conduct the biodiversity survey every season as part of its efforts to improve green spaces on the plant grounds.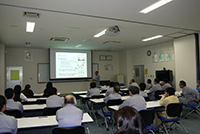 Biodiversity lecture
Monitoring living things