Stereolithography, Microwave Molding / Photo Molding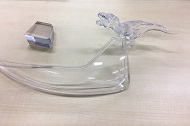 JSR Group contributes to the "Rapid Prototyping" and "Rapid Manufacturing" markets. Our Stereolithography 3D printers are used to check the form and function of prototypes. Our Microwave Molding / Photo Molding Machine enables manufacturing of actual products.
---
Stereolithography 3D Printer
Stereolithography 3D Printer System
Stereolithography involves the conversion of stereograms designed by 3D CAD data into a data slice, and based on this data, the stereolithography resin is solidified per layer by a laser. Stereolithography is a method which enables molded objects to be manufactured with high precision.
D-MEC (JSR's 100% subsidiary) handles leading-edge stereolithography system, including sales of tools and resins and modeling services. For more detailed information, visit the D-MEC homepage.
Microwave Molding / Photo Molding
Microwave Molding / Photo Molding
"Microwave Molding" / "Photo Molding" are Original technologies of D-MEC which enables to manufacture actual models from plastics by using silicon rubber mold. It can achieve same performance as actual products made from injection molding with competitive price and speed. For more details about Amolsys®, please contact D-MEC.
Contact Us

D-MEC Ltd.

1-9-2, Higashi-Shimbashi, Minato-ku, Tokyo 105-8640, Japan
TEL: 81-3-6218-3582 FAX: 81-3-6218-3759

<Products>

Stereolithography, Microwave Molding / Photo Molding