3D Manufacturing
JSR Group contributes to the "Digital 3D Manufacturing" market with Carbon 3D printers and "Rapid Prototyping" market with our Stereolithography 3D printers, which are used to check the form and function of prototypes.
---
Carbon Digital Manufacturing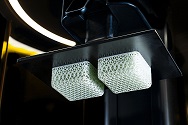 JSR is an investor in Carbon and is actively supporting its expansion into Asia. Carbon is a U.S.-based company working at the intersection of hardware, software, and molecular science to deliver on the promise of digital 3D Manufacturing. The company empowers its customers and partners to evolve beyond using 3D printing for basic prototyping to producing at scale by revolutionizing how they design, engineer, make, and deliver their products. With Carbon's Digital Light Synthesis™ technology and its SpeedCell™ system (M Series printers and Smart Part Washer), manufacturers can unlock new business opportunities such as mass customization, on-demand inventory, and differentiated products made with unique functional materials. Carbon's solutions also provide substantial operational efficiencies, such as the elimination of tooling costs and decreased time to market. To learn more, visit www.carbon3d.com/.
Stereolithography 3D Printer
Stereolithography 3D Printer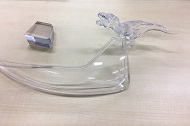 UV Curable resin SCRTM786(High transparency, high heat resistance) 
Stereolithography involves the conversion of stereograms designed by 3D CAD data into a data slice, and based on this data, the stereolithography resin is solidified per layer by a laser. Stereolithography has as a reputation as a method which enables molded objects to be manufactured with high precision.
D-MEC (JSR's 100% subsidiary) handles leading-edge stereolithography system, including sales of tools and resins and modeling services. For more detailed information, visit the D-MEC homepage.
Contact Us

Department of Carbon Business Development

Headquarters
1-9-2, Higashi-Shimbashi, Minato-ku, Tokyo 105-8640, Japan
TEL: +81-3-6218-3535

D-MEC Ltd.

1-9-2, Higashi-Shimbashi, Minato-ku, Tokyo 105-8640, Japan
TEL: +81-3-6218-3582 FAX: +81-3-6218-3759