Display Materials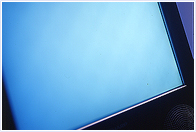 Liquid crystal displays (LCD) are becoming increasingly important with the enhancing performance of information electronic devices such as PCs and cell phone terminals. By utilizing original polymer technologies, JSR has developed and commercialized display materials such as LCD protective films, alignment films and pigment dispersed resists, thus contributing to the advancement of LCD technologies. At present, our variety of LCD Materials have become the de-facto standard, and are highly regarded as being JSR-original and leading-edge materials. With these technologies, JSR will continue to respond to the ever-evolving needs of cellular phones such as light weightiness and lowered power consumption.
On the other hand, new materials, components and cogitation of processes are essential to the increasing and diversifying requirements for development of displays such as OLED for smartphones, flexible panels, touch screen panels, wider color gamut and higher color fidelity TVs/monitors. Using our foundation technology and high volume manufacturing experience for the LCD materials, JSR will contribute to the next generation display area by adding new ideas and solutions.
---
LCD Materials
Liquid Crystal Alignment Films OPTMER AL Series
AL series (alignment coating materials) are used in manufacture of LCD. Both polyimide type (pre-imidized organic-solvent-soluble type) and polyamic acid type are available.
Heat-curable Protective Coating Materials OPTMER SS Series
SS series (heat-curable protective coating materials) are used for overcoatings of color filters. They are mainly composed of acrylic polymers. Both one-liquid type and two-liquid type are available. Two-liquid type is mixed just before using.
Heat resistant, Transparent, Photosensitive Protective Film OPTMER PC/NN Series
NN series (negative-tone photo resists composed of acrylic polymers) are mainly used as overcoating materials for COG (chip on glass)-type color filters, and also used for spacer formation of touch panels and LCD panels.
PC series are newly developed positive-tone photo resists, which are mainly composed of acrylic polymers.They are favorable for interlayer films of TFT arrays for high aperture design.
Pigment Dispersed Resist OPTMER CR Series
CR series (pigment dispersed negative-tone photo resists) are used to form color filter layers for LCD. Red, Green, Blue, and Black colors are available.
Next Generation Display Materials
OLED Materials OPTMER™ JEM SeriesCatalogue(PDF 412KB)
JSR will further develop and expand our product portfolio for OLED materials, such as pixel defining layer, planarization layer, encapsulation, and low temperature curable color resist etc.
Low Temperature Curable Alignment Material OPTMER™ LD SeriesCatalogue(PDF 428KB)
JSR is providing alignment materials for flexible/film substrates which can be cured by low temperature. For example, resin films such as TAC can be used as substrate with optical anisotropy added.
Contact Us

LCD Materials Div.

Headquarters
1-9-2, Higashi-Shimbashi, Minato-ku, Tokyo 105-8640, Japan
TEL: +81-3-6218-3571 FAX: +81-3-6218-3693


Display Solution Div.

Headquarters
1-9-2, Higashi-Shimbashi, Minato-ku, Tokyo 105-8640, Japan
TEL: +81-3-6218-3570 FAX: +81-3-6218-3693

<Products>

Next Generation Display Materials

JSR Micro Korea Co., Ltd. Seoul Office

9F Bundang-square, 42, Hwangsaeul-ro 360beon-gil, Bundang-gu, Seongnam-si Gyeonggi-do 463-721 Korea
TEL: +82-31-783-0731 FAX: +82-31-783-0701

<Products>

LCD Materials
Next Generation Display Materials

JSR Micro Taiwan Co., Ltd.

Taichung Office
11F.-1, No.179, Fuhuiyuandao, Xitun District, Taichung City 40758, Taiwan (R.O.C.)
TEL: +86-4-22592900 FAX: +86-4-22593900


<Products>

LCD Materials
Next Generation Display Materials

JSR (Shanghai) Co., Ltd.

Rm 606 SMEG PLAZA 1386 Hongqiao Road, Shanghai 200051
TEL: +86-21-6278-7600 FAX: +86-21-6278-7604

<Products>

LCD Materials
Next Generation Display Materials