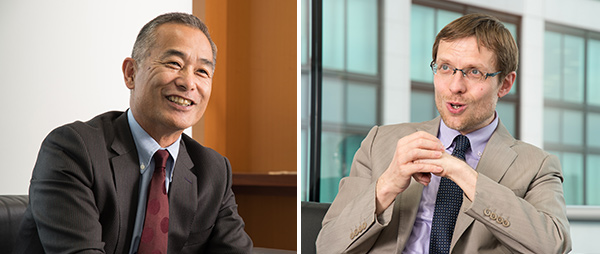 JSR celebrates the 60th anniversary of its company's founding in December 2017. The year 2017 also marks the start of the JSR Group's new mid-term business plan, "JSR20i9." It is also a time when the Group's CSR is beginning a review of priority issues among moves to new activities. This review will examine the steps JSR must take to be a sustainable company and contribute to society's sustainability over the next 10, 30, and even 60 years.
In this connection, we recently welcomed Mr. Peter D. Pedersen, president of Leadership Academy TACL, co-founder of NELIS, and advocate of the "Resilient Company"* concept, for a dialogue with JSR's Representative Director and President, Mr. Mitsunobu Koshiba.
* "Resilient Company" refers to a company possessing strong stress tolerance and resilience when faced with crisis. It is a company that responds flexibly to changes in the business environment, identifies growth opportunities amid such changes, and contributes to society.
(At JSR Headquarters on April 18, 2017)
A Look Back at the Mid-Term Business Plan "JSR20i6" (FY2014-FY2016)
A Transformation of Business Structure
Pedersen:

First of all, I'd like you to ask you to look back on your activities under the three-year mid-term business plan that began in fiscal 2014.

Koshiba:

These three years, and the three years before that, making a total of six years, were a time of investment to create new growth opportunities. I was named president following the financial crisis sparked by Lehman Brothers' bankruptcy in 2009. Looking at what could happen in the time to come, and at what JSR should do to achieve growth, we set our sights on four sectors; the existing Petrochemical Business and Fine Chemicals Business and, as new undertakings, the Life Sciences Business and Lithium Ion Capacitor Business. Then, under our mid-term business plan "JSR20i6," we expanded the scale of our Life Sciences Business to 30 billion yen through two major M&As. That business is now undoubtedly on track to grow to 50 billion yen by fiscal 2020. We also rearranged our unprofitable businesses, and thus I think we have largely succeeded in getting on track as a new organization.

Pedersen:

Did you have any problems?

Koshiba:

The Petrochemical Business and Fine Chemicals Business were forced into a slump due to a collapse in the global supply-and-demand balance. However, they hit bottom in 2014 and 2015 and started a rebound toward the end of fiscal 2016, so we are optimistic about their prospects. Generally speaking, although it took until 2014 to recover from the post-Lehman slump, I am confident that we succeeded in transforming our business structure.
Looking at Things in Terms of Communication with Communities and Society
Pedersen:

For the last twenty years, I have come into contact with numerous companies and explored the conditions of those that continue to succeed regardless of how the times unfold. I have concluded that, precisely because we cannot predict the future, companies must build a "resilient" organization that allows them to be ready to forcefully meet whatever the future brings. I call such a company a "Resilient Company." I think that to become a Resilient Company, a company must have three elements that I call the "Triple A": These are "Anchoring" (a corporate mission that serves as its anchor), "Adaptiveness" (ability to change oneself) and "Alignment" that is more than just CSR (aligning strategy with megatrends and new stakeholder expectations). These elements are particularly important when business is sluggish. From this standpoint what challenges has the JSR Group faced since 2000?

Koshiba:

When we studied a long-term vision for the next twenty years (=2030) for a year and a half beginning in 2009, we extracted four themes as macro trends; these were global warming; emerging markets; population, water and food problems; and the digital revolution. First, in the area of "Alignment," we focused on "SSBR" (solution polymerization styrene-butadiene rubber for fuel-efficient tires) as a means of helping combat global warming. This raw material for tires reduces rolling resistance and thus improves fuel efficiency. It is enjoying rapidly growing demand in Japan, Europe, and the United States. I think it is a truly sustainable product. As for "Adaptiveness," I think in the past there were areas where we had problems keeping up in an increasingly rapidly-changing world. But I think we would have responded more successfully to the change if we had realized this around the mid-2000s, before changes started coming even faster.

Pedersen:

Well, it might be harder to notice when things are going well. What about "Anchoring"? If you lose sight of your original mission and objectives, you may end up becoming a company that simply makes "things."

Koshiba:

In 2011 we reexamined our corporate mission and decided to reword it as "Materials Innovation: We create value through materials to enrich society, people and the environment." Looking at the results of questionnaire surveys and other tools, I think the new corporate mission has penetrated throughout the company quite well. However, I think we still have work to do in terms of putting the mission into actual practice.
The Challenge is "Adaptiveness"
Pedersen:

So your "Anchoring" is good, but you still face challenges in terms of practical application and "Adaptiveness." Put simply, you are at a point where your adaptiveness is being tested, aren't you.

Koshiba:

To take the company even further, I think we must better promote our business activities with our business departments, rather than just leaving everything to R&D. Looking at surveys on employee awareness and corporate ethics awareness, we see that levels of satisfaction and happiness are generally high. However, some results indicate that more needs to be done in terms of company performance. It seems some employees think that although their own department is doing well, other departments have problems. Basically, I believe that labor productivity should go up when employees are healthy and happy, but my definition of satisfaction perhaps differs from theirs.

Pedersen:

It may be that competition that skillfully raises awareness among departments is an important part of promoting "Adaptiveness." Additionally, employees must strengthen their engagement through personal transformation. For that to happen, it is important that employees realize they can participate more in the process of value creation. Of course, such mechanisms as health management, work-life-balance, and childcare leave are important. But I don't think engagement in the company will arise from those mechanisms. So I think being able to contribute to the process of value creation is essential.

Koshiba:

We may indeed have a problem in terms of "Adaptiveness." On one hand, JSR's employees are perceptive, earnest, and highly motivated to achieve goals. But on the other, I think they may be timid when it comes to taking on the challenges. Our "Course of Action" is comprised of what we call the "4Cs." Specifically, these are Challenge, Communication, Collaboration, and Cultivation. After conducting personnel performance evaluation that emphasizes "Challenge" of the 4Cs, we found that, in fact, employees tend to set goals that are short-term and appear reachable. Consequently, the organization shies away from challenges, which is contrary to our goal here. Among our young employees, there are many who want to succeed and achieve recognition in the company. When we have such employees, we can demand that they produce results. So sometimes I dare to say, "Don't be afraid to 'waste' time trying new things!" (Laugh)
Dialogue - 2 Key Points of the New Mid-Term Business Plan "JSR20i9" and JSR Group's Future Orientation