Business Overview
From synthetic rubbers for tires to semiconductor materials, display materials and, life sciences business, materials created by JSR play a role in almost every aspect of daily life.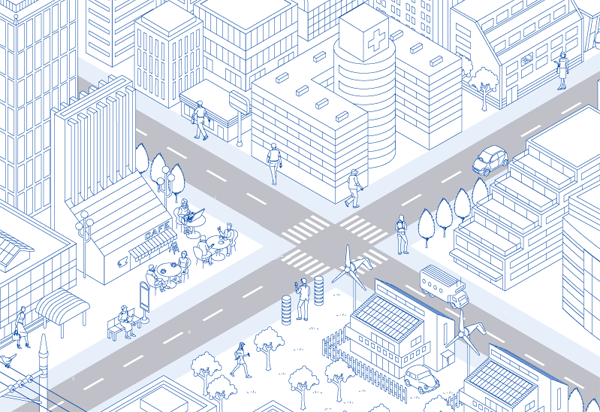 Business Domain
Elastomers Business
We supply high-quality products, including general-purpose synthetic rubbers and special-purpose synthetic rubbers, which were our first products after the foundation of JSR, thermoplastic elastomers, which have the characteristics of rubber and plastic, and emulsions developed based on technology for emulsion polymerization of synthetic rubbers and plastics, We also supply a wide range of functional materials, including high-performance dispersants and sol-gel materials, industrial-use particles, battery materials, and energy-saving thermal management materials, as performance chemicals.
Plastics Business
In this area, we focus primarily on ABS resins used for a wide range of purposes, including automobile parts, household appliances, and building materials.
Digital Solutions Business
Using technologies that have been cultivated in development of polymer materials, JSR develops and supplies many products with top shares at the global level, including lithography materials, chemical mechanical planarization materials (CMPs), and packaging materials, which are essential to production in process of semiconductor chips. We also supply materials including, LCD materials and next-generation display materials for use in production of flat panel displays such as LCD and organic EL displays. Moreover, we supply UV-curable resins that are used in 3D printing.
Life Sciences Business
In this area, with an expanded range of global strategic partners from both inside and outside JSR Group, we focus on various fields, including the in-vitro diagnostics and research reagents field, and the bioprocess field, which meet advanced needs of medical fields such as research and diagnosis, and bioprocess materials for personalized medicine and development and manufacture of biopharmaceuticals.
Other Businesses
Among other activities, we also conduct next-generational research and supply lithium-ion capacitors, electrical storage devices that make effective use of energy.